I've secretly (now not so secretly) wanted to open a bookstore for many years. Really, I want a bookstore/coffee/tea/acai bowl/smoothie shop, and attached to it, I want a yoga studio. Anyone interested in hiring me to manage that? I'm incredible with people, with organization, and with creative design, hint-hint. I just apparently don't have enough balls to go out on my own and invest in this. Or moola, I hear it takes some money to start businesses. Hm. 
Y'all know that scene in Garden State where Mark (played by Peter Saarsgard …AKA my 20-year old crush) and Largeman (played by Zach Braff) are at the hardware store Handi-world and they run into Karl (Geoffrey Arend): "We all have dreams. I know I do…I'd like to talk to you about an exciting opportunity that people are talking about…" – the pyramid scheme. It might be my favorite part of that movie, (along with the "I saved some mac and cheese for you in the fridge" scene, and the "who just saw some boobies" scene, and the Paul Simon Only Living Boy in New York rock quarry scene, I mean, come on) although, I love that whole movie, from start to finish. It represents my early 20s like no other movie could. But that pyramid scheme… We all have dreams. The essence of our core.
What are your dreams? Other than my bookstore, I want to be on my own, free from restrictions. To travel, to explore. And to cook. If I could have life my way, I'd be in my teardrop trailer, somewhere in New Mexico, cooking and watching the sunrise, living by my own schedule. Not retired, not 80…but 40…able to get around just fine. Able to walk the trails and hike the mountains without pain.
Back to that bookstore. After we left Nashville, Ann Patchett opened a bookstore, Parnassus Books. It took the place of Davis-Kidd, one of my favorite bookstores of all time. I truly believe bookstores are the essence of every city. Bookstores, coffee shops, cafes, they are what make a city. I love the smell of books. I love the community built around books. I love how we can fight about politics and religion, but books can bring us together. We can disagree about so much. But we love the same music, the same author, the same coffee shop, the same words. That is what ties us together…that is all that matters. Words and sound and taste. Those things that bind.
So, Nashville is filled with great, independent bookstores. And I have no idea why, but it is also filled with killer Indian restaurants. There's not a lot of good Indian food here in Fort Worth. It's in Dallas, and in Austin, and a ton in Houston. But not so much here, not yet at least. So we have to travel, or make it at home. And sometimes, I just want to be at home. So I made these Indian samosa burgers. The tastiness of samosas, sans the frying, along with a bun and a curry tahini mustard sauce. Mmmmmm… I hope you enjoy. Here's to dreams and travel and words and songs…and great food.
Love, Jen.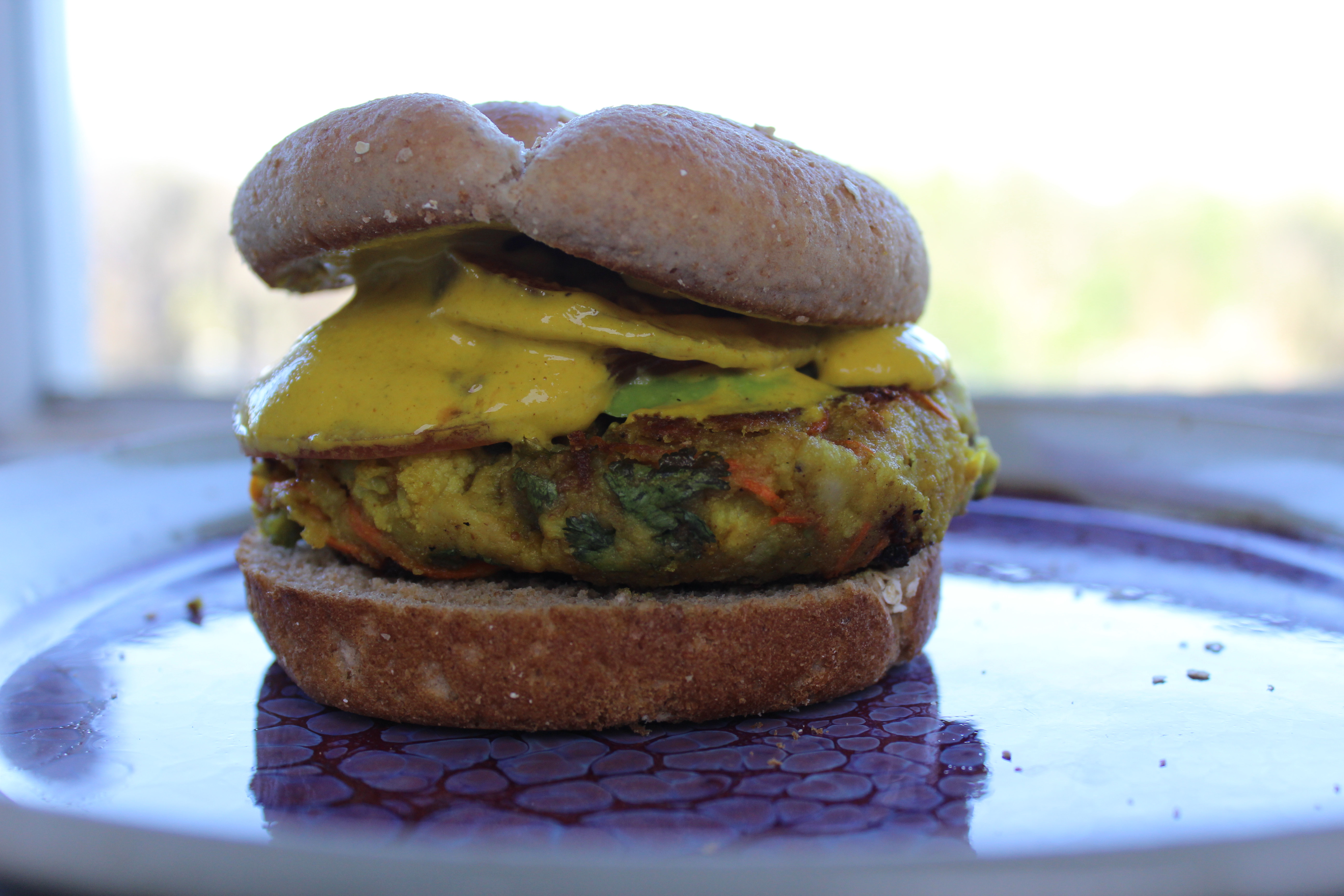 Bookstore Indian Samosa Burgers with Mustard Tahini Sauce
Ingredients
1

c.

red lentils

4

russet potatoes

1/2

head

cauliflower

1

c.

carrot

shredded

1

tbsp.

cumin

1

tbsp.

coriander

1

tbsp.

curry powder

1/3

c.

tahini

1/2

c.

cilantro

8

hamburger buns
Tahini Mustard Sauce
1/3

c.

tahini

1/3

c.

water

1

lemon

1

tbsp.

nutritional yeast

1

tbsp.

olive oil

1

tbsp.

curry

1/2

tsp.

garlic powder

2

tbsp.

mustard

1/4

tsp.

salt
Toppings
1

avocado, sliced

1

tomato, sliced

1/2

red onion
Instructions
Heat the oven to 425 degrees.

Rinse, drain and cook the lentils according to package directions, for about 40 minutes.

Wash the potatoes. Heat a large pot of water to boil, and then add the potatoes. Simmer for about 20 minutes, or until the potatoes are fork tender.

Dice the cauliflower, and roast at 425 for 20 minutes, stirring once.

Shred the carrots and set aside.

Remove the lentils from heat, along with the potatoes and cauliflower.

Put the potatoes and cauliflower in a large bowl and mash with a potato masher or the back of a spoon. Add the lentils, shredded carrots, spices, tahini, and cilantro, and stir together well.

Make the sauce: add the tahini, water, lemon juice, nutritional yeast, olive oil, curry, garlic powder, mustard and salt to a food processor, and process for a minute, until all ingredients are well blended.

Heat 1 tbsp. olive oil in a large frying pan on medium high. Form the cauli-potato mixture into patties, and add to the pan, cooking for about 5 minutes on each side, until lightly browned.

Serve on buns along with the tahini mustard sauce and your favorite toppings.