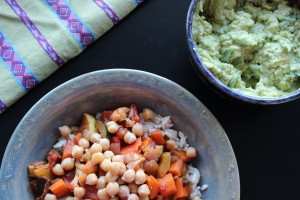 Our house is from the 1950's. It sits on a 1/2 acre of land in the city limits of what has grown to be a city I love. I'm 10 minutes from downtown, from work, from my yoga studios, and from the uptown district, and I'm right around the corner from our soon-to-be brand new Whole Foods. We lived in the "hood" in Nashville for many years and never had a good grocery store within a 20-mile range. It's nice to be right by my favorite chain. Living near a good grocery store is now one of my main requirements in life. And we could walk to our Saturday Farmers Market, which is even better. I can often get bitchy and uptight about things, but really, life is damn good.
We're the second owners of this house. The previous owner passed away here, and this home was left with all her possessions, paintings, antiques, all her treasures, for three years, before her family got around to listing it. The things we keep. This home was filled to the brim with antiques. I am certain the possessions in this home were worth way more than the value of the home itself. It was so filled, in fact, that it was hard to see how great this home is. I fell in love with the land and the views; all you can see are trees and sky, and we're literally 6 miles from downtown. The day it listed, we put an offer on it, and we were lucky enough to get it. It was not an easy sale, it was actually damn difficult, but I'm so grateful it all worked out. I knew this house was special, but you couldn't see that on the inside at the time. All you could see were paintings and rugs and chairs and sofas and collectibles and dishes and lamps. Every corner, closet, nook and cranny were filled with stuff. We counted over 30 chairs and over 30 lamps on one visit. There were so many paintings that the closets and garage were lined with them, hung perfectly, waiting for the light of day. The house was packed. It was completely overwhelming to me, as I've always been a minimalist at heart. I'm a big fan of Traveling Light as my first band-love Widespread Panic always sang. Travel light. Live light. Less is more.
So this damn good house had never been updated. I really believe it had never been seen. All the stuff inside of it had been seen, but no one looked at the house itself, at least not for many years. There's no way you could have. When we bought it, I had big plans for all of the updates: gray concrete counters, dark wood cabinets, terra cotta floors. Essentially, New Mexico meets Austin. That's always been my style. Tear down walls, let in more light, redo the floors, create more open space.
But three years later, we still have the baby blue tile counters in the kitchen, the baby blue and pink tub, toilet and tile in my bathroom, the yellow and purple tile and shower in my husband's bathroom, the wallpapered ceilings and flocked wallpaper walls, the parquet floors in the den. It's tacky, it's bright, it's so, so 1950's. And I've grown to love it. I would never pick this out, mind you. I still drool over concrete and terra cotta, and I probably always will. But this is the way this home was designed nearly 60 years ago, and it fits. It works, and I don't dare disturb that any time soon.
Our house did not come with a dishwasher, or a microwave. Our house in Nashville was from this same time period and it also did not come with either, but we made a few years worth of renovations, and the dishwasher, along with a custom artist-made, hand-built kitchen and two bathrooms, were all part of the renovations. The microwave was never considered. When we bought our current house, I swore the first thing I would do is put in a dishwasher. This is Texas after all, and washing the dishes in the heat of the summer is never fun. But what I've realized is, it's a form of meditation. It's really a beautiful process, like cleaning your own house. A housecleaner is another thing I wanted, and my husband has absolutely refused it since day one. He's a big fan of cleaning up after yourself. He sees the beauty in it, being able to understand your own filth, getting to know your space in an intimate way. I get that now. Clean up after yourself. Don't expect someone to do it for you. There's so much beauty in that. The meditative aspects of doing the dishes are soul-fulfilling. I can see you rolling your eyes. I'm not kidding though. We both enjoy it. It's a beautiful process.
As a food blogger, and lover of entertaining friends and family, it is difficult at times, I'm not going to lie. But there's peace in washing your own dishes. And there's so much peace in knowing you only need 6 of everything. There's no need to ever have extra sets of anything. It can all be washed immediately, dried, and put back to use, if needed. There's no waiting for an hour for a machine to do the work.
The microwave, to me, is a sad invention. I never understood it, the heating up of foods immediately. It just doesn't seem right. Even as young as middle school, I would watch it and think, how can that be healthy? I've always been skeptical. Just like GMO's and additives, I think microwaves need to go. If you don't have the time to heat your food on the stove, maybe you need to rethink things. Maybe this is coming across as holier than though and that is absolutely not what I am going for. I just think we need to love our food a little more. Food is health. So if we eat GMO's and additives and (in my opinion) meats and dairy, we're gonna get sick. We're gonna be unhealthy. Microwaves, to me, have to go along with this category. We get one life, one chance to live it to our fullest. We now have the option and the understanding of what produces sickness and what produces health (for the most part). We are able to see past the bullshit of corporations and healthcare and our government. We have the ability to have a damn good life. So choose that. Choose joy and health and peace and meditation and vegetables and longevity. Choose a damn good life.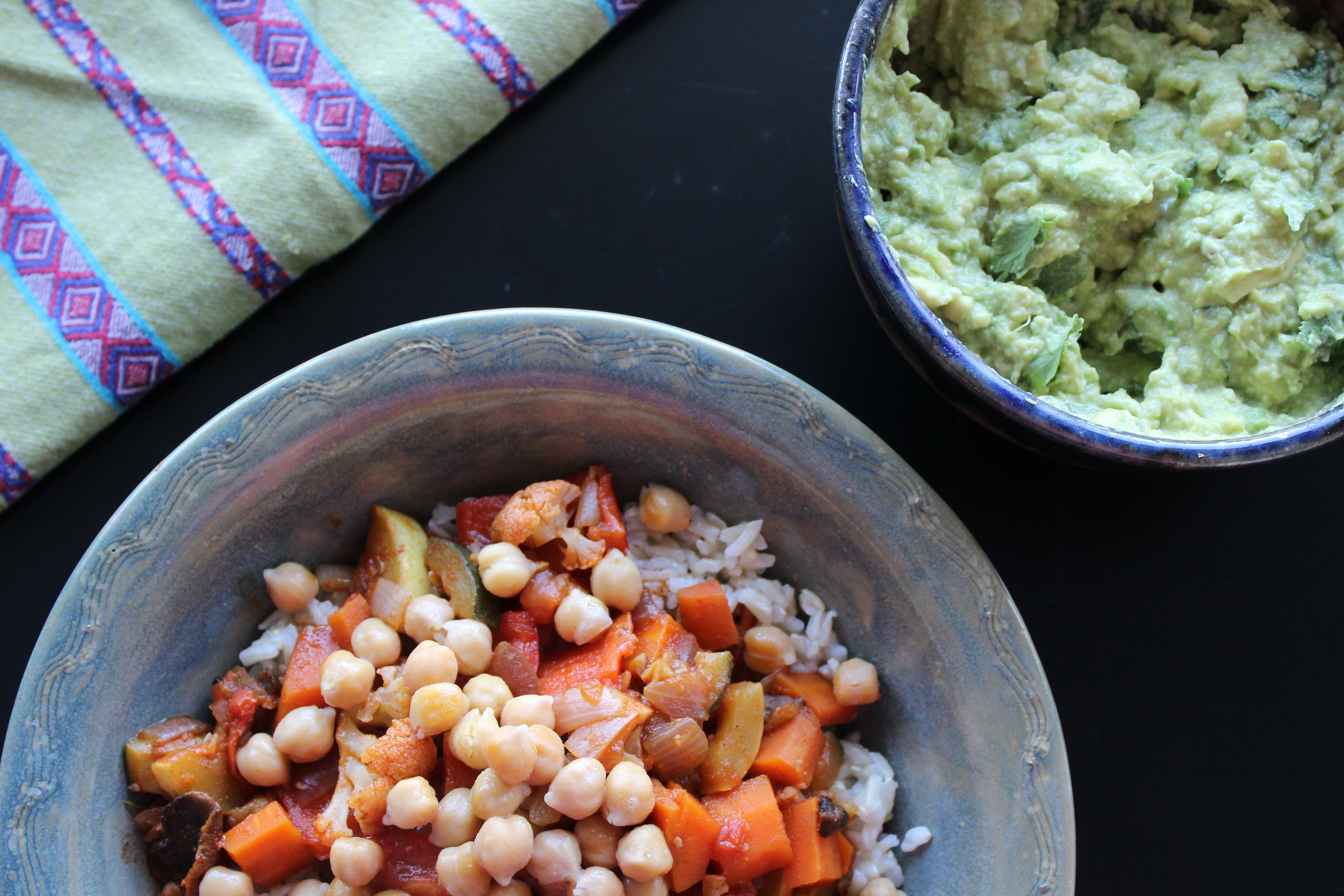 Damn Good Veggie Rice Bowls
Ingredients
2

c.

rice

cooked

1

red onion

4

cloves

garlic

1

shallot

1/2

head

cauliflower

6

medium

carrots

2

zucchini squash

2

yellow squash

1

red bell pepper

2

tbsp.

chili powder

1

tbsp.

cumin

1/4

tsp.

black pepper

8

oz.

baby bella mushrooms

4

tomatoes

1/2

tsp.

salt

2

c.

garbanzo beans

cooked
Guacamole
2

avocados

1/2

c.

cilantro

loosely packed

3

cloves

garlic

1

lime
Instructions
Cook the rice according to package directions, and set aside.

Dice the onion, shallot and garlic, and heat on medium in a very large frying pan, for 5 minutes.

Peel and dice the carrots. Dice the red bell pepper, squash, and cauliflower, and add to the onion mixture. Add the chili powder, cumin and black pepper, and stir well. Cook for 10 minutes, until veggies have softened.

Meanwhile, heat the garbanzo beans, and set aside.

Slice the mushrooms and the tomatoes, and add to the veggie mixture, cooking for a final 5 minutes.

Stir in the salt, and remove from heat.

Make the guacamole: scoop out the avocado, add the garlic (diced), the lime juice and the cilantro, and stir well.

In large bowls, layer the rice, veggies, garbanzo beans, and top with the guac. Serve immediately.