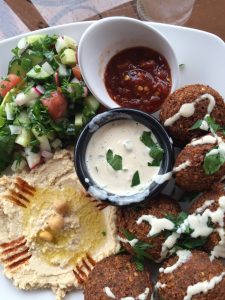 You wouldn't think there would be a lot of healthy options in a city nicknamed cowtown, but Fort Worth has a few outstanding vegan dishes, and many restaurants that are willing to work in healthy food options, if you call ahead. A vibrant art museum district, one of the prettiest downtowns in Texas, and beautifully cared for mid-century modern architecture are other things to check out when visiting this city. Fort Worth was recently named a contending city to become a Blue Zone, meaning residents here have the potential to live to be 100 and over. With little pollution, lots of health food options, great grocery stores, a top-rated health science center and medical district, a walkable downtown and great bike trails, I can certainly see why.
Qana Cafe – Qana is by far my favorite restaurant in Fort Worth. It's not fancy or cute or hip, but it's legit: the food is incredible, made fresh, and made lovingly. This restaurant is set up in an old convenience store just a few miles west of downtown Fort Worth, and everything here is prepared in house by a husband and wife duo, with their daughters working the tables and cash register on most days. Their falafel plate (pictured) is vegan (they'll even make the tahini sauce vegan upon request) and they have a delicious green smoothie, a vegan soup of the day, and wonderful garlic infused salads. Their falafel is the best I've ever had. I can't say enough good things about Qana. Please go here, I promise you, you will not be disappointed.
Hanabi Ramen – our favorite ramen restaurant offers one vegan main course, in addition to seaweed salad and delicious hot green tea. Their Kara Miso Aemen is a brothless ramen with a bit of spice, topped with corn, cabbage, bean sprouts, and they will sub the pork and egg for tofu. It is delicious, filling, and not expensive!
Blue Sushi – if you even remotely like sushi you will love Blue! They have an extensive assortment of vegan rolls (Eden is my fave; Cowgirl and Thai Hippie are good, too), vegan apps (Brussels Sprouts and Edamame), a great tea selection, a beautiful , full-service bar, and vegan dessert – chocolate ganache mini bites with sorbet. You can't go wrong here! And they are right around the corner from Hanabi.
HG Supply – Note: this place was great when it opened. I've not been impressed with the service recently – it's packed all the time now as well, and incredibly loud – but the food is still good. Everything on the menu can be made dairy-free, and they have vegan desserts. My favorite item here is the curry with the quinoa "meat" balls. They have a quinoa burger too but in all honesty it's just OK. Stick with the curry, or one of their other bowls. They have a vegan queso appetizer too that is a good start to your meal! AND what might be the most fun part is that you can rent a bike from here and ride on the trails on over to Press Cafe (great patio and their Medi Dip is vegan) and the Farmer's Market or the Zoo or Mellow Johnny's among so many other places. This is a great way to bar hop!
Spiral Diner – this funky little diner on Magnolia Ave. serves 100% vegan fare, and this place is always packed. I've sampled almost the entire menu, and my faves are their El Paso Burger, the Sweet Luv U's Hummus Wrap and the Bunny Bowl. Spiral also offers a delicious selection of brownies, cookies, cakes and pies, perfect for events or the holidays. The service is mixed, for the most part I have not been pleased, but the food is usually good and many of the options are healthy (a lot of the options are fake "meats" – heavily processed – so order carefully). My favorite part about this place is that all people from all backgrounds go here – all ages, all ethnicities; I haven't seen that varied of a client base at any other restaurant in Fort Worth. With Avoca coffee across the street, Stir Crazy Baked Goods with vegan bakery items just a few doors down, and Melt serving vegan coconut ice cream also close by, along with an assortment of bars and music venues, this neighborhood makes for a fun night out.
Hot Damn Tamales – also on Magnolia Ave., Hot Damn has the best healthy Mexican food options in cowtown. You can either buy frozen vegan tamales to-go, (perfect for gifts and holidays) or enjoy their brunch, lunch or dinner buffets at the restaurant. Their vegan tamales include Poblano Corn and Spring, and they have vegan dessert tamales of Tropical Fruit or Cranberry.  They also offer vegan rice and bean sides, and often have a vegan soup as well.  This is a family-run restaurant providing the best tamales around.
Cane Rosso – this pizza place, also on Magnolia Ave., offers vegan cheese and their pizzas really are delicious. It's loud here, but their patio is kinda nice if you can catch it on a not-too-hot afternoon. I suggest ordering their fungi pizza. This is the best place to go in Fort Worth if you're craving a pizza.
The Modern – the Modern Art Museum Cafe is not only one of the prettiest dining choices in Fort Worth, but they offer a few healthy (and vegan) dining options, especially if you call ahead. On a prior visit, I ordered a vegan lentil soup and a Tahini Maple Crunch Salad, both of which were delicious.  And most recently, their tofu entree and sweet potato soup are both vegan and delicious. Their chef is incredibly creative and will work with you, especially with advanced notice, so call ahead and take advantage of this beautiful room. Then, check out the art, the reflecting pool, and walk across the street to the Kimball and the Amon Carter museums!
Thai Food! There's finally a lot of offerings of Thai food in Cowtown. Thai Terrace is my personal favorite, not only for the taste but for the customer service. Spice and Thai Select are my other go-tos (they are owned by the same company, meaning they offer the same menu and same recipes), the former on funky Magnolia Ave. and the latter in a strip mall; however both have pretty awful customer service, so I tend to avoid them unless I'm getting take out and stick with Thai Terrace.
Vietnamese – Pho Hung – this Vietnamese restaurant on Camp Bowie offers tofu spring rolls and a great tofu bun, which can be made vegan. I love this place, it's great to eat in and also to go! Pho Little Saigon – there are a few good pho places in cowtown but this place has the best tofu around. They always have a vegetable broth pho option and they offer a tofu bun as well, both are incredibly filling and delicious. Their avocado spring rolls are delicious too! It's in a strip mall, nothing to rave about on the inside, but the service is quick and good.
Blue Mesa – Blue Mesa is a small Texas chain of fairly good and fresh Mexican food. They have a nutritional menu and vegan menu that you have to ask for upon arrival. Included on their vegan menu, you can order their avocado quesadilla, guacamole, avocado enchiladas, Navajo salad and grilled vegetable wrap. Many of their sides are vegan as well, and they are delicious, including: the corn cake, smoky black beans, grilled sweet potatoes, mesa panna bread and sweet potato hash. Vegans have quite the selection at this Texan chain!
Sundance Square – I have to add Sundance Square on here because it is literally the heart of downtown, and the square is just beautiful. It's not touristy, it's walkable, it's filled with bars, restaurants, music clubs, comedy clubs and shops. Although most of the shops and restaurants are chains, the downtown still has a cultural feel. Normally I try not to include restaurants in this blog that don't blow me away, but I decided to add in a section on Sundance because if you're visiting Fort Worth, you're most likely going to head here. I'm sorry to say, most of these places are chains. I hate that. The independent restaurants in Sundance Square at this point in time do not offer too many vegan options. I'll start with the non-mega-chains and work my way down: Taverna offers a whole wheat spaghetti with vegetable ragu. I've ordered this a few times, you should definitely ask them to add mushrooms and any other veggies they can get their hands on. This is normally pretty good depending on the number of veggies included. Cantina Laredo will make their avocado enchilada without cheese and sour cream and their veggie fajitas without cheese or butter, both are way filling and good. Taco Diner's mushroom tacos are vegan and you can order a side of black beans, and this place is cheap, and you can order to go and sit in the beautiful Sundance Square (or just view it from their patio). At Mi Cocina you can order their veggie fajitas, they are filling but fairly good. Their guac is nice and chunky. PF Changs offers the most variety: veggie wraps, coconut curry vegetables and buddha's feast are all good. There are some other vegan entrees you can choose from as well. Salata would be my best pick for the square. Choose whatever lettuces, veggies, grains, and nuts you want, add some tofu, and they offer 3 vegan dressings: balsamic vinaigrette, fat-free sundried tomato or lemon vinaigrette. I love being able to make my own creations here, and the food tastes very fresh. Take it to go and eat in the square and you'll love every minute of it! Non-food suggestions for Sundance: definitely go to a show at Four Day Weekend. It's improv comedy and you are guaranteed to have a good time. If you're still up for something to do after the comedy show, run over to Scat to see who's playing. You're most likely going to see some of the best musicians in DFW performing. Fair warning: this place allows smoking, and it's in a basement, so the smoke factor is high.
Righteous Foods – Righteous is great for their service and ambiance. I'm never blown away by their food, and I often leave here hungry, and it's pretty pricey, but I'm adding it to my list as I think it's worth visiting: you can order a coffee and a small dish and enjoy the ambiance if nothing else. I've had the Sweet Potato and Mung Bean Soup, the Kale Salad with an extra side of Cashew dressing (excellent suggestion from our server) and Job's Tears, a beautiful dish filled with salsify, spinach, golden raisins and pecans. The Job's tears is a great, savory dish.
SaveSave
SaveSave