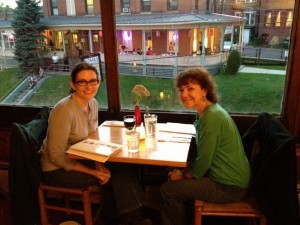 My mom and I headed to western Massachusetts in 2012 for a fall art festival. People aren't kidding when they say the prettiest time to visit this part of the U.S. is in the fall. The scenery was stunning. We had a blast, my mom is quite the researcher and quite the day tripper, so we ended up discovering a lot of out of the way places, from the Peace Pagoda in Levitt, to the Eric Carle Museum in Amherst, the Bridge of Flowers in Shelburne Falls, and the Book Mill in Montague; the discoveries were endless and all were hugely enjoyable. Don't miss these or the Norman Rockwell Museum during your visit!
Paul and Elizabeth's – this lovely natural foods restaurant in Northampton had a really good selection of vegan-editable options and pretty good service. I started with their garden salad which was pretty good and ordered the broccoli tofu entree as my main. Both didn't blow me away, but the atmosphere was good and I'd try it again on another visit.
Amanouz – this small Mediterranean restaurant in Northampton has great service and a very flexible vegan menu. We started with their hummus, followed by a couscous, lentil and vegetable entree that was excellent. I'll definitely add this restaurant to return visits.
Starving Artist Cafe – we stumbled upon this place in Lee on accident and did not want to leave! They have incredible coffee, an assortment of vegan homemade bars or muffins, and we lucked out with a group of singers performing the morning we visited. And these were not the typical just-ok singers that show up at random coffee shops, they were wonderful! Singing all sorts of Tom Waits and Dylan covers to please my mom and me, we did not want to leave. The shop shows paintings in the music room and the current showing was also excellent.
Baba Louie's – this was our last stop in the Berkshires, so we ordered several different teas and enjoyed a leisurely lunch before saying goodbye to Massachusetts. This is a cosy room with good service and delicious, huge salads. I ordered the Greek and mom ordered the Dawn's Delight. Portions were big and both salads were great.