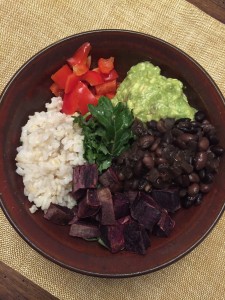 I'm the person who immediately begins planning my next meal when I have just finished eating a meal. Food is pretty much always on my brain. I recently finished reading Women Who Run with the Wolves by Clarissa Pinkola Estes, which is an outstanding book, especially if you enjoy Joseph Campbell, mythology, the art of storytelling, women's issues, tuning into your instincts, or really just enjoy a good read. She mentions the "General Wolf Rules for Life" near the end, and number 1 is Eat. I couldn't agree more. Nourish yourself first.
Plenty of other wonderful rules made her list, which I won't pass on here so that each of you go and read this book, but I will say that her last rule is to Howl, often. That one might be my favorite. The night that I finished the book, I howled, a few times, and it felt great. Empowering, really. My basset hounds stared at me like: maybe she's finally trying to connect with us on our level?? They got a little anxious. And immediately wanted to go on a walk. My suggestion this morning is to go buy the book, read it, follow the list, and of course, howl. It'll feel incredible. Soul enriching. Awakening. Fully alive. I promise.
So lately, back to food, I simply can't get enough of black beans, sweet potatoes and avocados. I say "lately" like this is something new. These three ingredients are what I eat most often, and have eaten most often, for most of my adult life. If everything else fails, or if nothing else fails, I'll be roasting sweet potatoes at least once a week. I found these incredible organic purple ones at my local store and couldn't pass them up. They are Mark Rothko purple.
So I immediately went home, roasted them, and featured them in a lovely bowl. Directions below.
Black Bean Sweet Potato Guac Bowls

Total time about 30 minutes. This is enough food for 3 bowls, with extra rice and beans for later in the week.
For the Black Beans
1 cup dry black beans
1 red onion, diced
3 adobo chilis, chopped
3 cloves garlic, chopped
For the bowl
1 cup dry brown rice
2 sweet potatoes, cut into 1/2 inch cubes
1/2 red bell pepper, chopped
2 cups kale
salt
For the guac
1 avocado
2 cloves garlic, chopped
Juice from 1 lime
1/3 cup verde salsa (my favorite is Mrs. Renfro's Jalapeno Green)
Soak the black beans overnight, drain and rinse, and set on the stovetop to boil. Once boiling, cook on medium low for about an hour and a half. After an hour has passed, add the onion, chilis and garlic, and continue cooking for the remaining 30 minutes. I cook my beans every Sunday to save on time during the busy work week. This will make enough for several meals.
Heat the oven to 425. Chop the sweet potatoes and place in a rimmed baking pan. Roast for 20 minutes, then turn them over, and cook for a remaining 10-15 minutes, until fork tender. I don't salt or oil my potatoes unless I plan to eat them on their own with no toppings.
Cook the rice according to package directions.
Put the kale in a large bowl and add a pinch or two of salt. Rub the salt into the kale with your hands for a minute making sure all of the kale is getting scrubbed with the salt, and set aside for about 20 minutes.
Make the guac: add the avocado, lime juice, garlic and salsa to a bowl and smash together. Set aside.
Make your bowls! Add the kale, rice, beans, sweet potatoes, guacamole, and any other toppings you'd like (I love red bell peppers in mine). Stir, and enjoy!
A little Rothko Purple Love: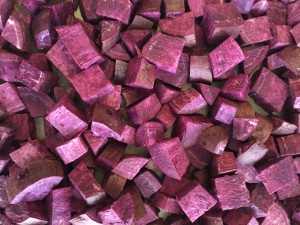 A little guac love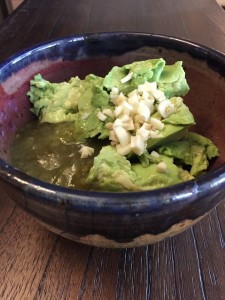 SaveSave