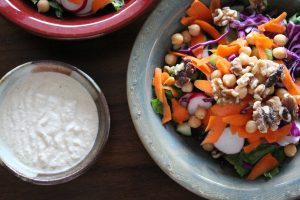 Six or so years ago, my husband decided he wanted to eat solely vegan, to take our health into our own hands and better understand what we were putting into our bodies. Around that time, I picked up many books on eating healthier, and we watched plenty of documentaries on the effect of food on our bodies and overall health. One of the books I came across was Dan Buettner's The Blue Zones: Lessons for Living Longer from the People Who've Lived the Longest. My college education was in sociology and I've always been fascinated by people and why humans do the things they do. Learning about the areas of the world where people live the longest and theories on why they do completely fascinated me.
At the time, I was in charge of marketing and creative direction for a senior living company here in Fort Worth. Close to this same time, it was announced that Fort Worth had the potential to become a Blue Zone. And I flipped. I couldn't freaking believe it.
Long, long story short, my goal was to pair my company up with the Blue Zones, to help seniors live longer, to provide better, healthier foods at our communities, to bring in more creative and healthy living activities, to create areas for more social interaction, to adopt the Power 9 (more on this below) and to continue interviewing and sharing the wisdom of these elders. I met with the Blue Zones team a few times, met with the owner of my company, talked to our directors of lifestyles and culinary, and drafted a business proposal. All of my free time went into this, and it was all I talked about – how cool would it be to help seniors live longer, healthier, more fulfilling lives, and to partner with such an incredible group of people? I was stoked.
And you know where this is going: the proposal was never approved. Actually, it was approved, by the owner of my company, but he required the HR department to approve it, and so it sat, and sat, and sat. And it's probably still sitting, all these years later. I was furious and beyond disappointed.
My friends had been hearing me talk about The Blue Zones for years, and I shared with them my stories about interviewing seniors and writing stories about their lives, and how all of these ideas would combine to create more value, more health, and more happiness for senior adults. Around this same time, I decided to go through a yoga teacher training. Some things started falling apart and other things started coming together, and I realized over a 12-month period that I needed out of the corporate life. So, eventually, I left, to start a creative agency with my husband, and to teach yoga, and to see what would happen next in my life if I had a little more freedom to breathe.
And that's where my friend Sara came in. Sara teaches at Applied Learning Academy, a middle school in Fort Worth. She had heard all my stories and knew my passion for The Blue Zones, and knew that I'd began teaching yoga. Last year, she was given an 8th grade PE class, and she asked if I'd come in and teach her kids yoga one day, which turned into a once a month program. I fell in love with teaching these kids, with seeing how yoga effected their day, with hearing stories from Sara about how they'd progressed in other areas since they began practicing yoga. It filled my heart.
ALA also happens to be a Blue Zones school. They were one of the first middle schools to get on board, to adapt a healthier menu and culinary program, to add in better, more enriching activities, to add in healthier ways for kids to stay active. One day last year, the school had a Blue Zones day, and Sara asked me to come out and teach yoga all day to the kids, to all grade levels, to whoever wanted to practice.
Are you freaking kidding me? Yes. These kids? The Blue Zones? The group I'd wanted to work with for years. The group that I was super passionate about. The group that I spent hours researching and planning and trying to implement for seniors – I could now work with them, albeit for a day, with these kids. I was so excited.
And then one day this year, Sara said there'd be a Blue Zones photo shoot at the school, and they wanted to know if I'd come out and teach a yoga class while they took pics.
So here I was, earlier this year, what I thought was just going to be some pics of me teaching these kids yoga turned into a full-on photo shoot. When I left, Sara turned to me and said, they just told me they'll probably be using these pics on billboards around town.
Wow. They wanted to put us up around this city. This city that was announced 6 or so years ago that it has the potential to become a Blue Zone. This city that I fought and fought about when we were moving here. This city that I didn't like and didn't associate with and thought was so old school and conservative. This city.
That's what life often does, it presents to you what you need. Not always what you want, or in the way you thought you wanted it, but what you need.
Today, I'm not even remotely financially stable. I worry about my future, a lot. I don't always sleep through the night. I don't always know what the hell is going on. BUT. Things are making sense. Things that I wanted to have happen in my life are now happening, for different reasons, but probably for the right reasons.
And my face, along with these kids, are up on billboards and bus stops and flags and buses all around town. It's so dang exciting to see the Blue Zones campaign in full effect, and I can't hide how happy it makes me to be a part of it.
People say all the time that they are grateful. And I do, too. It's one of those words like love where you hear it too much and so you kind of ignore it. I love my husband, and I love cake. Huh? But I'm grateful. Incredibly, completely, wholeheartedly grateful. And so I'm trying to tell myself, take a step back and breathe. For one minute, stop worrying about money or health or family and enjoy your life.
That day is today.
With love from Fort Worth, a soon-to-be Blue Zone,
Jen.
---
The Blue Zones Power 9:
Move Naturally
Have a Sense of Purpose
Down Shift Away from Stress
Stop Eating When You are 80% Full
Plant Slant: Eat mostly plant-based foods
Wine at 5 p.m. (1-2 glasses a day)
Belong to a Faith-Based Community
Put Your Loved Ones First
Right Tribe: Find a group of people who support healthy living
Read more about the Blue Zones Power 9 here.
SaveSave

| | |
| --- | --- |
| | |
Soak the cashews for at least an hour in a bowl covered with water (I boil the water first when I'm low on time to speed this up). Then rinse and drain.

In a food processor, mince the garlic, and then the shallot. Add all remaining dressing ingredients, including the cashews, and process for a minute or longer. Taste and adjust salt/water as needed.

Make the salad: plate your favorite ingredients, and top with the cashew tahini dressing. Serve immediately.
Leftover dressing will keep in the refrigerator for about 3 days.