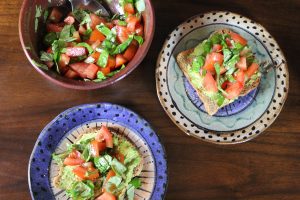 In the late 2000s we lived in a converted 1950's war widow duplex a few stop signs away from our dear friends Holly and Chris, in the heart of East Nashville. For years, there wasn't a weekend that went by that we weren't over at their house. We celebrated everything, from babies to new homes to promotions and new jobs, and consoled each other over the many days that were filled with sadness in our lives. They were our family, in the best kind of way.
Chris is hella smart and hella funny and can remodel anything like a pro, which made him the best person on the planet to live in a 1920s home in major need of love in East Nashville (it was absolutely outstanding after they were finished with it), and made me incredibly jealous. And Holly is that person who looks sexy in sweat pants. Not yoga pants, sweat pants. How do you do that, Holly? I would get jealous if it was anyone else, but Holly's the kind of person who you want to be friends with, she's funny as hell and quick and random and tells sex jokes like they're going out of style and is a freaking incredible cook. Almost every weekend we'd be at their house, with her making some amazing dinner all from scratch, always aware and the best avoider of corn syrup and gmo's and processed anything. She's a hippie health nut in the most borderline republican kind of way. And I love that about her, too.
She taught me a lot, like how to look sexy in sweat pants (oh, right, I still haven't figured that one out…seriously, how do you do that), and that St Germain is not only the prettiest bottle of liqueur you'll ever find, but that it also makes all gin and tonics taste incredible. And, most importantly, to go slow. Dinner with friends should not be rushed. This one is still hard for me. And this woman has figured it out. Take your time, serve lots of apps, alongside incredible cocktails and wine, turn up the beats, and chill…dinner will be ready when it's time for it to be ready, and no sooner.
This is a lesson that I still haven't mastered. Both my parents are from the north, and my dad is as New Yorker as it gets, even after living in Dallas for 50 years and desperately trying to get NYC out of his blood. Everything is a rush. I do it, too. We're both incredibly aware of it. And my mom's even worse. We don't know how to slow down. When I first moved to Fort Worth I thought I moved to the smallest city on earth. These people move slow. It's truly something else. This city is in no rush whatsoever. It used to boil my blood. I'm still working through this, trying to chill, trying to breathe, trying to allow space. The biggest area that I want that, is with food, with entertaining, with celebrating. And that's where I always channel Holly.
With Mother's Day approaching, I think of all of my friends with children, most of whom I've gotten to meet either in the hospital, days old, or soon after birth, just a few weeks of being on this earth. It's an honor to hold a baby, to witness their first moments and their first stares. Of all of my friends, I know of no one who wanted a kid more than Holly, and I often think of her during this holiday. Between her and my mom, I understand the suffering, the pain, the challenges with trying to get pregnant, with wanting something so much and not being able to get it, and of loving something so much and then having it taken away from you, for no one to ever understand why; albeit from afar, from stories and from cries. Mother's Day is not always an easy holiday for many; most holidays seem to be holders of pain as much as they are holders of joy. But for me, I think of all my girlfriends putting aside their small desires and passions for their biggest dreams: to love, to live in fear, to live in joy, and to experience the wonders of life. And especially, I think of Holly.
This weekend, I'll be celebrating Mother's Day and the heat of late Spring with my mom and family, and we'll enjoy an assortment of lively appetizers, vegetables and desserts. I love blending lots of flavors, drinking wine, and savoring long evenings. I can't not think of Holly when making meals like this.
Now that the heat of Texas is nearly upon us, I've been craving bruschetta filled with farmers market tomatoes and fresh basil. This is one of my all-time favorite appetizers, and it'll come together in only a few minutes. It's perfect on its own, or pair it with a ton of other appetizers, like hummus, tabouli, grape leaves, or a bean salad, and a great bottle of wine.
Here's to moms, great friends, old homes, long dinners, and sexy sweat pants.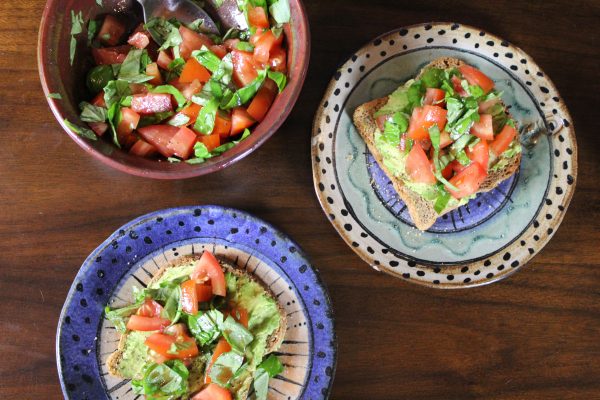 | | |
| --- | --- |
| | |
Slice the tomatoes in half, and chop the basil into thin strips. Combine in a medium bowl, and add olive oil, vinegar, salt and pepper.

Slice and toast the bread, and spread the avocado on top of each slice. Top with a sprinkle of black pepper.

Plate the bread, and serve alongside the tomato/basil mixture. Enjoy immediately.