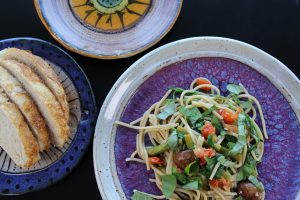 I've been teaching yoga now for a little less than a year, which is something I never thought I'd be doing with my life. I was the artist and reader as a kid, and as an adult – my interest has ranged from being lost in books, drawing, painting, photography, metalsmithing, cooking, design, and most recently, ceramics. I was chubby as a kid and not active, not in the slightest. Albeit from a very unforgiving short stint attempting to play basketball and a few weeks in drill team in middle school, (of which memories I wish I could completely wipe clean) I never played sports, or gymnastics, or ran, or danced, or practiced pretty much any form of movement, ever.
So yoga, it was a far cry from my life. And then came along my boyfriend, now husband, who introduced me to Rodney Yee on VHS, back in 2003. And my world changed: you can be active and go inward? You mean the feeling I get when I am lost in creating art, I can get that feeling in yoga, too? Yes, more of this, please.
So I became hooked, slowly. Meaning, it took over a decade for it to stick. And stuck, it has.
But here's what has happened to yoga: we all want the damn handstand.
I get it, it's fun to go upside down. It makes you feel much younger than your years, it gives you an adrenaline boost, it gets you closer to those moments of a beautiful, legal, high. And once you do it, you want it again, and again.
But yoga is not the damn handstand. And yet, often in my classes, I'll hear my students ask for this pose. Especially if I only have a few students show up, and I ask, is there anything you want to work on today? Inevitably, especially at the gyms I teach at, someone will say, I want to learn handstand. Or worse, headstand.
And so I warm them up, and then teach them the basics. Because I know the basics really, really well. And then I teach them how to fly up, because I also know how to fly up, even if I can't stay up. But every time I do this, I think, is this what yoga is? Learning a damn handstand? And then once students learn handstand, are they done? On to the next fitness challenge?
And then I also think, if so, you'll be back. You'll have a crisis in your life, or you'll have a change of heart, or you'll want to slow down, and you'll be back. Yoga will call you back.
Because, inevitably, we can't get through life without these moments of silence, these moments of going inward, these moments of self-reflection. Some of us can do this on our own, in our rooms, away from people. But there's something about the community that yoga builds, in a studio, that's beautiful. I see it in every class I teach and attend, the students who arrive before class starts, they chat, and connect, and see what each other has been up to. It's a community, it's a belonging, and it's a process. You get your tribe, and then you get to go inward, and then you get to grow. That's beauty.
Sexy, showy yogis on instagram in their bikinis practicing handstands and arm balances? That's not yoga, not really. That's not the point. And maybe their vast array of skin and flexibility is getting some people to try out yoga, and maybe that's good. But I think more than that, it's showing people that they're not good enough for yoga, because they can't balance, they aren't flexible, they don't practice Warrior I in their bikinis, and if they did, they wouldn't post those pics on Instagram. And that's bullshit.
Five years ago, I was one of those people too: nervous and wanting to try out a yoga community but so freaking sick of seeing skinny young women all over studio sites. I was so nervous that I refused to give yoga a try, outside of my bedroom. I'd consistently go to a studio website, and look at all the pics, and realize I didn't fit in. And a few months would pass, and I'd go to the websites again, thinking, maybe there will be a different mix of teachers now, and I'd get discouraged, and give up, and stay in my room.
And really, this is one of the reasons I wanted to teach: because I can barely balance. I can barely, and I mean barely, get up in a handstand. Headstands completely freak me out, although I do include them in my practice, from time to time. I'm not super skinny, and I'm not flexible, and I'm not "young", whatever the hell that means.
And daily, I practice, and most days, I teach, yoga. My students, many of them, look like me. None of us look like what you see as what is popular on Instagram.
Because that's not the point. One of the many points of yoga is that these practices make us younger in spirit. They help slow our aging. They keep us healthy and grounded and aware. They allow us more freedom and understanding to go inward. They give us a community, and truly, what an incredible community it is. Most importantly, they help us slow down, and connect with our breath, and connect with whatever form of spirit we associate with, within.
So, damn the handstand. Enjoy your practice, and don't compare, and don't judge, and be nice to yourself.
---
Like yoga, this pasta is simple – it takes the basics and presents a healthier approach to a yummy food. Simple is good.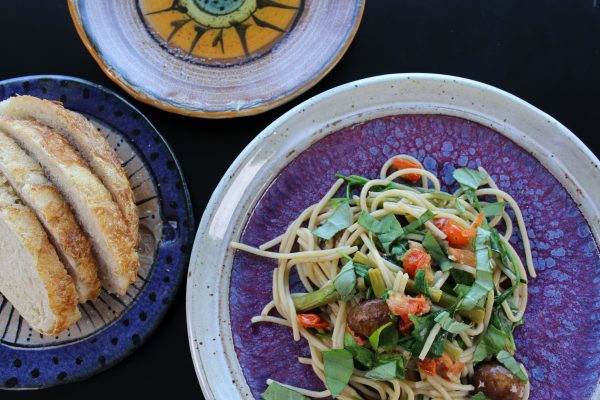 | | |
| --- | --- |
| | |
Chop the asparagus, removing the hard ends. Mince the garlic, slice the cherry tomatoes and the mushrooms. Heat a large skillet with olive oil, and add the veggies. Cook over medium heat for about 10-15 minutes. Finally, add the chopped spinach, allowing it to slightly cook up, for 1-2 minutes.

Meanwhile, bring a large pot of water to boil, and cook the pasta according to package directions.

Drain the pasta, top with the veggies, top with black pepper or red pepper flakes, if desired, and serve.