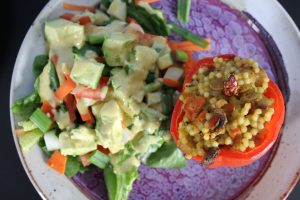 I remember being in college and having mountains of student loan and credit card debt, and thinking, there's no way I will ever get out of this. I'll graduate with my sociology degree and if I'm lucky I'll find a job in child protective services or social work that pays $30,000 a year and maybe in 20 years I'll have all of this paid off. If I'm lucky. Not if I work hard, but if I'm lucky.
I firmly believe that's most of life. Luck. And hard work, and putting yourself in the right place, of course. But for a lot of us, it's mostly luck.
We are not equal. We are one, yes. But we're not equal. I'm a white, middle-class woman with a college degree. Yes, I paid my way through a lot of life, but I also, time and time again, happened to be in the right place at the right time. I got lucky.
That's not the way America works. We can close our eyes and think it is. And if you grew up wealthy, if you grew up luckier than your neighbor, and if you have a college degree, you're in a better place than most. But not everyone gets those opportunities. Not everyone grew up in the suburbs or with parents who read to them at night. And those people, they're handed the shit stick. They have to deal with the crap that they got and hopefully they were lucky enough to get past it. Hopefully they worked hard enough and were given the right chances by the right people to escape the pains of their childhood.
For others, it doesn't work that way.
And this, this is why we need empathy. This is why we need understanding. This is why, for our country, we need peace, and a reality check. I'm still preventing myself from getting into politics on this blog, because let's face it, there's so many more interesting things we all could be talking about, and because, I don't want this space to turn to that. But I will say, this country, we need to continue growing and loving and embracing. We need to continue moving forward. We need love and understanding.
Anytime life is stressful, my husband will turn on comedy. It's the only way these days that we're both able to lift our moods. And these past several months, we've turned to comedy daily. Life, it sucks. Sometimes it's impossible to deal with, so much so that the only thing that can take you out of your misery, is laughter.
Over the past couple of months, we've watched two Jeff Ross specials, and I hope you take a few hours to check them out. If you don't know of Jeff Ross, he's the self named "Roastmaster General" and he's hilarious. He's roasted everyone you could possibly think of; he's quick and brilliant and incredibly smart. Recently, he roasted a prison in Texas. And more recently, he roasted a police force in Boston.
Watch these two specials. They'll cost you maybe $20 – $25. They are worth it.
Here's what I got out of it: we're not equal. It's as simple as that. And unless we practice some more empathy in life, we'll get nowhere. Our prisons turn people, mostly poor black men, from someone who made one small mistake, to someone who will now be spending a life in crime. Who now will have very little chance to get away from the darkness.  And it'll keep turning privileged people, mostly white privileged people, into people with one more lucky break. Because this is what it all comes down to: money and race. If you're rich, and you fuck up, you'll be fine. I mean, don't kill anyone. But if you get a DUI or get busted with pot or crack or heroine, you'll be fine. And if you're poor, for the most part, you're fucked. Especially if you're black. And especially if you're a black male.
One small crime will turn into a mountain of debt and that debt will turn into more problems and you won't know how to get out of those problems so you get into more crime and more debt and more problems. It's a vicious cycle. For anyone who's had credit card debt, or student loans, you know how hard it is to get out of that. You know how that mountain seems so impossible, and how time and time again, you think, well shit, this only costs $50, what's that on $20,000? And that's how it keeps going. That's how all of this spins out of control and gets bigger and bigger. The same with crime, the same with dealing with jail, the same with lawyer bills and court bills and missing years of your life locked up and then getting out and starting from scratch; but this new scratch, it's filled with bills and hate and regret. That spins, it gets bigger and heavier, and there's no escape.
It's brutal, and it's not fair, and it's the country we live in. I can list out for you all the mistakes I've made in life, there are tons. But I am lucky. That's it. I'm not better than anyone else. I'm just lucky.
Until we start to realize that, until we start to look at each other as we're all one, we'll never be equal. People like Jeff Ross are bringing that to the limelight, in an incredibly funny way. And because it's funny, it sticks. Because it's funny, it's less about politics and war and greed, and more about: how can we fix this? It's possible to fix this. It is.
Next month, the famed equal justice lawyer Bryan Stevenson is coming to speak in Dallas, and my mom got tickets for our whole family. I can't wait. Anytime I hear him speak, I'm moved to tears, and I'm immediately encouraged to make the change, to be the change. We have a crisis on our hands in America, and we must get past this. People like Bryan are fighting and working diligently for relief. People like Jeff are bringing us together through laughter. They're both allowing us to question, to pry, to look inward, to see that there is a better way. There's a path of peace.
I'm incredibly thankful to live in this world. I do believe most people are good. And I believe many, many people were given a shitty hand to start with. We can fix that; it's possible. We can allow some mistakes to not be seen as criminal charges. We can supply more people with better role models. We can pay our teachers better, and we can work harder to find those who are gifted with high degrees of emotional intelligence, with high degrees of empathy. We can allow for positive ways to escape starting early in grade school, things like yoga and meditation and music and art. We can offer free parenting classes and free positive discipline classes and better yet, we can supplement incomes for those who have to take a night off from work in order to go.
We can continue bringing these problems up in conversations, and we can encourage people to laugh about it in order to bring it up more easily, for more to hear. We can get more of us talking, and we can begin working together. We can spread love.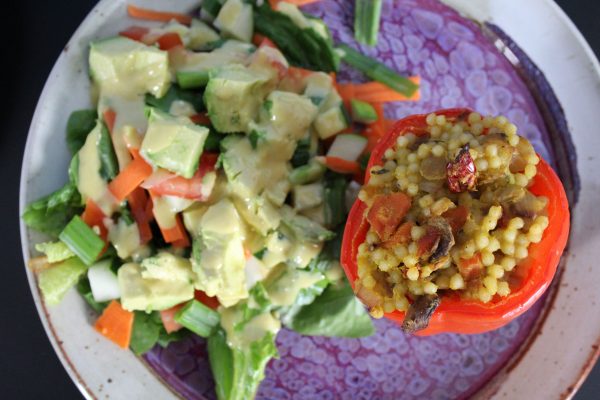 | | |
| --- | --- |
| | |
Heat the oven to 350 degrees.

Make the couscous: if using Israeli couscous, bring 1.5 cups water to boil, add the couscous, lower the heat to simmer and cook, covered, 10 minutes. If you're using packaged or non-Israeli couscous, follow the package directions. When finished cooking, set aside.

Add the onion, shallot and garlic to a medium frying pan and cook over medium high heat for 5 minutes. Add the carrots, mushrooms, sundried tomatoes and parsley, stir together and cook an additional 5 minutes.

Make the cashew sauce: add all ingredients to a Vitamin or high-powered blender, and blend for a few minutes, until smooth.

Combine the couscous, veggie mixture, and 1 cup of the cashew sauce, and mix well.

Chop the tops of the bell peppers and scoop out the insides. Fill a baking dish with 1/8"-1/4" of water, and add the bell peppers. Fill the peppers with the couscous mixture, cover the dish with foil, and bake for 30 minutes.

Remove the foil and bake an additional 15 minutes.

Remove from the oven, let cool for a few minutes, top with more cashew sauce, and enjoy!