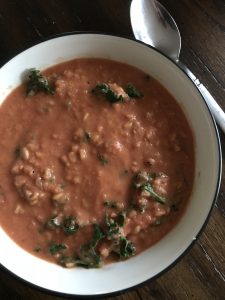 Staying focused as a marketing professional is getting harder and harder each and every year. I'm realizing that the things that I used to be able to do on my own, I now need an entire team for, and here's the deal: my husband and I work for ourselves. We can't afford an entire team, and certainly can't afford to bring on more people than we already have.
The marketing world has blown the heck up in the past 10 years. Google Places. Instagram. Facebook. Google My Business. Google Analytics. Search Engine Marketing.
Have you stopped reading yet? I know, this blog just got hella boring.
Stay Focused
I know fully well that what we focus on is what we get out of life. So if we focus our energy and our attention on obtaining clients, we'll get more clients. But all the other stuff – all the marketing trends and the social media and the blogging, it's damn overwhelming. And it takes up all. our. time.
I thought there'd be an end at some point to all the web world drama, but there's not. This is what it means to run an advertising agency: you have to be on top of everything at every minute of the day, for your own brand, and for each of the brands you work for. If you're a small agency, this means most of your time is going into triage: this page needs to be updated, but doing that means this form will need to be edited, and doing that means the submission into the email program will need to be updated, and then the landing page advertisements have to be adjusted, and then…
AHHHHHHH
And then you realize, you've spent 3 of your most productive hours on marketing BS and not on developing your brand, or reaching out to customers, or that blog post that you were supposed to publish two weeks ago.
And that's my real job. My other job, or passion job, is teaching yoga. It's what I mostly write about on here, because it's what I love most. It's not how I make my money. It's my passion. But, you only have so many things you can focus on. So you can focus on what matters (your family is really all that matters, and that silly job that makes sure you're off the street), or you can focus on your passions, but you often can't focus on both, not all of the time at least.
Pick an Industry that will Pay Your Bills
This is where the self help industry hurts us. It tells us to manifest our dreams, and to pray, and to work with our energy, and life will just fall into place.
But what it doesn't say is, you have to work fucking hard. Really fucking hard. And even then, work hard in an industry that will pay your bills. So your little passions, they are great and all – for passions. Most likely not for paying the bills.
You would think at this point in my life that I would have realized this before. And I have, but I'm back here. Realizing that I've spent several years now focusing my energy on trying to make something out of nothing. Trying to manifest those dreams. And really, it's all good. Just hard to accept at times.
What We Focus on is What We Get Out of Life
And there's also the quality of that focus. You can't mess around here. Going back to yoga, think of your drishti, your focus point. Notice how you have to have it in balancing poses, but also notice how you have to nurture it, too. You can't just focus in on something and stop breathing. You'll fall. You have to focus in, continue to breathe, and to stop the chatter in your mind. It's so much harder than it seems. Real life is the same way. What you focus on, and the quality of your focus, is what produces results.
All that said, I'm teaching less (way less) and trying not to plan those classes as much. I'm focusing more on marketing content and Google adwords and email marketing and design and client communication and rebuilding a business. It's time to play ball, and it's time to zone in. I have some kick ass marketing clients who I love representing, and more will come, and I'll find that peace that I get with yoga, with them.
Everything I've learned these past several years applies to all of life. Your foundation must be strong in order to grow. And your attention, your focus, must be set, and it must be felt within. Right now, I'm rebuilding my foundation, and I'm zoning in on what matters. And life is good. You might be hearing less of me, and you'll probably be hearing more about marketing and advertising than anyone wants to hear about (myself included, but I'll try to make it fun). Vegan recipes will continue, and yoga will continue, but my focus is on my business.
With love, Jen.
SaveSave
SaveSave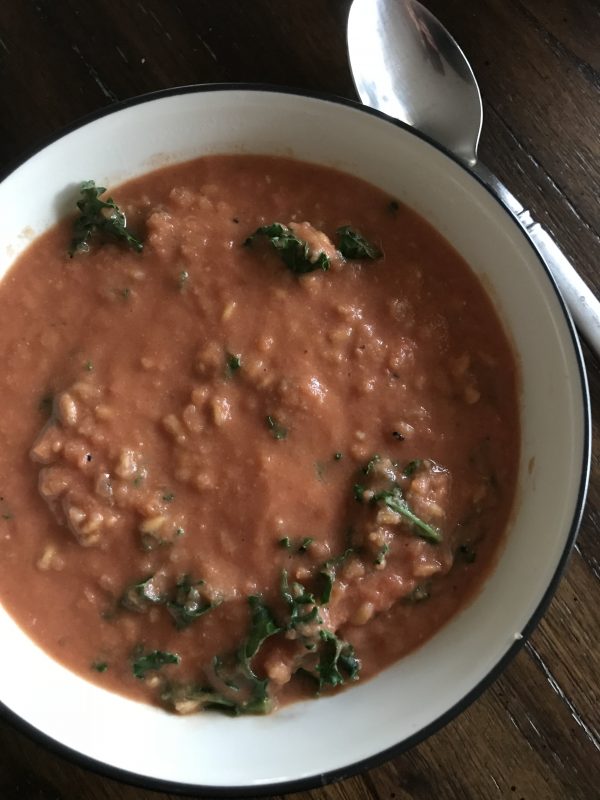 | | |
| --- | --- |
| | |
In a large stock pot, cook the onion and garlic for 5 minutes.

Add the tomatoes, and cook for 10 minutes.

Meanwhile, drain the cashews. In a Vitamix or high-powered blender, blend the cashews with the salt and 1 cup of water.

Then, blend the soup (I use an immersion blender for this step, but you could also pour the tomato mixture into a blender to blend - just be careful when pouring as the soup is hot, and then return the soup back to the stock pot).

Add the vegetable broth and cashew cream to the the soup.

Add the barley, and cook for 40 minutes.

For the last 5 minutes, add the kale.

Serve immediately. Soup will last for 4 days in the fridge.