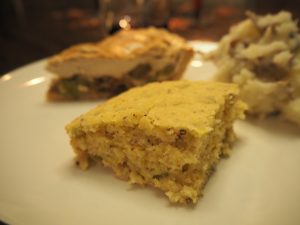 In 2016, I left a very nice high paying career in corporate America to begin my own marketing company with my husband and with the help of a few highly qualified designers, writers, and PR experts. It took a lot of guts and a lot of planning to say bye-bye to a sweet salary and sweet benefits and, what really mattered to me, the 4 (almost 5!) weeks of paid time off. I knew in my heart that I couldn't lie to myself anymore; that I couldn't follow someone else's dreams. I knew that because I had plunged deep into goal planning and yoga teaching and finding my true center the year before.
Fast forward to today, and after nearly 3 years of hard f-ing work and massive tragedy and losing my damn mind over and over and over again, I now take home more money than I ever did in my corporate life. My schedule is full yet flexible, and I have time to do what I love to do: teach, and learn.
I am not saying this to brag. I am saying this because YOU CAN, TOO.
This is how.
Every December, I set aside massive amounts of time to do the following:
Meditate, with intention
Journal, with intention
The intention behind this time is to:
Review the year: everything about it (this is why you need a ton of time) – go over all the good and all the bad. Have two columns in a large journal and write everything you can think of. The next day, do it again. And then again. And then again.
Assess what you need out of the coming year: what are your darkest, scariest goals? What are your smallest, silliest goals? Write them all out. Do it. I would have never, ever quit my job had I not done this. It is scary to say: I am going to leave a freaking nice job; and all the years I climbed and climbed and climbed that ladder I no longer care about. Write those words down. Write down the words that scare you and the words that you doubt. Do it again the next day. And then the next.
The time I spend planning these days is a bit different than the time I spent in 2015, and here's why: I truly despised my life in 2015. I hated my clothes, I hated my office, I hated the drive into work, I didn't want to see the people I was around. I didn't want to be in my skin. I didn't want to be dragged into one more pointless meeting. I hated it, all of it. I didn't realize how bad it was, either, until I started doing this type of work.
So in 2015, my journaling also included things like:
If I could live anywhere, where would I live?
If I could spend my time with anyone, who would that be?
If I could do anything I wanted to do, what would that be?
What is missing from my current life that I want in it?
And I always, always go back to the quote by Jim Rohn that you have seen me write on this blog many times before: You are the average of the 5 people you spend the most time with.
It was that one that was a total slap in the damn face. If I don't want to be where I am, why the hell am I sitting here? What's so scary about no longer sitting here?
It turns out, nothing. It turns out, life is a lot better when you start stepping away from fear and into your true path.
I would like to say also, life is hard no matter what. It is. People are annoying no matter what. There's drudgery in every day. It's not like my life is leisurely and I can travel the world and I can just do whatever I want at any moment's notice. I could, realistically, travel the world. I could, realistically, work from anywhere. But for me, I need the routine or I get all messed up. I need my office and my tea kettle and my dogs under my feet. That is where I do my best work.
So, these are my suggestions to you. If something in your life feels out of whack, sit down, be still, and journal. You don't have to call it meditation. Just sit still. Try to push out the "I need to go wash the dishes and answer this email" garbage that's coming into your head. And then, after that's left, see what comes.
Every year, this is how I set, and then meet, my goals.
Wait, there's more!
You can't just set the goal and walk away. You have to then do the work.
I keep a handy little day planner on me all the time. It is my life. This is where I set my to-dos, my goal orientation. This is where I have little reminders that say things like: your new recipe is due next week. Or, you need to have one more weekly yoga class on the schedule by next month. Or, your goal is to bring in one more client by June. Who have you talked to recently?
Things like that. You have to do this. It is imperative, and will help you keep your goals.
So now, while you're sitting there goal planning, I need you to take another step. For every goal you write down, write the 5-6 steps that you have to take in order to make that goal be a success. This is tedious work. This is the not fun part. You must do it. There is a very, very strong chance that your goal will flop if you do not take this step.
And know that here's the deal: if you get to June and you hate your goals, all good. Who cares? They are for you, and only you! You get the freedom to change them. If in June you see your calendar and it says you were supposed to do a training in NY and now you want to go on a retreat in CA, go for it. It's OK. Have a reason for changing them, and then do it. Don't beat yourself up over it. This is key. My Catholic-raised ass will never be able to escape the nearly 20 years of guilt and shame that poured through me for crap like this. You might be the same.
Set that shit aside, and live your life.
Now. Get to it! See what comes up. You probably don't even know what will be coming up. Write it all down. No one else will see it. This is all about YOU.
---
Hatch green chile!!! I can't get enough of you. Talk about goals: this is my 5th time at this recipe and I finally got it right. This is so dang good. 5th time's the charm! ENJOY.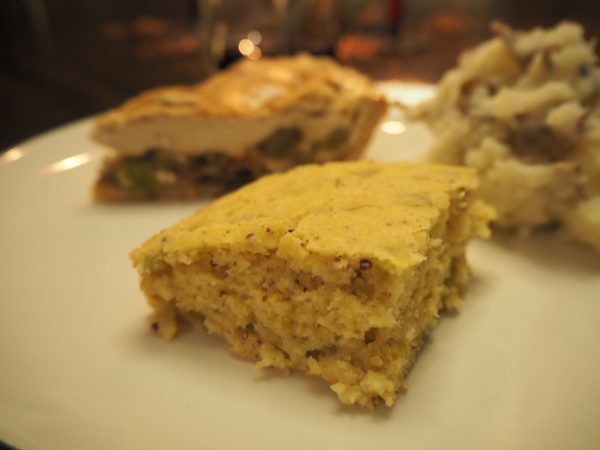 | | |
| --- | --- |
| | |
Heat your oven to 425. Spray a 8" square pan with coconut oil and set aside.

In a small bowl, combine the flax with 3 tbsp. warm water, stir well, and set aside.

Heat the butter over low heat in a small pan. Once it is melted, set aside.

In a large bowl, combine the cornmeal, flour, baking powder and salt.

Add the maple syrup, flax seeds, butter, and slowly pour in the milk. Then stir in the hatch green chiles.

Pour the batter in the prepared pan and bake for 20 minutes, until toothpick comes out clean. Let cool for a few minutes, and then dig in!