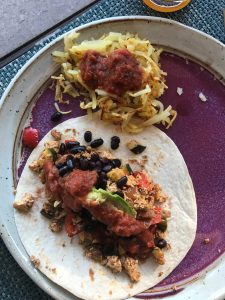 Mason: Dad, there's no real magic in the world, right?
Dad: What do you mean?
Mason: You know, like elves and stuff. People just made that up.
Dad: Oh, I don't know. I mean, what makes you think that elves are any more magical than something like a whale? You know what I mean? What if I told you a story about how underneath the ocean, there was this giant sea mammal that used sonar and sang songs and it was so big that its heart was the size of a car and you could crawl through the arteries? I mean, you'd think that was pretty magical, right?
Mason: Yea. But like, right this second, there's no elves in the world, right?
Dad: No. Technically, no elves.
~ Ethan Hawke and Ellar Coltrane, Boyhood
I've been talking about magic a lot in my yoga classes this past week, and in savasana, I've been reading one of my favorite quotes from children's book author Roald Dahl. But it is this scene described above that keeps popping over and over again in my head. I've watched Boyhood many times (it's one of my favorite movies of all time), and this scene always makes me cry.
There is something real about magic.
And there's something so not real about it, too.
This is the season of magic, if you choose to believe in things like that. I believe in magic, with a cynic's heart. That heart has been getting somewhat softer over the years, but I still have a hard time with all the woo woo spiritual talk. I get it on one hand, and believe it on one hand, and then my brain kicks in and I start spinning, with no clue as to where I'll land.
I'd like to think that I had this type of a talk with my dad when I was Mason's age, and I'd like to think that my dad answered the same way Ethan's character did. I bet we did.
My favorite part of this movie is probably most of the audience's favorite part, at least the part of the audience who lives in Texas: it's the ending scenes filmed in Big Bend National Park. There's a reason Richard Linklater ended the movie with this scenery, and I'm assuming it is because Big Bend is magic. It's one of the most magical places there is; quite certainly the most magical place in Texas. If you told me you went hiking in Big Bend and you saw an elf, I'd probably believe you. That place is otherworldly.
For me, magic is held in our hearts, and in our mountains, and in our communities. It's shared when people come together in beautiful ways without asking for money or fame, and it's shared when we take moments to pause: to not say a word, to simply breathe, noticing the space between the inhales and exhales, noticing the wind and air surrounding us, noticing the birds flying overhead and the weeds growing between our toes. That is magic.
Wishing you a magical Christmas,
Jen.
---
I'll be making these migas on Christmas morning when my family comes over, along with empanadas, homemade tortillas, breakfast potatoes, biscotti, cinnamon rolls and a tray of various Christmas cookies. I can't wait to dedicate these next two days to being in the kitchen! More recipes to come as I master some of these dishes.

Passive Time

20-30

minutes
Passive Time

20-30

minutes
Remove the tofu from the package and pour out the water. Set in a tofu press or in between a few hand towels and underneath several very heavy books for at least 20-30 minutes.

Meanwhile, prep your veggies.

In a large skillet, heat the oil and add the onion, garlic, and spices, and cook over medium heat, stirring often for about 6 minutes. (NOTE: I don't often use oil with veggies but for this recipe I do; otherwise I have found the tofu to stick).

Add the peppers and zucchini and cook a remaining 6-8 minutes, stirring often.

Crumble the tofu over the veggies, stir well, and cook a final 5 minutes.

Serve over tortillas with toppings of your choice (my faves are salsa, cilantro, and black beans with a side of hash browns or breakfast potatoes), or serve alongside avocado toast.