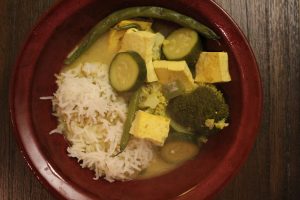 My husband and I both graduated from The University of North Texas, albeit a few years apart. We didn't know each other then, but it was ultimately our time at North Texas that brought us together. He was a music performance major, specializing in marimba and drum set, and I studied english lit, creative writing, and sociology. I went to UNT for one year, transferring my credits from two other institutions, trying (and thankfully accomplishing) to piece together some sort of a degree.
After graduating, and after a few years in New York, my husband came back to UNT to pursue a masters in jazz performance, and that is how we were introduced: on a blind date, from a friend who I worked with, who met him on a gig.
Last week, I was making this ultimate green curry with all green veggies dish and had the UNT Mean Green theme in my head, and thought it'd be fitting to tie these two together.
UNT is a music school. It was in the 90's and it still is today one of the top music performance schools in the nation. It was there that my husband began refining his marimba performance skills, although it was the drum set that established his professional career, as he went off to tour the US and the world, backing up various artists and performers, for over a decade.
Last year, nearly 20 years after graduating from UNT, he picked the marimba back up. Which isn't an easy instrument to just pick back up – it's huge; massive really, it takes up an entire room. And it's an extremely dedicated, challenging, and meditative instrument to learn. The sounds he is producing from this instrument are incredible, healing, nurturing, alive. Last year was an impetus of a year for him: dealing with grief and loss and one hardship after another, he needed more of a healing regimen in his life. And that's how and why he got back into playing marimba.
The neat thing about his marimba performance is that it was his dedicated practice in the late 1990's and early 2000's that got him into practicing yoga in the first place: to heal his hands and arms, to relieve tension and to help with the meditative mindset of this music. When we met in 2003, it was he who turned me on to yoga, as he practiced AM and PM yoga along with Rodney Yee's VHS tapes, encouraging me to try this practice and ultimately beginning my love affair with yoga (and with him, lucky me). So the marimba and yoga have always been tied together for him, and now they are for me as well.
We've been planning a yoga and drums special event night for many months now, but decided to turn our event into a yoga and marimba night after hearing the sounds that are coming out of this instrument. It seems fitting to enhance what I'm teaching and what he's playing. And so here we go, our special event:
East Meets West: An Evening of Restorative Yoga Accompanied by the Marimba, on Friday, March 31, from 6:30 – 8 p.m. at Urban Yoga Fort Worth, in the near Southside neighborhood.
I try not to plug much on this site, but I'm plugging this event, because I'm super excited about it and know how important the combination of the sounds of the marimba along with restorative yoga is. It's healing and inspiring and will reach you to your core. It's the perfect event after a long week, and a great way to fully, completely relax.
Restorative yoga is a godsend in our hectic, all-encompassing, competitive and challenging lives. The messages we get in every corner tell us we're not good enough, we're not thin enough, we're not the right color or height or we don't have the right degree or the right spouse or home or career or car or handbag. In America, we want, want, want. And we try, try, try. And we work, work, work, non-stop. It's a disease, this lifestyle. Literally: stress causes many, many diseases, from cancer to heart attacks, to arthritis to diabetes. You name a disease, and I guarantee you one of the causes in some study somewhere will be: stress.
So that's why yin and restorative classes are incredibly important. We rush too much. Our minds don't focus enough. We think and chatter away our lives. We watch stupid television shows and refresh our Facebook feeds and listen to the radio and the news and our to-do lists, and we don't stop. We don't sit and relax and just be. We take the challenging, strengthening, sweat-producing workout classes, and we push, push, push, and don't realize how much our bodies are craving the break.
Restorative yoga provides you with the moments where you can just be. This is the best meditation. This is the most relaxing place available for you. This is where you can watch your breath, you can feel the ground supporting you, you can sense your organs and muscles and bones fully and completely relax. We're combining two beautiful, soul-stirring, calming and healing therapies: music with restorative yoga. And I so hope you can make it.
We're calling it East Meets West because it's exactly that: emulating the tone that you would often hear in more of an Eastern society – usually produced with the sitar or the African drums, combined with the modern sounds of the marimba, an instrument these days that is often only found in concert halls and universities. We're combining the beauty and grace of the instrument with deeper, more meaningful tones. We're combining dark and light, the theories of yin and yang, the elements of east and west, to bring you a beautiful, stirring evening.
So please come on out to Fort Worth, catch an early dinner at one of the great places on Magnolia Avenue, like Spiral Diner (fully vegan), Mama Mia's (our little Italian institution), Flying Carpet Turkish Cafe (my personal fave – OMG so good and those rugs holy smokes), or make it fancy and go to Ellerbe. There's so many options on that street now, from Mexican to pizza (with a vegan option) to coffee and beer, Melt's vegan ice cream options and Stir Crazy's vegan baked goods, and so much more. And then make your way over to Urban for a super special relaxing evening, filled with restorative yoga and live music.
We know you'll be pleased. I hope you can make it.
In the meantime, I updated my normal green curry with all green veggies, and added a bit more spice. This isn't as creamy (or fattening) or sweet (no sugar added) as what you'd get in a Thai restaurant. So you can't compare this apples to apples, but it's delicious and healthier, and I think you'll enjoy it.
Hope to see you soon!
Love, Jen.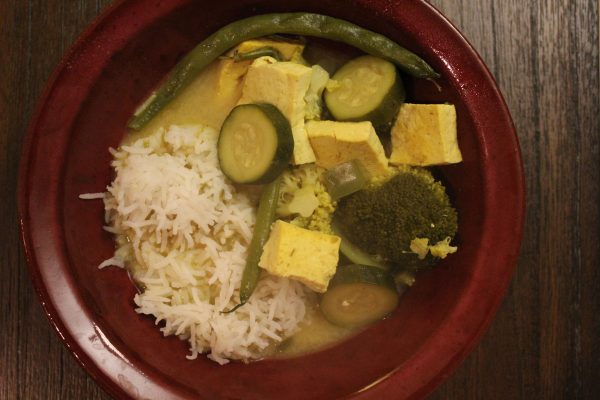 | | |
| --- | --- |
| | |
Press the tofu under very heavy books or in a press for at least 30 minutes, or an hour if you have the time.

Chop the broccoli, green bell pepper, squash and jalapeno, and add to a large stock pot. Add the vegetable broth, bring to a boil, and then lower to a simmer, cooking for 20 minutes.

Meanwhile, combine the rice with 3 c. water in a medium saucepan, bring to a boil, and them simmer on low, covered, about 20-25 minutes, watching carefully so it does not burn.

In a medium bowl, combine the sesame oil, garlic powder, and curry powder. Chop the tofu into bite size pieces, and dip each piece in the oil mixture. Heat a large frying pan over medium-low heat, and add the tofu, cooking for about 3-5 minutes on each side.

Add the tofu to the pot of veggies.

In a small saucepan, heat the coconut milk and curry paste, stirring together until well mixed and all clumps dissolve. Then add the milk to the pot of veggies, stirring well.

Heat through for a final 3-5 minutes. Then spoon the rice and curry mixture into bowls, and enjoy!