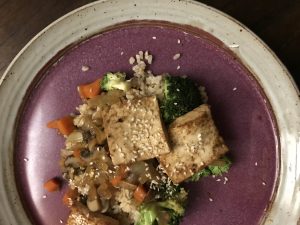 The Yoga Sutras are kind of like the Bible of yoga. The sutras consist of approximately 195 lines of wisdom relating to how to live your life (including a few statements covering yoga postures) translated in about 500 BC. These words are quoted to the great sage Patanjali. Many say he stated these lines in about 1500 BC, but no one really knows for sure who this person was, or what the true essence of these lines entailed. I guess it doesn't really matter who wrote them, although the history of yoga is fascinating, but what does really matter is that we as yogis understand them.
I've had Yoga Sutra 1.12 on my mind a lot this past week, which concerns the Sanskrit words abyhasa and vairagya. What these words mean, simply, is persistent effort, and non-attachment.
To me, this means giving something everything you have, and then not being attached to the end result. It means that we have to steadily practice the act of not attaching ourselves to outcomes.
That's a lot harder than we all realize. I know for sure that I have given my yoga teachings and studies all I have, but I also know for sure that I am attached to the end result: I'm incredibly goal oriented, and I want to teach. I would be devastated if I could not teach.
I know that I have a lot of work to do. Thankfully, there's over 190 more lines of sutras that can help me process this.
But today, I want to take both of these truths and tell you a little story about my friend Karen.
Karen and I met 7 years ago, during my first few weeks here in Fort Worth. We immediately became friends, with our love of reading, Dallas (specifically Oak Cliff), live music, traveling, wine and good food. Karen is open-minded, liberal, awake to the world, and ready for what life presents to her. We were both outcasts at the tiny little company we worked at, at least at the time, and we've remained close friends ever since.
Briefly stated, 7 years ago this month, I left a huge corporation in Nashville and moved to work for a tiny, and I mean tiny, company in downtown Fort Worth. It was the biggest culture shock I had pretty much ever been through. My new company was conservative, held regularly scheduled prayer meetings, and had FOX news on television in the conference room, all day long. I couldn't believe that I had given up everything I had in Nashville for this, and I was in a state of shock and sorrow for an incredibly long time.
Thankfully, Karen worked there too, and I latched on to her like you would not believe. She didn't seem to mind too much.
I don't know what our age difference is but it's about 15 years and I will say with all my heart that she's one of the most important women in my life. At the time, I had no idea we'd be such close friends, I just knew I had a confidant. And now, 7 years later, if more than a few weeks go by without me seeing her, I realize I'm in a sad, uninspired place, and I need to schedule a date pronto.
She turned me on to Anne Lamott, and Ann Patchett, and Sue Monk Kidd, and Rob Bell, and to countless other authors and remarkable thinkers. She's gotten me back in love with the goddess culture and the divine feminine and so many unexplored places that I never knew existed, or had completely forgotten about. I have no idea what I have contributed to our friendship other than Bob Schneider (and I know she'll forever be thankful for that one, wink wink) but I am glad she puts up with me.
And this is where this little story goes back to Yoga Sutra 1.12.
This week, she sold her home of 20 years: the home that she raised her daughters in, the home that had all of her memories, good and bad: the dinners, the movies, the books, the walks, the friendships, the relationships. On her own, she decided, it was time to move on – to close one door and open another, and to put up a For Sale sign.
It sold quickly, as all homes in Dallas do these days, and this week, she moved into an apartment for the time being until she figures out what to do.
Persistent effort, and non-attachment: she worked her butt off for years trying to figure out if she was ready for change, if she could do it on her own, if she was willing to close one door and open another unknown door. The non-attachment is the hardest part: she gave up her home, that which she understood, that which she loved, for what? She doesn't yet know. She's not attached to the outcome, to her, it doesn't matter where she ends up. She just wanted to be free from the burdens of home ownership and was not going to wait around for someone else to come around and rescue her.
I cannot even begin to explain how ballsy this is. I don't know of many women who are courageous enough to sell their belongings, sell their memories, and start over, on their own, fearlessly, without a clear path laid out before them.
I'm sure at times she doesn't seem fearless, but she is.
This is also the woman who went to India on her own for 2 weeks, just to experience something totally new, and while there, slept on the floor, and washed the feet of sick women. This is also the woman who raised two beautiful, independent, free thinking, not-settling daughters. That in and of itself is huge: thank you for putting people on this earth who are committed to making a difference and making this a more beautiful, creative, peaceful world. This is also the woman who will stand up to anyone, and I mean anyone, who puts others down or is disrespectful, to anyone who is morally unjust or in the wrong or politically incorrect. She's sharp, and funny, and quick; she reads the news from all sides, and is always educating herself, and most importantly, she has a huge, beautiful, heart.
In my mind, she's what all of us aim to be: open-minded, loving, with a sharp intellect and never afraid to stand up for those who aren't able to speak up for themselves.
Fearlessly, and on her own, she's leaving behind everything she built for a new adventure. She doesn't yet know what that adventure is, but she's allowing space in her life for that adventure to come to her.
Isn't that incredible? How many of us feel stuck, unable to move, not sure what to do, not sure which step to take. She's taking that step into her own hands, creating a place for a new path to appear. She's not waiting for her future to land in her lap, she's literally creating her new future.
Are any of us so bold? It's easy to be 20 and to leave behind what you know. You're young, and dumb, and you most likely have your parents or older siblings to fall back on. In our 50s, it's a whole other story. Often, the family we came from is gone, and often, the children we raised are out of the home. We're on our own in this big, wild and crazy world.
That, to me, is the essence of yoga: work for who you are, work for the path you want to be on, and then don't have a set end result in mind. Just live your damn life! The more we say that we can't sell our homes until we have a new one purchased, or we can't make this move without a man in our life, or we can't leave behind all these memories and what once was – the more we live by our fears, the more we are held back.
She's a true yogi, who rarely practices a yoga posture, but who lives her life by what is good, and what is right, and what is just.
We can choose to stay stuck in situations that are not right, or we can choose to dedicate ourselves to a new path. Here's to all of the beautiful women creating new paths. And here's to you, Karen, for following your heart.
With love, Jen.
SaveSave
SaveSave
SaveSave
SaveSave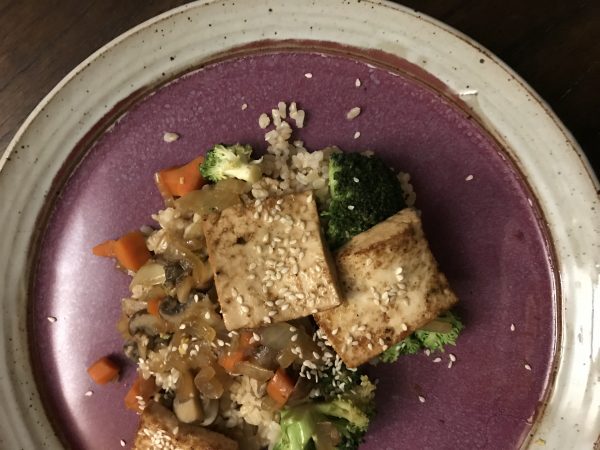 | | |
| --- | --- |
| | |
Press the tofu: remove from packaging, drain the water, and place in a tofu press or under several heavy books for at least 20 minutes.

Cook the rice according to package directions (about 40 minutes covered) and set aside.

Chop the onion, shallot, carrots, broccoli, and mushrooms. In a large frying pan, add all veggies, add in 1 tbsp. grated ginger, and cook over medium heat, stirring often for about 10 minutes.

Meanwhile, slice the tofu. In a large bowl, combine the remaining ginger, garlic powder, salt, pepper, olive oil, and 1 tbsp. of the soy sauce. Toss the tofu in the sauce, covering all sides.

Cook the tofu in a large frying pan over medium heat, turning once, about 3-4 minutes each side.

Plate the rice, then the veggies, and then the tofu. Pour over the remaining soy sauce, adding more if desired, and serve immediately.