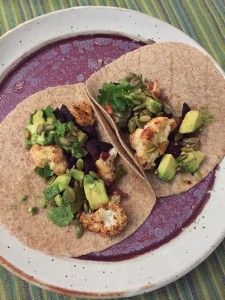 A few months ago, I went to one of my husband's jazz gigs in Dallas, and sat for a few minutes with Clate, a local singer and musician. We chatted about music for a bit, and then he turned to me and asked, "so Jen, what are you passionate about?". What are you passionate about? Not, "So Jen, what do you do?" What am I passionate about?
My response to him was "yoga and vegan cooking", to sum up all of my current passions into the top two easiest to describe in a music venue. This brief conversation meant the world to me…for a minute, to not have to talk about what we do to make money. Because that's normally the question people ask – so, what do you do? Meaning, what is your work? Not, what is your fun?
I've spent a lot of time over the past few years thinking about passion and curiosity and trying to hone in on the 1 or 2 things I'm most passionate about. I'd often get pissed when I'd read Joseph Campbell and he said "follow your bliss" or Ken Robinson saying "find your element". What the hell is my element? What would I do if I could do anything? Today, I'd read, write, share stories, interview seniors, discover ancient civilizations, practice yoga, meditate, travel to the Southwest U.S., hike, be in awe of beauty, cook, and blog. I'd do all of those things, not just one.
All of those are my passions right now. They might change next year. Looking back over the years, I am fairly confident that they will change.  My dad, a counselor, team builder, lover of values and helping others discover their values, says for those who have several varying passions (such as his daughter), we should look at all of them and find commonalities. Common ground.
Awhile ago, I read Good to Great, along with many, many other business and marketing related books. In this, Jim Collins talks about foxes and hedgehogs. How hedgehogs are the successful ones. They have an idea and they go with it. They get want they want because they don't lose focus. They are leaders. Foxes, on the other hand, have many interests, pursue many different passions, and are ultimately not as successful. They just can't stay focused. This stung. I'm a fox. I realized it more at that moment then I ever have before – I'm interested in too many things.
It's been well over a year now since that day, and I can say, I'm proud to be a fox. I might not be as successful as the next person, but in all honesty, this works for me. I want variety. Variety interests me. Should I be more focused on each of my passions individually? Probably. But that's not who I am. I'm all over the map, interested in a lot of things, curious about the world and what it offers. I'm a fox.
And today, in honor of the upcoming Valentine's Day, the day that so many of us focus on passion, I share with you, the color of passion, the deep red beet. I love beets, their color, texture and taste, the way they stain my hands and my cutting board, the way they liven up everything around them. If there were a fruit of passion, the beet would be it. So in honor of one of my current greatest passions, cooking, and my favorite way to eat food, tacos, I present:
Passion Beet Tacos
Serves 4
Ingredients
3 medium beets
1 tbsp. olive oil
1 tsp. paprika
1 tsp. cumin
1 head cauliflower
1 shallot
8 tortillas
1 avocado
1/4 c. cilantro, loosely packed
1 lime
1 jalapeno
1/4 c. pumpkin seeds
Directions
Heat the oven to 425.
Peel and slice the beets into 1/4″ – 1/2″ cubes. Toss with the olive oil, paprika, and cumin, and roast for 30 minutes.
Chop the cauliflower into bite-sized florets. Add the cauliflower to the pan with the beets, toss, and roast an additional 10 minutes.
Finally, dice the shallot, and then add to the beet/cauliflower pan, toss, and roast a final 10 minutes.
Make the guacamole: chop the avocado into 1/4″ chunks and place in a medium sized bowl. Chop the cilantro and the jalapeno (de-seeded, if desired) and add to the avocado bowl. Juice the lime over the guacamole and stir all ingredients together.
Heat the tortillas over high heat for about 30 seconds to a minute, turning often.
Top each tortilla with the cauliflower-beet mixture, then top with the guacamole. Sprinkle a handful of pumpkin seeds on top.
SaveSave