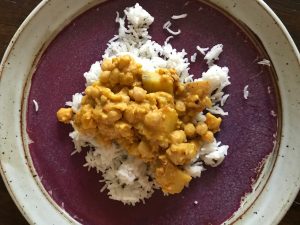 "I believe if there's any kind of God it wouldn't be in any of us, not you or me but just this little space in between. If there's any kind of magic in this world it must be in the attempt of understanding someone sharing something. I know, it's almost impossible to succeed but who cares really? The answer must be in the attempt."
~ Celine, played by Julie Delpy, Before Sunrise
My husband asked me last week if we could take a 2-week social media pause. Both of us have fought the social media takeover for many years – it took me a very long time to get on Facebook, and then I got off of it for several years. I am back on it now, and I am happy to be – it helps me stay connected not just with friends all over the world but with events going on in my city, and I am thankful for that. But I go to it a lot, the same with Instagram, and we both feel that it's cutting out some of our creativity and inspiration.
Since I have been back on Facebook, maybe a year or two now, I look at it every day, multiple times a day – that's not healthy. I do the same with Instagram.
But here's the worst part. Anytime I post anything, I immediately look – did anyone like it? Do I have friends? Are people interested in me?
It's nuts, right? Do we all do this? I think many of us do, even if we don't want to admit it. We want to be wanted. But this is not the most healthy way to be wanted.
And the other thing, which we all know, is we only put our best lives out on social. We all know that person who airs all their laundry on social, and we've all hid that person from our feed. No one wants to be around the negative – we get enough of that in our own lives. And no one wants to be around the martyr. So we're around the positive – and then we compare – this person gets this, this marriage looks happy, this person gets to travel the world. And then we think, maybe I want some of that, too!
At least, I do. I start wanting things I would never want, or have forgotten I wanted (case in point: this morning, I saw a IG "friend" – clarification – I don't personally know him – who just arrived in Budapest. Ever since seeing the Before Sunrise series, I have wanted to go to Budapest (and Vienna, and Paris). And so all this morning, I kept thinking, man I wish I was in Budapest right now. WTF! My mind wanders.
So: Break time. Reset. Reprioritize. Escape.
Without the breaks, we're never able to see the space in between, we're never able to breathe. Before Sunrise and Before Sunset are my favorite movies of all time, for the dialogue, and for the beauty of the cities, I love how the cities each play their own character in the films (and for Ethan Hawke, of course, he's just the best). When I watch them, I remember being 23, and 32, and remember all of the conversations and everything that was important to me at the time. When I was 23, no one I was friends with was on Facebook – it had just come out for students in Universities to stay connected. There was no form of social media as we know it. It was truly a more innocent time in many ways, and these movies capture that, beautifully. Our 20-year old thoughts were filled with wonder about our world and our religions and our gods and beauty. I like to think my life is still filled with those things, but not nearly as much as it was when I was younger. I'm not blaming this on social, but I do agree with my husband in that getting away from this for a few weeks will do us nothing but good.
We'll be spending time in nature, in the mountains (my favorite place), reconnecting with our marriage and sense of adventure and the creativity and inspiration that goes along with all of that. We'll work through our business and plan out the rest of our year and try and figure out how to bring more balance and curiosity into our lives. We'll literally, unplug. I am so excited.
Here's to finding the space in be
Love, Jen.
---
I'm leaving you with what I like to call my Texas Aloo Gobi. Aloo Gobi is the dish I order at almost every Indian restaurant in North America. I love this dish. I realize many Indian chefs use ghee, and I don't freak out about it – it's just a part of life. If I'm cooking, I eat 100% vegan. If I'm eating out, I omit every possible form of dairy and eggs that I am able to, but I fully realize this is not always possible. With Indian dishes, you do the best you can. Some places offer a vegan section, and others don't. I try to be respectful and not place demands. So, all that said, I've eaten a lot of Aloo Gobi over the years, and recently, I went with a bunch of friends to an Indian restaurant in Irving, a little city outside of Dallas. Irving (and Richardson) are the places to go if you want any form of semi-authentic ethnic foods. These cities are amazing for foodies. They are not interesting cities, don't get me wrong – don't plan a vacation here or anything, you'll be sorely disappointed. But the food, holy shit.
So we went to this restaurant, and I ordered Aloo Gobi, and it was filled, I mean filled, with cheese. I couldn't believe it. I knew there'd be ghee, and I was just going to deal with it – but oh my god the cheese – it was so, so gross. I tried to pick around it, and only ate a few bites of the meal, but even with that, I got ridiculously sick on the ride home. But that's another story. The point of all of this is, I've never had someone put cheese in Aloo Gobi, and I kept thinking about it – why would they do that? Honestly, it didn't taste good, even if I did like cheese, so what's the purpose?
I've made Aloo Gobi before but decided this time around, I'd make a creamy version, cheesy if you wish, with cashew cream, and see how we liked it – just for fun. I wanted to see if I could recreate a better version, or a healthier version, of the dish they presented to me. And, we really liked it.
So here you go, the "Cheesy" Texas Aloo Gobi. It's good on day 1, but with all Indian food, it's so much better on days 2 and 3.
SaveSave
SaveSave
SaveSave
SaveSave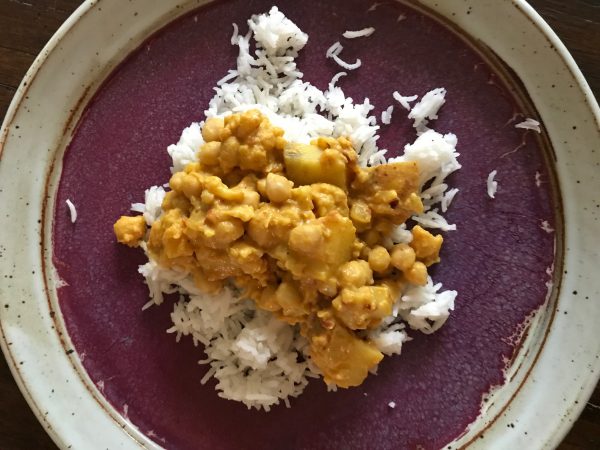 | | |
| --- | --- |
| | |
Soak the cashews in a medium bowl for at least 30 minutes (if using boiling water) or 1-2 hours (if using tap water).

In a large stock pot, cook the onion and garlic with spices and 2 tbsp. water (to keep the spices from sticking) for 5-7 minutes, until onion is cooked through.

Meanwhile, make the cashew cream: in a high-powered blender or Vitamix, blend the cashews (rinse and drain first) along with the carrots and 2 c. water.

Add the cashew cream to the pot along with the cauliflower, tomatoes and potatoes, and 1 c. water, and bring to a low boil, then simmer for 40-45 minutes.

Meanwhile, make the rice according to package directions, and set aside.

Add the garbanzo beans to the veggie pot and cook for a final 10 minutes

Taste, and adjust spices as needed (we added 1/4 tsp. of cracked chilis to each bowl when serving - if you like spicy foods I suggest doing the same).

Plate the rice and top with aloo gobi. Add chilis if you want more heat, and enjoy!