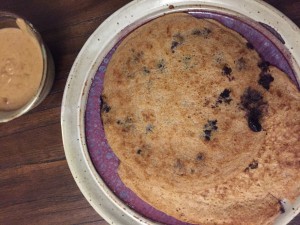 So I learned yesterday that it's National Blueberry Pancake Day, which is handy because I've been sitting on my pancake recipe ready for the right day to post it. Turns out that day is here.
Many of the pancake recipes I've found in the past have added refined sugar, which is one of those substances I try to not eat too much of. I'm not all or nothing, I love my vegan bakery and I buy from them often…I'm not going to stop that. But at home, with the foods I eat and the foods I feed my family, I want them to be as nourishing as possible. Pancakes already are not going to be healthy…but adding all that sugar isn't helping anyone.
A good friend of mine suggested I watch That Sugar Film a few months back, which was good for me to see. I enjoy these little food documentaries that pop up every year that help explain nutrients and how our bodies process them. I'm not a dietician and I'm not saying I agree with everything in this movie, but it was interesting to see exactly how much sugar is in everything, and how addicting sugar is…which I totally agree. It's best for me try to to avoid the things in life that make me feel worse…sugar is one, alcohol another, dairy, of course, yet another.
Here's a refined sugar free pancake recipe to add to your collection. I make these pancakes every few weeks and decided this past weekend to make a peanut butter syrup for the topping, because I just love nut butters and prefer to have a little protein included with breakfast. I loved the way this turned out and I hope you do, too!
Vegan Blueberry Pancakes with Peanut Butter Syrup
Serves 2
Cook time 10-20 minutes, total time 30 minutes
Ingredients
For the pancakes:
1 1/2 c. Flour (I use Whole Wheat)
1 tbsp. Baking Powder
1/4 tsp. Salt
1 tbsp. Lemon juice
2 tbsp. Coconut oil, melted
1 tbsp. Flax seeds, ground
2 c. Almond milk (I use unsweetened)
1 tsp. Vanilla
1 c. Blueberries
For the syrup:
1/4 c. Peanut butter
1/2 c. Almond milk
1 tbsp. Maple syrup
Directions:
Grind the flax seeds and place in a small bowl. Mix with 3 tbsp. warm water and set aside.
Mix the dry ingredients in a medium size bowl (flour, baking powder, salt). Slowly add the lemon juice, melted coconut oil, almond milk, ground flax seeds and vanilla.
Heat your skillet or griddle over medium high, melt a pat of coconut oil and spoon about 1/4 c. of the batter on each. Top with a handful of blueberries, and cook about 5-7 minutes per side. Repeat for remaining pancakes.
For the syrup:
Combine the peanut butter, milk and syrup in a small saucepan and cook on low for about 5-8 minutes, stirring often.
Plate the pancakes and pour a little syrup on top.
SaveSave