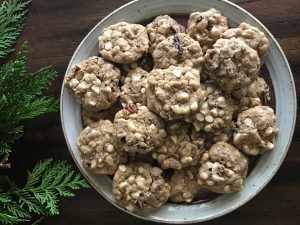 I've been in the kitchen baking all day long, prepping for Christmas brunch with my family tomorrow. I made a huge batch of these cookies and can't stop eating them – that's been my theme recently, since about October: baking, and eating.
In one of the yoga classes I went to last week, the teacher started class by asking how are you feeling? And I responded, heavy.
Oh my gosh I feel heavy. I'm hoping this week to get back into some better routines before 2018 gets here. In the meantime, I'll be eating these white chocolate cookies, and biscotti, and empanadas, and migas, and possibly, if I can venture back into the kitchen to start a new round of baking, cinnamon rolls.
All of the baking and dish washing has my shoulders and neck aching, my jaw tight, and my feet sore, so I decided to pause a little bit ago and practice a few restorative yoga poses targeting shoulder and neck pain. I posted them here, and they're the perfect poses to practice at the end of a long day: whether you're a chef, nurse, office worker, teacher, or have been working retail all day. If you need a break, today or any day, try a few of these out. And, make these cookies. They are delicious.
Happy Christmas Eve
Love, Jen
SaveSave
SaveSave
SaveSave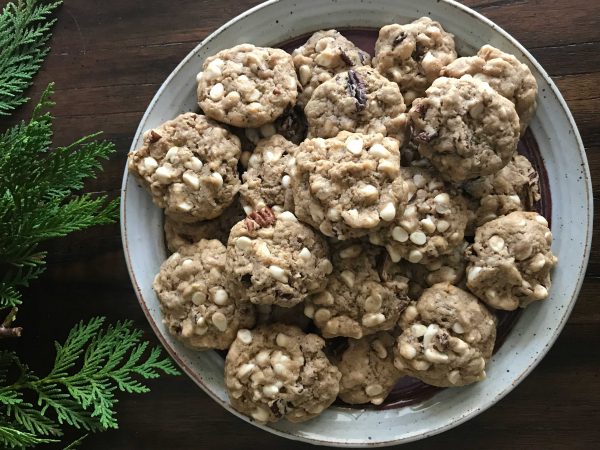 | | |
| --- | --- |
| | |
Heat the oven to 350 degrees.

In a small bowl, combine the flax with 6 tbsp. warm water, and set aside.

In a large mixing bowl, beat the butter with the flax. Then mix in both sugars.

Slowly, about 1/2 c. at a time, add the flour to the butter mixture. Then add in the oats, baking soda, vanilla, salt, and almond milk, mixing well.

Fold in the white chocolate chips and the pecans.

Form the batter into 1" balls and place on prepared baking sheets.

Bake for 17-19 minutes until edges are golden brown.