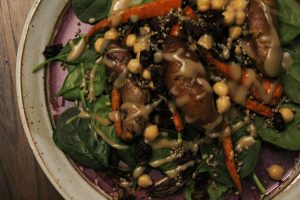 My last 3-4 posts have been spent defining and outlining my annual goal planning sessions. I am not kidding when I say this is one of my favorite times of the year. I love taking the time to reflect, to look back through old journal posts, old vision boards, old goals, and see how far I've come.
But what I haven't mentioned yet is probably the most important part of goal planning: it's all good to do this, to focus inward, but you have to take a step back, and focus outward too.
We get so wrapped up in how we feel and what's best for us and defining who we are, that we can often forget about those around us. I did this, big time, two years ago when I was completing my yoga teacher training program. It was a 10-month long completely intense program, with multiple trainings and classes a week, not including the at-home studying of yoga sutras, wisdom, meditation, anatomy and physiology. It's overwhelming, and for much of the time, you're looking inward. A little more than half way through the program, my husband pulled me aside and said, hey, I'm here too, remember? This is great and all, I love that you're doing this. But don't forget about your family. 
Exactly.
I've polled a lot of people that have completed these types of training sessions, and a lot of us end up divorced, split up, moved, pregnant, or with a new job, including me. Thankfully for me, it was just the career that changed, and that change was coming for years. These types of inward-looking paths, they are good. And they can also have the effect of tearing open your world.
So be ready for that.
To best get ready for that, I have two additional suggestions for your annual goal planning:
When you're diving in and looking at who you are and what is best for you, take a moment to look at your current life, your family and friends, and to add ways in which your new goals will include them. Don't focus so much inward that you leave out those most important to you.
Look at the community you live in. Look at what is missing. Find ways in which your new goals can fit in to your surroundings in order to help make your community a better place.
Write your goals on a place that you can see them, and notice them every day. Keep them in the back of your mind, but don't get so self-involved that you forget your loved ones. For me, I write my goals on note cards, and I leave them in my car, on my fridge, and in my day planner. And then, I write them on my mirror at home.
Last year, my goals were:
Marketing on the side
Yoga every day
Write every day
Don't rush. Don't quit.
And I accomplished those things, mostly. My husband and I built a set of side marketing and web design clients. For the most part, yoga and writing were a part of my daily path. And I didn't rush anything. I didn't quit my goals. This last goal came from Rebecca Butler's goal planning workshop, and it's the most important one. Be patient. Stay on track. Because of that, I was able to leave my job. Because I had finally put a real plan in place, because I had taken this one day at a time, it happened.
This year's goals are pretty similar, with yoga, writing, and focusing on our marketing/design company, but I added a few more: eat healthy, seek beauty, meditate, travel overseas, create, and most importantly for me, speak up. All of these little 1-year goals lead to my bigger 5- and 10-year goals.
And now, when you've gotten to a good place, and you've set out your goals, and you feel confident that you're on a good track, stop it. Stop the inward-looking. Look at your family, look at your community. Include them, get out of your head, and start living. Take it one day at a time. Don't rush, don't quit.
---
Happy New Year! I started the year with a bunch of soups and salads, and this one is my favorite. We cannot stop eating this beautiful winter salad. And the agave mustard dressing is simple and delicious. I hope you try it out!
SaveSave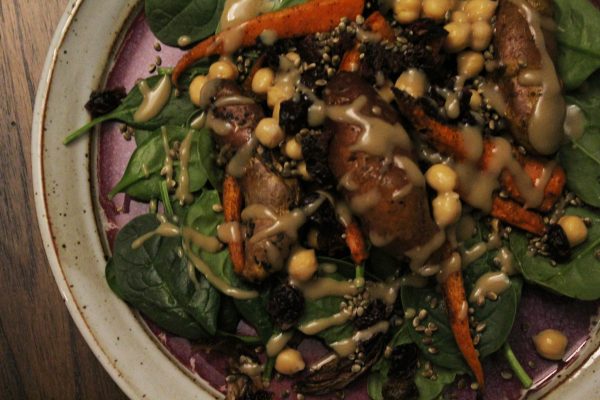 | | |
| --- | --- |
| | |
Heat your oven to 425 degrees. Peel and slice the carrots into long strips. Slice the onion into thin strips, and thinly slice the garlic. Place the carrots, onion, garlic, and potatoes onto a large baking pan, and mix with the olive oil, cumin, chili powder, and salt.

Roast the veggies for 20 minutes, then stir, and roast for a final 20 minutes.

Make the dressing: combine the mustard, agave, oil and lemon juice into a medium bowl, and stir well.

Plate the spinach salad, then add the roasted veggies, and add your toppings of choice. We love this with garbanzo beans (rinsed and drained), hemp seeds, and dried cranberries. Top with the agave mustard dressing, and enjoy!