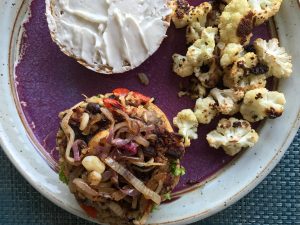 For the past 2 weeks, I've been off of social media, mostly. Part of our business is running social media campaigns for our clients (and our company), so I couldn't totally get offline, but for the most part I was able to schedule all of our posts, and have our team handle the rest of the updating. Being off of Instagram and Facebook is completely liberating. I don't miss it at all. But I also don't plan to get rid of it totally. Balance is good.
For much of this time, my husband and I were in Northern California: Sonoma, Mill Valley, and Yosemite NP. More on that in a few days. For now, I want to honor the pause.
Space is something we take for granted. In our design process at our company, we are often commenting on the amount of white space in our designs, and in our content. Now it's time to take that same concept and place it into our lives.
We all think too much, and we process too much, and we label too much. We fill our days with work, and more work, and more work, and then we go straight to the television and veg out. I do it, too – it's wonderful finding a show that you can veg out on (Better Call Saul, Ozark, Fargo, This is Us have been a few of our faves these past several months and years).
But the space that holds nothing – the ellipsis, essentially…we all need more of it. And social media has taken it away from us.
As one of my favorite comedians Louis CK often jokes, "you need to build the ability to just be yourself and not be doing something." – he's so right. This is so, so hard. Especially now – with phones, with our online personas, with all the people and all the chatter in this world. We've never had so many people on this planet (we think), and we've never had this many distractions before (we think). So it's hard to escape. But we must.
Part of the 2-week pause was learning to be comfortable with the silence – with nothing happening. I will not say I succeeded at this, but I will say I absolutely never missed Facebook or Instagram. And I did have these tiny little moments of remembering when I filled my days making pottery or jewelry or writing. I allowed a little bit of that back into my life in these past few weeks, and I plan to fill more…
So I'm giving you today one of my favorite recipes, my new mushroom burger. It's so, so tasty. And I'm going to ask a favor. If you read this blog on a normal basis, and if you have ever made any of my recipes, would you mind going back to that recipe and rating it?
If you read this blog on a normal basis, and you have not made a recipe, can you let me know why? Do they not look appealing? Or like too much work? Or the word vegan throws you off? Or there's too many damn recipe blogs out there and my recipes get lost in the shuffle?
I would like your honest feedback.
I want to be doing this more, and I want to continue getting better and hopefully get more people over time to try my recipes. Your feedback is greatly appreciated. You can comment on the post, or comment on my Wayfaring Vegan Facebook page, or comment by emailing me at jen@wayfaringvegan.com.
SaveSave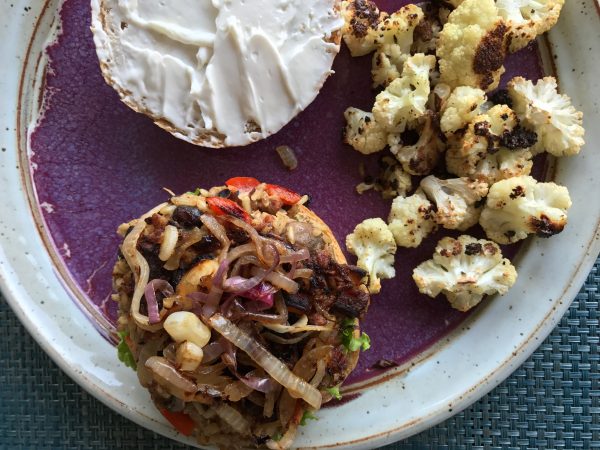 | | |
| --- | --- |
| | |
Make the flax eggs: in a small bowl, combine the ground flax with 6 tbsp. warm water, stir, and set aside for at least 10 minutes.

Make the brown rice according to package directions.

Prepare all the veggies and set aside.

In large frying pan, cook the onion and garlic for about 5 minutes. Then add the red bell pepper, carrots, and cook for 10 more minutes. Add the mushrooms and cook for 5 minutes, then add the black beans and cook for an final 3 minutes.

In a very large bowl, mix the oats, black beans, veggies, flax mixture, mustard and soy sauce. Fold in the chopped pecans.

Form the mixture into patties. Heat a large frying pan and coat with olive oil. Cook the patties, about 5 minutes per side, until golden.

Serve on buns with toppings of your choice: caramelized onions, veganaise, jalapeños, lettuce are my faves.