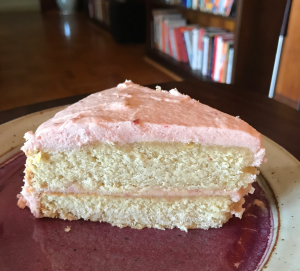 My birthday was a few weeks ago, and every year I make myself a birthday cake. It's kind of silly, and I get that, but I really like birthdays, and I love to bake and of course love to eat cake, so why not?
I ended my last trip around the sun with a bodywork session from Lauren Bailey (LB) Motheral, and began this new trip with a yoga class in Dallas. It was truly a great way to end a very hard year and a nice way to start a (hopefully) much better one. I've been wanting to write about my bodywork session for a few weeks now, trying to put words to something that is incredibly hard to write about.
LB is a yoga teacher and all-around healer here in Fort Worth. I met her a few years ago, by taking her yoga classes, and the first time she came over to assist me, I couldn't believe it. Her hands are magic; they really are. She has a true gift that I admire greatly, and would love, just love to be able to offer such a beautiful gift to my students. I have this secret (now not so secret) dream of getting a massage therapist license – not because I want to be a full-time massage therapist, but because I've seen firsthand how much the quality of touch helps seniors, especially those with Alzheimer's, and helps people in general, cope with their lives, calm down, breathe deeper. I have a ridiculous number of books on massage and bodywork and healing touch – seriously, it's a problem. I've never gone through with a massage program because turns out, you pretty much have to do that and nothing else for an entire year, and the thought of taking out student loans at my age for another passion-type career makes me want to vomit. So, I have yet to do anything about it, other than read book after book after book, and (now) try to schedule as much time as I can with LB.
Which is where my bodywork session came in. Each year for my birthday for these past few years, I do one thing for myself – a massage or a facial or a nice dinner out, something just for me. LB came back from a bodywork training last month and I knew I had to jump at the chance to get a private in with her. And oh my gosh you guys – book a private with this woman.
This is where the words stop working correctly for me: this is so, so hard to explain without sounding like a complete and total hippie flake. But here goes:
I felt cradled in the absolute best way. I felt energy shifting. I truly felt that I was in a different dimension. I had flashbacks of LSD and flashbacks of hiking Guadalupe Peak and flashbacks of training with Anodea Judith. I think the best way I've come up with to describe this hour is – it's like the best LSD trip, but totally safe. Meaning, when you drop LSD (and it's been 2 decades for me, so lord only knows what's changed, and also I was young and stupid, and also I feel the need to add this little tidbit in – don't do drugs, kids, it's not worth it and you'll be around the wrong and I mean wrong type of people and you won't be able to get them the hell away from you, like seriously, for the rest of your life, not kidding, I know from experience and that could be a damn novel not a blog post), you're scared as shit – at least for part of it. At least, I was. With this, you get the best high, I mean truly, the best, but you're in the sweetest person's care in the safest place you could be.
How hippie is this, right? I know…I try not to be hippie but dammit it's just in my blood. You can't escape who you are at your core.
I can't wait for my next session. I still feel like I'm coming down off some kind of high. I could feel relief instantly in the areas where I feel the most pain (jaw, shoulders, fingers) and felt better – so much better – than I would have had it been a massage (or drugs – legal or illegal for that matter) or something similar. The second I got home, I told my husband to book a session, and it's all I've been talking about to friends ever since. So now I'm telling you – if you live in DFW, book a session with this woman. You will not regret it.
Normally for birthdays I also set resolutions for myself. I do this in January too, and some people might think that's nuts to do it 2 times a year but honestly this is the only way I can stay on track and focused. Otherwise I tend to be a bit ADD with my interests and passions (hence massage school) and forget to stay the course with what I really want to be doing with my life.
And on to what I want to be doing with my life: last weekend my husband and I had one of our East Meets West events, where he plays live marimba and I teach yoga – and again, this is one of those things that I can't put words to. I love these nights so much. It was fitting that we offered this night right around my birthday, right when I was diving back into my "stay on track, be patient, don't give up" mantra.
I know that when I teach yoga I feel shifts happen – I feel people get some kind of relief from their life. And I know when Rich is playing live marimba during these classes I go into a whole other realm. I love teaching yoga, I mean, really, I love it, with all my heart. If there was some type of income I could make and support myself, it's what I would be doing, hands down. That is the part that I was focusing on, around my birthday – the: woe is me, I'm so depressed, I don't know what the hell is going on, how do I make this work, and truly what the hell am I doing with my life, I cannot survive on this income, to the: stop the negativity – stay on track – be patient – don't give up. And then, we had East Meets West, and I felt it stronger than ever – can't we just do this, this is awesome, powerful, healing like you wouldn't believe.
So, birthday resolution: do that more.
Do the things that provide you with that kind of love, with that incredible flow, with that much joy, where you're in the zone, more. Fill your life with them.
Stay on Track. Be Patient. Don't Give Up.
And, breathe.
And, book more bodywork sessions.
And, always, always, always eat cake.
Love, Jen.
SaveSave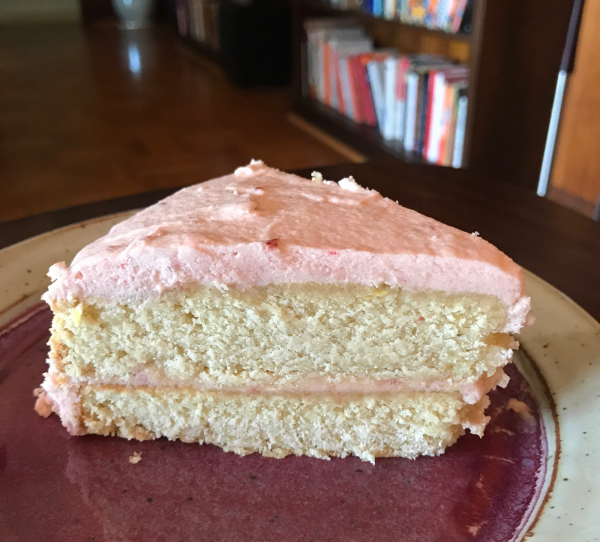 | | |
| --- | --- |
| | |
Heat the oven to 340 degrees. Spray two 9" round cake pans with coconut oil or similar oil, and set aside.

Combine the milk and lemon juice and set aside.

Combine the flour, baking powder, baking soda, and salt in a large mixing bowl.

In a separate bowl, combine the sugar, oil, milk, lemon juice, and lemon zest.

Slowly pour the sugar mixture into the flour, stirring until all clumps are removed.

Pour the batter into your two cake pans, and bake at 350 for 25-30 minutes, until a toothpick comes out clean. Cool completely.
In a medium mixing bowl, combine the butter with the powdered sugar, 1/2 cup at a time, blending on medium speed. Add in the strawberries and milk, and blend until creamy. Add a tiny bit more milk if you like your icing creamier (no more than 1/2 tsp. at a time).
Remember, wait until the cakes are totally cool. I know. I hate this part. Then take a knife along the edge of the pan, and flip the cake over onto a plate or serving platter. Ice the top of the cake, and then remove the next cake, placing it on top. Ice the top, and then the sides. You'll probably have a bit of icing left over that you can eat by the spoonful (no judging) or use as extra for dipping (no judging).

Serve immediately. Cake will store in the fridge for a few days - just let it come back to room temperature before eating the rest of it. It tastes way better at room temp than it does cold, in my opinion, even though I can rarely wait long enough for it to warm up before eating.
Note: I've made this cake twice, and for my oven, the temp needs to be set at 340 degrees, otherwise the edges harden too much. You might need to bake this a tad longer if you set yours to 340, but it's worth it to not have crispy edges!