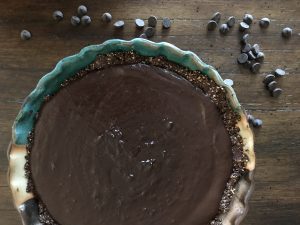 I got back on Facebook about 3 years ago because I signed up for a yoga teacher training, and Facebook was how we were all going to stay in touch during the 9-month training on the weeks where we didn't meet in person. The crappy thing about Facebook is it's a total time waster; the great thing about Facebook is it reminds you of things that happened in your past.
My reminder this morning was that two years ago, I completed my yoga teacher training with Urban Yoga here in Fort Worth.
What a freaking wild ride this journey has been.
The best thing that happened during this training was that I realized I was surrounded by toxic people. Not all the people, but a lot of the people: totally toxic. Maybe not to everyone, but toxic for me. And so the next best thing that came out of this training was a complete and total reawakening.
The good: I quit my job. I started a marketing strategy company with my husband. We have several incredible clients supporting us and allowing us to represent them and their brands, and we are able to pay our bills. I became a yoga teacher. I held yoga and music classes with my husband, both with him on drums and with him on marimba, which to date, is one of my proudest accomplishments. I made new friends, and a great community of fellow yogis, which I love and respect with all my heart. I went on a retreat in Mexico with Amy Ippoliti and Taro Smith. I went on a retreat to Santa Fe with Tias and Surya Little. I completed a 9-month senior adult yoga training in Albuquerque. I studied with Anodea Judith, and Tias Little again, and many others, who have strongly affected my teaching, both in ways I admire and in ways that I don't want to be like them. I read a lot, and I mean a lot, of yoga and holistic medicine and psychology books. I dove into Yin Yoga and Restorative Yoga, learning everything I could. I practiced Vinyasa Yoga over and over and over and found ways to be more creative and effective as a teacher.
The bad: We suffered a tragic death. We almost lost our marriage. We spent a lot of time in emergency rooms and in hospitals. We fought about this new business. We didn't know how to process this death, and we drank, and ate, and cried, and drank, and ate, and cried more, and got off track. I taught way, way too many classes, and got off track on my own yoga path, and my work path, and my marriage. I quit teaching said yoga classes, in order to find some balance. Still working on the balance. I went way too deep in the "soul searching" and lost track that there's a community here, and a marriage here, that's way more important than me and my core desired feelings.
I think it's a part of life, where most of us wake up. Maybe most of us were already awake. Maybe we chose the right path from day 1, and maybe we're not searching. I'm a searcher. Searching is a hard, hard business. Opening your eyes to other beliefs and other paths and the untraditional life is really freaking difficult. It'll tear you apart. It'll also be the best choice you ever could have made.
Here's to yoga, and to those offering their hearts teaching yoga, and to husbands who will stick by you no matter what, and to that dark and scary and long path less taken.
Oh, and here's to the best freaking chocolate pie EVER. Not kidding. I did a blind taste test with my pie versus a famous chef's chocolate pie and MINE WON.
Don't believe me? Try it.
Love, Jen.
SaveSave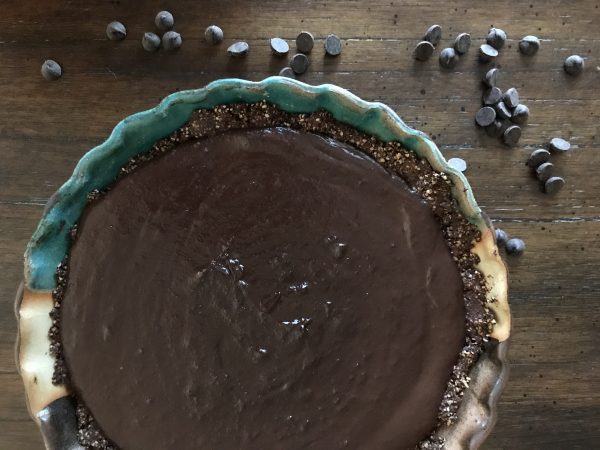 | | |
| --- | --- |
| | |
Heat your oven to 350 degrees.

In a food processor, process the almonds for about a minute. Add all other ingredients, and process for about a minute, until well combined.

Spray a pie pan with coconut oil and press the pie crust into the pan. Wet your fingers to help spread the crust, or wet the back of a spoon and use the spoon to press the pie crust into the pan. Then poke several holes into the crust using a fork.

Bake the crust for 15 minutes, remove from the oven, and cool completely.
While the pie crust is cooling, boil water and pour over the cashews. Let soak for 30 minutes.

Rinse and drain the cashews, and place in a high powered blender with 1 c. water. Blend for about 1 minute, until the cashews become creamy.

In a medium pot, combine the chocolate, sugar, salt, vanilla, and cashew cream, and cook over medium low heat, stirring often, until chocolate is melted.

Pour the chocolate over the pie crust, and move into the fridge, uncovered, for one hour.

After 1 hour, either cover up the pie or serve and enjoy!