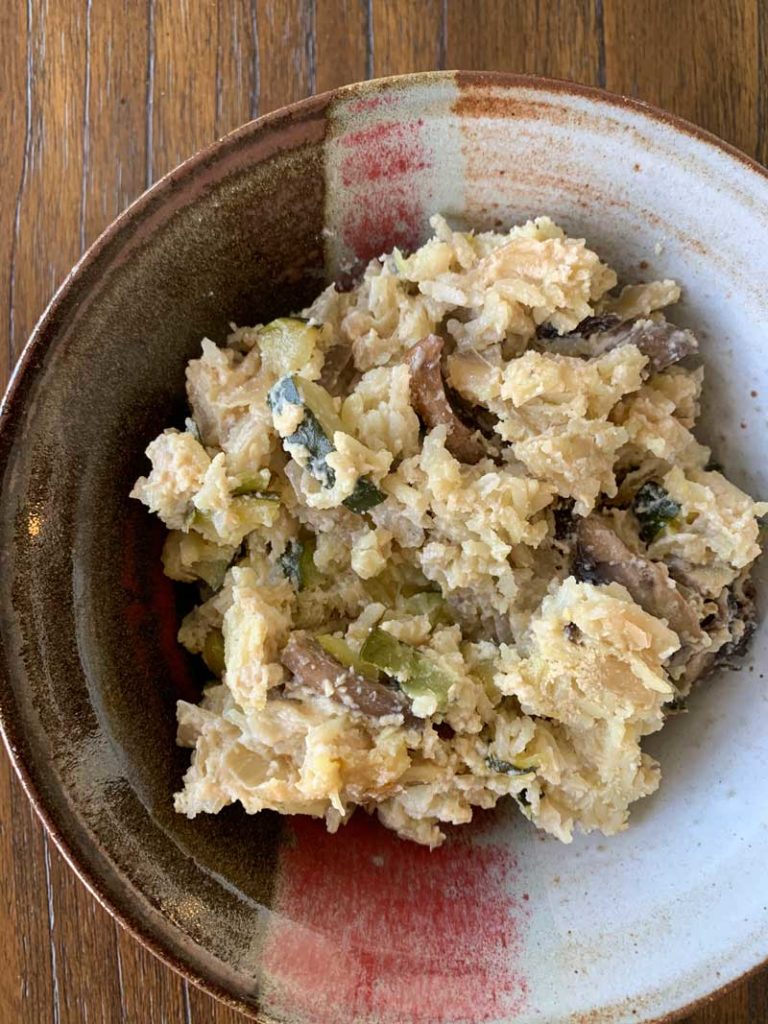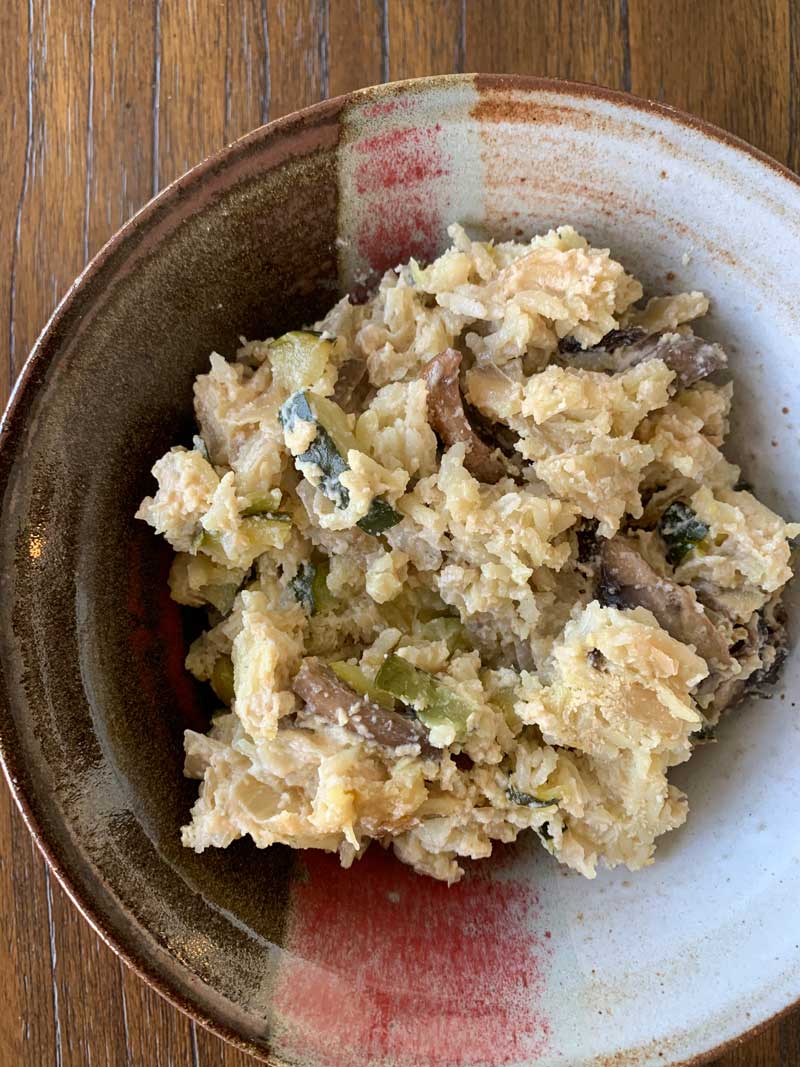 Although the heat of the summer is on, zucchini are in full swing, and I've been baking them quite often. This new recipe is a homestyle favorite, combining rice, baby bellas, zucchini, onions, and cream sauce. It's super simple and perfect for that massive crop of fresh zucchini.
Wanna head straight to the recipe? Scroll to the bottom of this page.
---
I, like many of you most likely, am in a complete daze. This daze is turning into disbelief and mild anxiety and a moderate sadness about the state of our world. I read an excellent article in New York Times a few weeks ago from a mom, married with two young kids, who still has her job, her husband also still has his job, and her family is healthy. Everything's going well on the outside, aside from, you know, our world, Coronavirus, racism, our president, and even though things in her life are seemingly great, she described her life as completely numb.
Oh man, that rings true. It hit me to the core. Numb.
Work is busier than it has ever been – sun up to sun down, 7 days a week, I'm at this computer, working, coming up with ways to save my hands from typing, and convincing myself that I still need enough energy to type this blog.
My marriage is rock solid, I mean could not be better. We can afford our lifestyle. Groceries and every single thing I need comes to my house, for goodness sake. My dog is healthy, I'm healthy, my husband's healthy, my friends and family are healthy.
And yet. Our world. It's making me so incredibly numb.
It's like the shock of 2016's election all over again. The complete and total disbelief. It's just been building this whole damn year. And now here we are, heat of the summer, and I have no clue when life will get better.
So I take a lot of savasanas. A lot. For those not into yoga, that means lying down, on the floor, in total silence, with little movement, watching the breath. I've talked about this recently, saying that I sit a lot. "Sit" can mean meditation for many, but really, it's just sitting for me. My minutes in meditation are less and less these days, which might actually be one of the other reasons of so much anxiety.
The savanasas help. I encourage you to try. I probably spend an hour a day now in savasana. It's my only form of yoga these days. Doing a sun salutation just seems like a total joke.
I wasn't as depressed until this weekend. My husband has made the excellent decision that we'd pick up our weekly date nights again, even though neither of us go into any public places. This form of our date nights means driving around to areas of Fort Worth that we don't know. It's been a lot of fun. I've lived here for about 9 years now, and most of this city I don't know at all.
So we've been going into the outskirts, and on Sunday, we went west, to my suggestion, and didn't realize it, but we ended up in Weatherford.
And holy shit.
I don't go to Weatherford, I'm sure it's great, but it's like 30 minutes west of here, and I'm a city gal. Fort Worth is small enough, I don't want anything smaller. So I'm completely unaware of the more rural areas of our world.
And Weatherford. Dammit. We ended up in some neighborhood of nice, mostly well-kept homes, near a lake, and house after house after house had a Trump sign, banner, or flag in the front yard.
I mean, there were probably 100.
I almost cried.
I got so upset that we had to leave. I'm still upset. My breath is short right now, like it's hard to breathe, and I'm sweating, and anything could make me burst into tears.
I had no idea. Just like in 2016. I had no freaking idea people supported him. I mean, for real. Write down all his good qualities and all his bad qualities on one piece of paper and tell me.
Tell me.
What the hell is going on.
I don't mean to get so political on here, and really, I don't see this as political. We have a dictator in office and he's convinced small town America to be on his side. What the fuck is he doing for small town America? How is this happening?
So, savasana. It's all I got. Maybe it's all you got, too. Maybe you're here with me, and for a second, we can close our eyes and breathe deep together.
And we can hold the fuck on and hope that someday soon life will look a little kinder.
With love,
Jen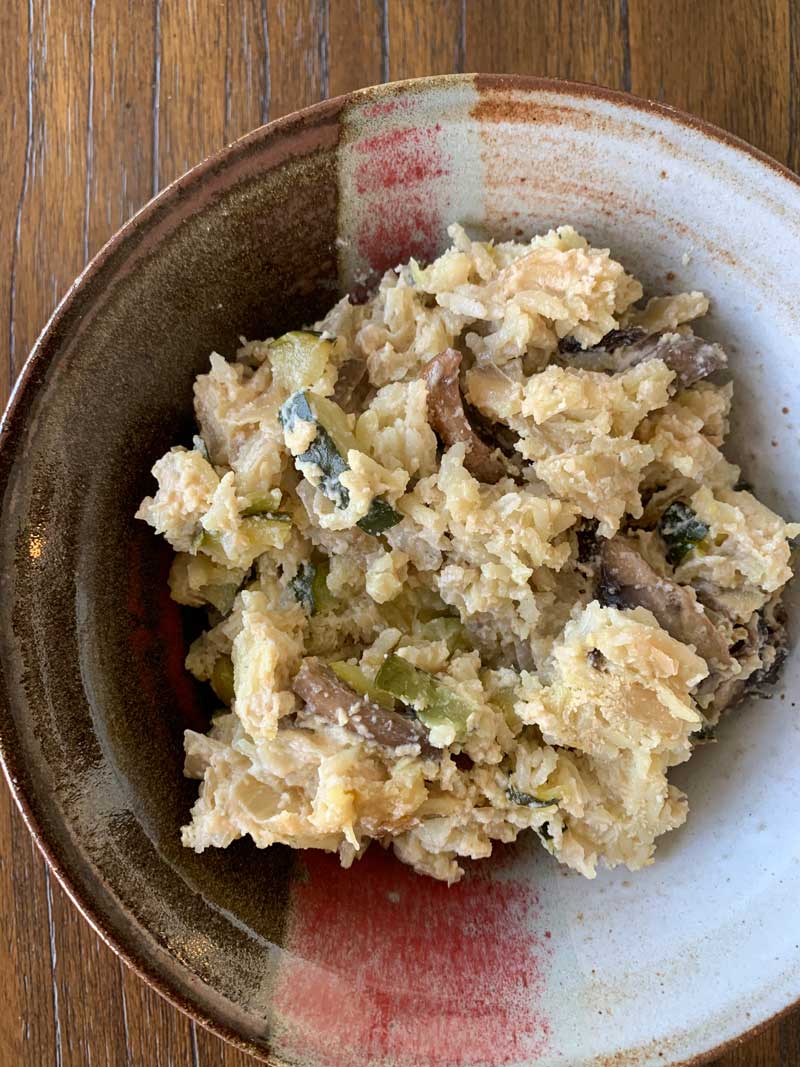 Savasana Summer Zucchini Bake
Ingredients
1

tablespoon

olive oil

1

cup

white rice

8

ounces

baby bella mushrooms, sliced

2

zucchini, diced

1

white onion, diced

1 and 1/2

cup

cashew cheese sauce

link to recipe below
Instructions
Cook the rice according to package directions and set aside. Meanwhile, heat the oven to 350, chop your veggies, and make the cheese sauce.

In a saute pan, pour the olive oil, then cook the veggies over medium heat for about 8 minutes. Set aside.

In a casserole dish, combine the rice, veggies, and cheese sauce, stir well, cover and then bake at 350 for 30 minutes, until the edges are golden.
Notes
My go-to cheese sauce (just hold the jalapeños for this recipe, unless you wanna spice it up)