A trip guide for vegans and art lovers to: La Quinta, Palm Springs, Joshua Tree National Park, La Jolla, Encinitas and Carlsbad.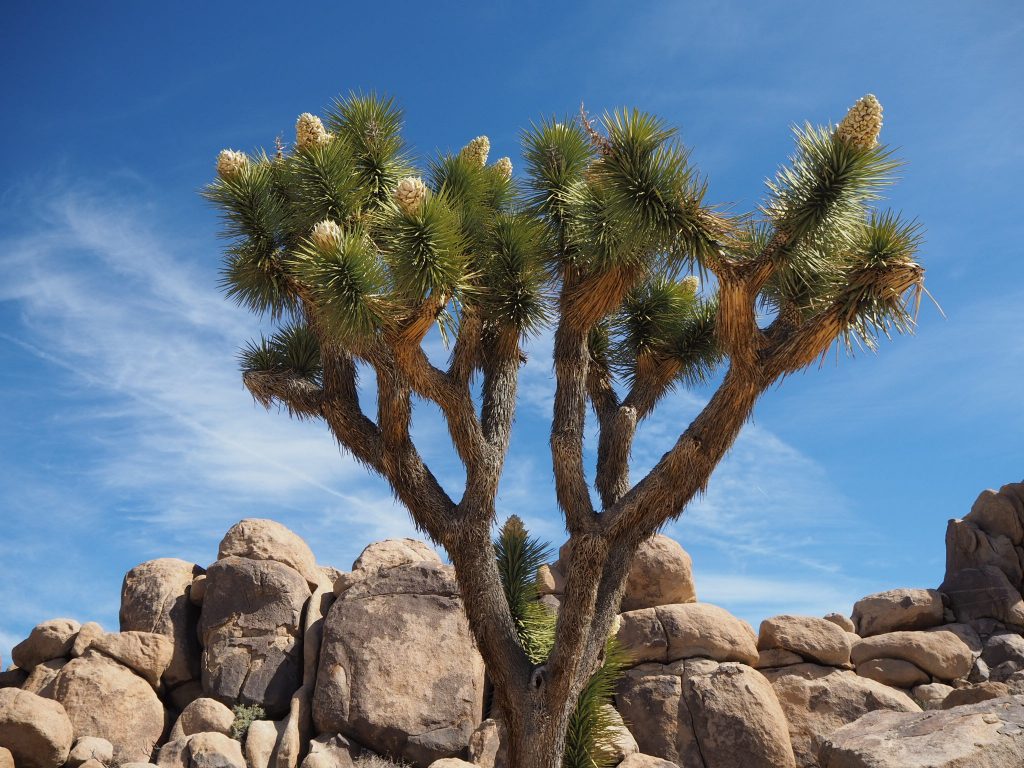 My mom and I take a vacation planned around an art festival every year: this trip was our 15th or so…I lost count a few years back. These are some of my all-time favorite moments I have in this life. We both love art, and even if we're not necessarily collectors, we get a lot of inspiration by meeting artists, seeing their work, and of course, visiting new areas of our gorgeous country.
Last month, we headed to the La Quinta Arts Festival, in La Quinta, California, just east of Palm Springs. This was probably the prettiest venue I've ever seen for an art fest: lakes and mountains and palm trees and fresh, cool air. The artists were out of this world as well: inspiring and lively and incredibly creative. If you're into art fests, I suggest you make the trip.
Below is a mini trip recap of our favorite stops for eating vegan, looking at art, and seeing incredible vistas.
La Jolla, California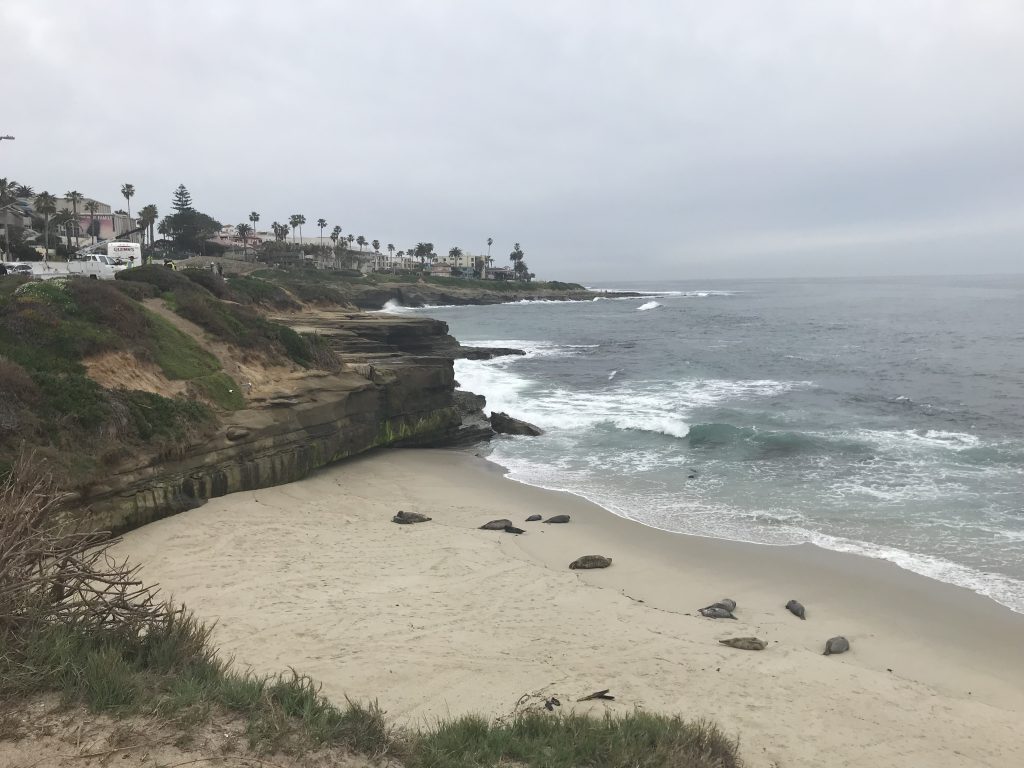 Most people who go to Joshua Tree National Park and the Palm Springs area seem to fly into Los Angeles. For the life of me, I can't convince myself to go there, so we flew into its gorgeous southern sister, San Diego, an all-around incredible place to visit. We've been there before both together and separately so we didn't spend much time in SD this trip, although the Children's Pool in La Jolla is always a favorite for seal watching, and the Warwicks Bookstore is perfect for books and art, and is just around the corner from the ocean.
Encinitas, California (about a 30-minute drive north from San Diego International Airport)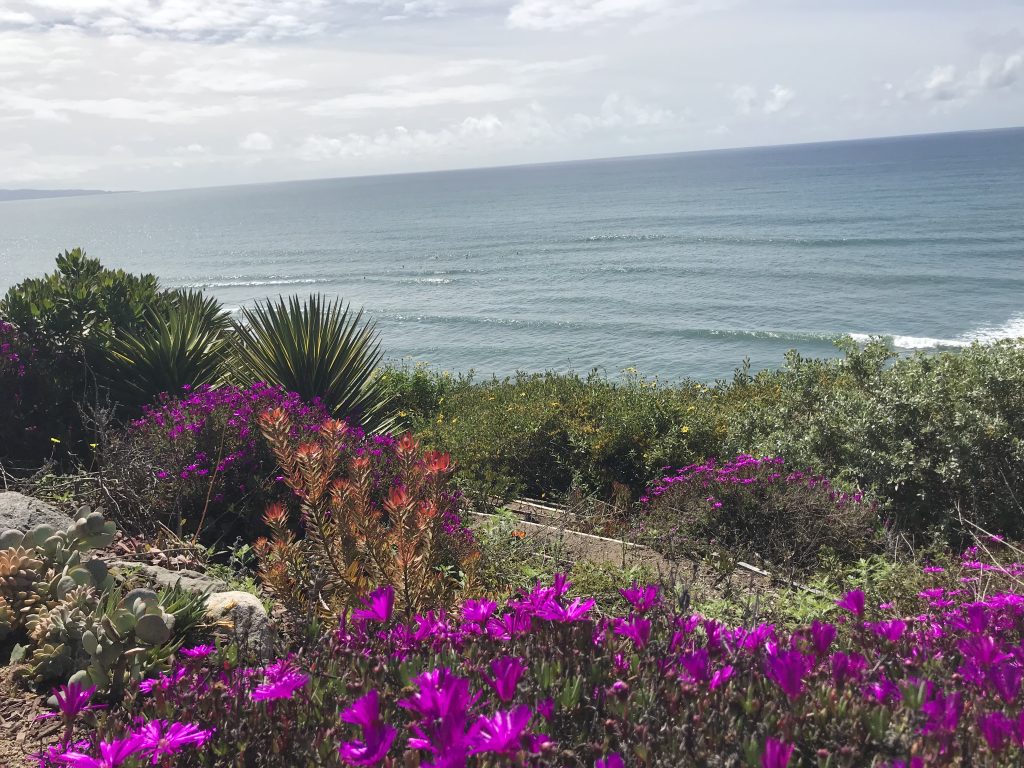 Encinitas was definitely a highlight, for its cafes, Yogananda tribute, incredible scenery, and hippie-yuppie vibe.
We started off at the Self-Realization Fellowship, essentially, the land of Yogananda, and if you're a yoga teacher, you've studied him, and even if you're not, I suggest going. The gardens are incredible places to sit and meditate and walk and view the ocean. The bookstore is nice, with a ton of Indian deities and books written based on Yogananda's teachings. The fellowship itself is only open if you're there for a retreat, which we weren't. I'm not into gurus and I can't get behind the worshipping factor – but I still appreciate what he stood for, and the grounds are incredibly gorgeous to spend an hour or two enjoying. Also, they're free.
Eve – a vegan cafe, with a large menu to choose from. Neither of us were blown away (vegan margherita flatbread and aphrodite bowl) but maybe we ordered the wrong items.
Pannikin – great coffee and avocado toast and a cute gift shop in a truly cute cafe. I can see why the lines here are so long. This was the best coffee we ordered all week and the cafe is simply adorable.
San Diego Botanical Garden – one of my favorite things to do in every city I visit is go to their botanical gardens. San Diego's is legit! They have a fruit tree orchard which I now want to replicate in my backyard. All the gardens are gorgeous, and the city views are pretty, too.
La Quinta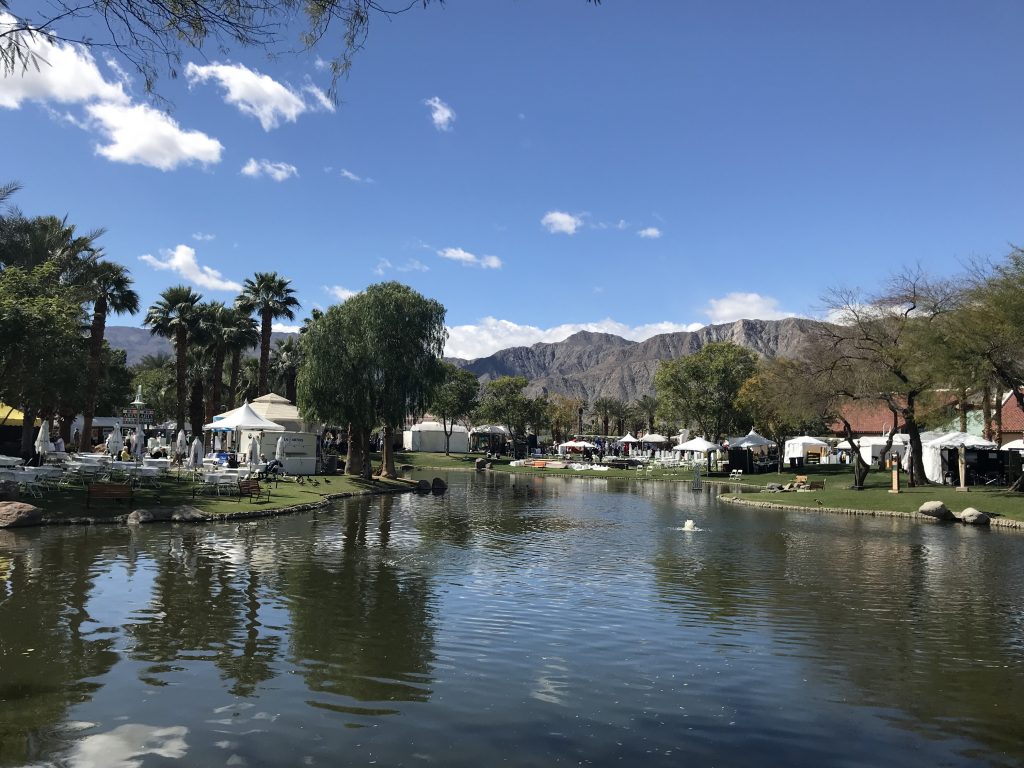 La Quinta is where the festival was, and it's a really high-end, pretty, well-maintained city. We didn't do much here other than walk around the art fest grounds, but I will suggest 2 food options if you're headed this way:
Old Town Coffee Company – good for a coffee break; they have bagels and PB and I am sure some other vegan options.
Heirloom Craft Kitchen – they have a small vegan menu; I tried the lettuce wraps and they were really good. They have vegan desserts, too!
Palm Springs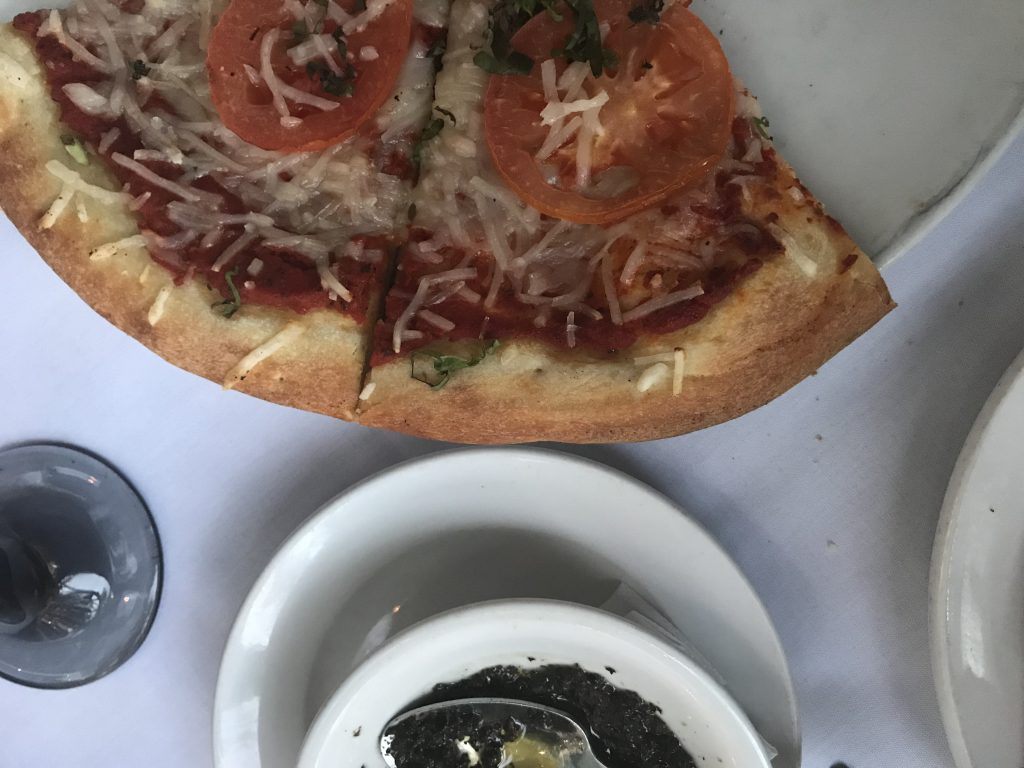 We didn't spend too much time in Palm Springs. We both planned on spending more, but the city didn't capture either of us like we thought it would. That's the thing about traveling and reading other people's trip highlights – what intrigues me might not intrigue you! The architecture was cool, and I do love midcentury design. The downtown area is cute and walkable but the shops turned into stores you will find in any city very quickly. I was hoping for more art and vintage options. They can be found, however, I wasn't blown away.
Sammy G's – so I read on Yelp that they offered vegan cheese and wanted to give it a try. We were able to sit outside by the fountain on the patio, and the atmosphere was absolutely wonderful. The waiter and waitress knew nothing about the vegan cheese, so they asked the manager, who came out to tell us the whole story about why they started making vegan pizzas. With that, we ordered the pizza. And it was outstanding. The salads were outstanding. The bread and olive oil was outstanding. The service was also, outstanding. I loved this place and definitely recommend it!
Joshua Tree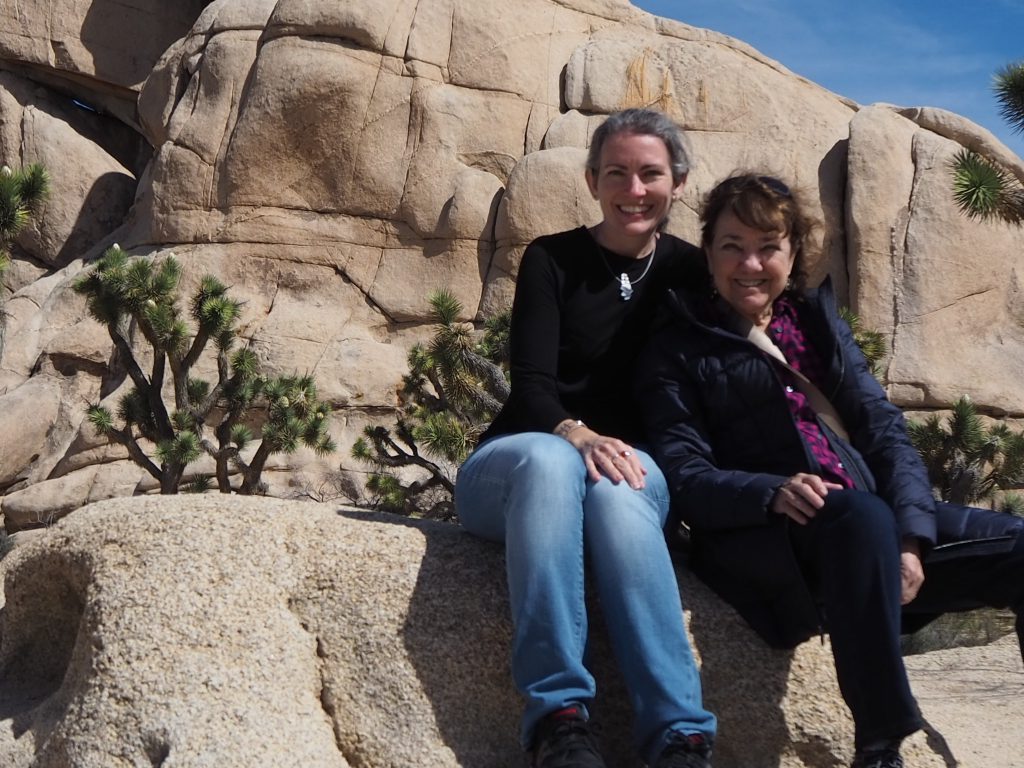 We loooved Joshua Tree National Park. The desert scenery – pretty much anywhere I go – is my favorite scenery. I love the contrasts of the blue skies with the reddish rocks and here – the incredible Joshua Trees! The NP was the highlight of our trip. We spent a lot of time strolling, looking at the scenery, driving, and lounging. It was great! The towns of Joshua Tree, 29 Palms and Yucca Valley have a few options for eating, and a bunch of options for random little gift shops. Our trip was in early March and the weather was perfect. I can't imagine how hot it gets here in the summer, and cold in the winter. It's windy! And there's not much – if any – coverage. So plan your trip accordingly!
We stayed in Yucca Valley for our first 3 nights, and I wouldn't necessarily do that again. However, La Quinta, Palm Springs, and Palm Desert are incredibly pricey, and neither of us have huge budgets. So, we stayed at the Best Western in YV. It's decent. It's a good place to stop in if the NP is your main reason for going to this area. If the main reason you're going to this area is Palm Springs or La Quinta, I would suggest trying to find a hotel a little closer to town. The drive at night is no good – at least for this city girl – there's no lights – the moon was only a sliver on our visit so we didn't get light from it, either – and the wind between Palm Springs and Yucca is out of control.
Frontier Cafe – we had dinner and breakfast here and both were delicious (butternut salad and tofu benedict). The cafe closes at 6 p.m. – most of the places around JT close early – so get there early. The salads were huge – you could easily split them. I liked this place the best – not crowded and excellent vegan options.
Natural Sisters Cafe – gosh this place gets packed but the food is really good. The portions can be adjusted to half size, which is really nice, and their sandwich and salad options were great. They also have fresh juices and many organic options.
Mohave Moon Cafe – this place is good for lunch with a lot of salad and sandwich options. And yucca fries!
Crossroads Cafe – also a huge wait (for breakfast) – both this cafe and Natural Sisters are really close to one of the park entrances, so they stay busy. Frontier is just as good (if not better) but Yucca is a little bit further away, so not nearly as crowded. Breakfast at Crossroads was delicious and it was fun talking to the other JTNP travelers while we waited for our bar stools to open. I'm glad we waited this one out!
There's a ton of shopping in the Joshua Tree, 29 Palms, and Yucca areas. Anyone who has ever picked up a paintbrush, yarn, mud, silver, etc., sells their goods here. We found the best selections at the shops around Crossroads. There's also a farmers market in the parking lot next door to Crossroads on Saturdays, and they have a great selection of veggies with local artists, too. The Grate Plate people are at the market, too, and I of course bought one. I dig it!
Carlsbad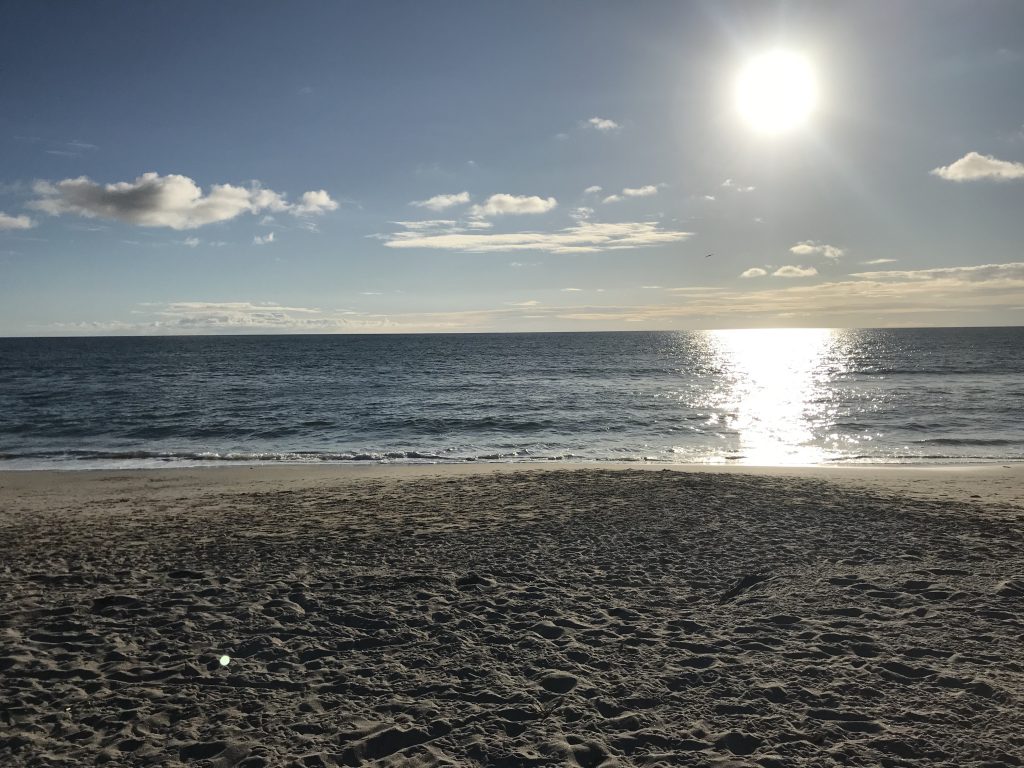 Three nights in Joshua Tree was enough for us, so we moved our last night over to Carlsbad. I'm very glad we did. This gave us extra time in Encinitas and in La Jolla our last 2 days, and Carlsbad was nice as well. It's a bit touristy (more like the current day Laguna Beach with a ton of tourist shops and nothing much that'll grab you) but still nice to be by the water for a bit. And Carlsbad is a very clean, easy to get around, town.
264 Fresco – really pretty dining room and a few vegan options.
Beach Plum Kitchen – not a ton of vegan options, but really cute dining room and awesome strawberry basil jelly! The coffee shop a few doors down has better coffee and you can wait there while you're waiting on your table (huge crowds on the weekend mornings).
That's all I got! I hope you make the California desert one of your upcoming trips. Joshua Tree alone is worth the visit!