3 weeks to the day, our Fort Worth kitchen renovation was complete. Pedro finished around 5 p.m. on Saturday, and I immediately made a homemade vegan pizza and salad, and my husband and I opened up a bottle of wine. I cried for about an hour, and then cried again the next day, and the next, and the next. I've never been so in awe of a space before, of my space, of a place where I can cook every day, where family and friends can come together and relax. I'm simply in awe.
Here she is: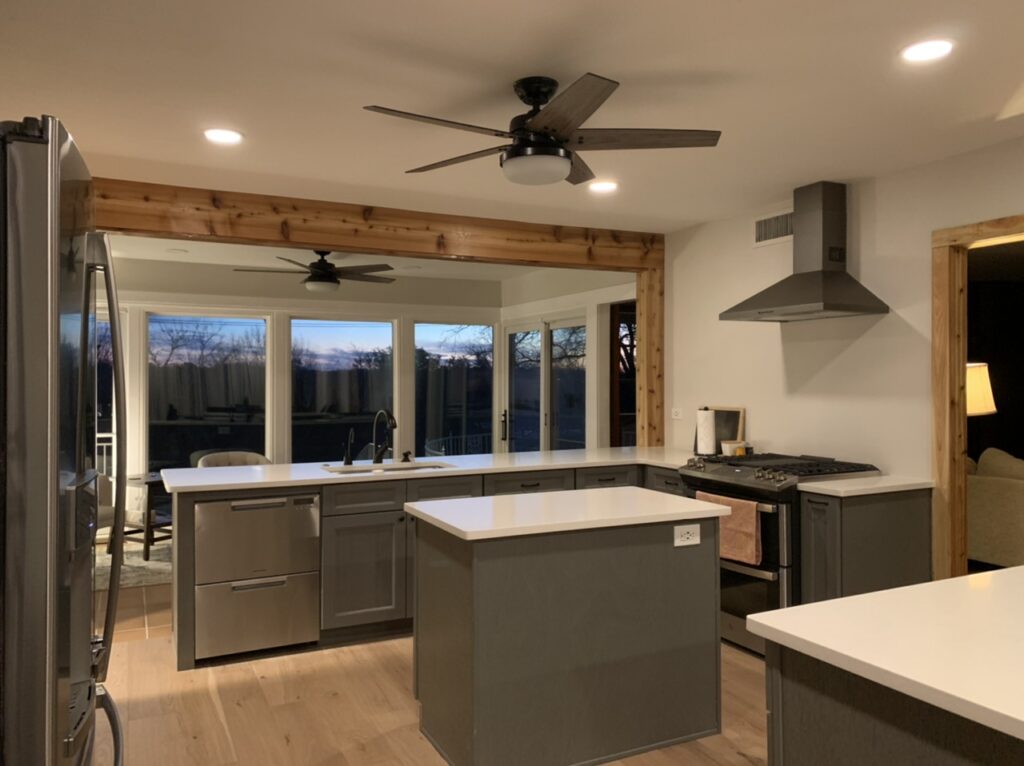 I'll use this post as a round-up of what we did and how we did it.
How We Renovated Our Fort Worth Kitchen
First off: Pedro! He's an absolute god-send. Talented and kind, able to see our vision, able to get to work and make it happen. I've heard people say kitchen renovations take months, and I've never seen that to be the case. This is only our second reno, but if you come prepared, have all the materials ready to go, and find the right person to do the work: guess what? It'll happen on time and on budget. If you live in DFW and need someone reliable and accountable, please reach out: I'll be happy to share his info.
Secondly, as I mentioned in my last post, I designed our kitchen using Room Planner, a 3D app that you can download on your iPad. If you've ever worked in the Adobe suite, you'll find it fairly simple to use. If not, it might be a bit of a challenge to get started, but it's worth it. Just dig in and play around and quickly you'll have something you're excited about.
All of our cabinets came from Prefinished Cabinets out of West, Texas. Chris is a former home remodeler and began a cabinet making business a few years ago. He's easy to work with and the quality of cabinets are better than what you'll get at a lot of the big box stores, for about the same cost. The ones we ordered had to be put together, so we hired one of Pedro's guys to do it. Chris offers fully put together cabinets too though. We ordered our 2 sinks from Prefinished Cabinets as well. Yes, you can get sinks with your countertop purchase, but I wanted a higher quality and I wanted really big, thick sinks, after a lifetime of using small, stained porcelain sinks. I'm so glad I ordered them from Chris! They are so deep that they hide all our dishes, and they came with grates so I can easily clean veggies and wash/dry dishes with tons of room to still work in the sink. It's amazing how far kitchen design has come in 65 years. 🙂
Our countertops came from Mauricio's Stonecraft in Fort Worth. Ralph and Juan helped me with my decision, and a team of 4 installed all of them. They arrived on time, were professional and extremely detailed. This is a top-notch crew, and it's all a family: a father, son and nephews installed the countertops, and the brother-in-law and cousins run the stone yard. They have a fantastic selection of quartz (what we went with), granite, quartzite, marble, and more.
The stove, hood, and fridge all came from Home Depot and Lowes. The wood floor is a vinyl plank with hardwood top that we got from Floor & Decor. That was the hardest part: I found out the day before install that the original floor I purchased, an engineered bamboo, couldn't go underneath the fridge, stove, washer or dryer: it would buckle over time. I didn't find out until I read the teeny little notes at the end of the install document. So be forewarned about the floor you choose! Read every bit before placing an order. Thankfully, with Floor & Decor, they do free returns, and not only picked all the floor back up, but dropped off the vinyl the next day.
As I mentioned in last week's post, the only non-original thing about this house was the laminate floor: the previous owner pulled up all the hardwoods (aside from the closets) and replaced almost all 2,000 SF of it with laminate before putting the house up for sale. It was a pretty low quality and I just hated it: it came up on the edges, sounds and looks fake, is super shiny, and just looks cheap. I have friends that have vinyl plank floors but never looked into them as I assumed they'd be about the same quality as the laminate that we had. I know this vinyl plank floor has only been down a week, but it does look more real than laminate: it's not shiny, there's a super thin top of hardwood on it, and it's bendable, breathable, and kinda water-resistant. Maybe that's why the marketing people of the world labeled it "luxury" – so it would stand out from the previous generations of vinyl and laminate floors. It may still be vinyl, but it's not as cheap as the old version of vinyl. Check it out if you're looking for something to put in a kitchen, laundry room, or bathroom, or if you just have an old, creaky house with lots of foundation problems, like this one, and like most of the houses in North Texas.
So that's it! Now I can focus on cooking, baking, creating new recipes, and having friends and family over. I'm thrilled. Looking at the before and after just takes my breath away! Here's the before, same angle, for a reminder: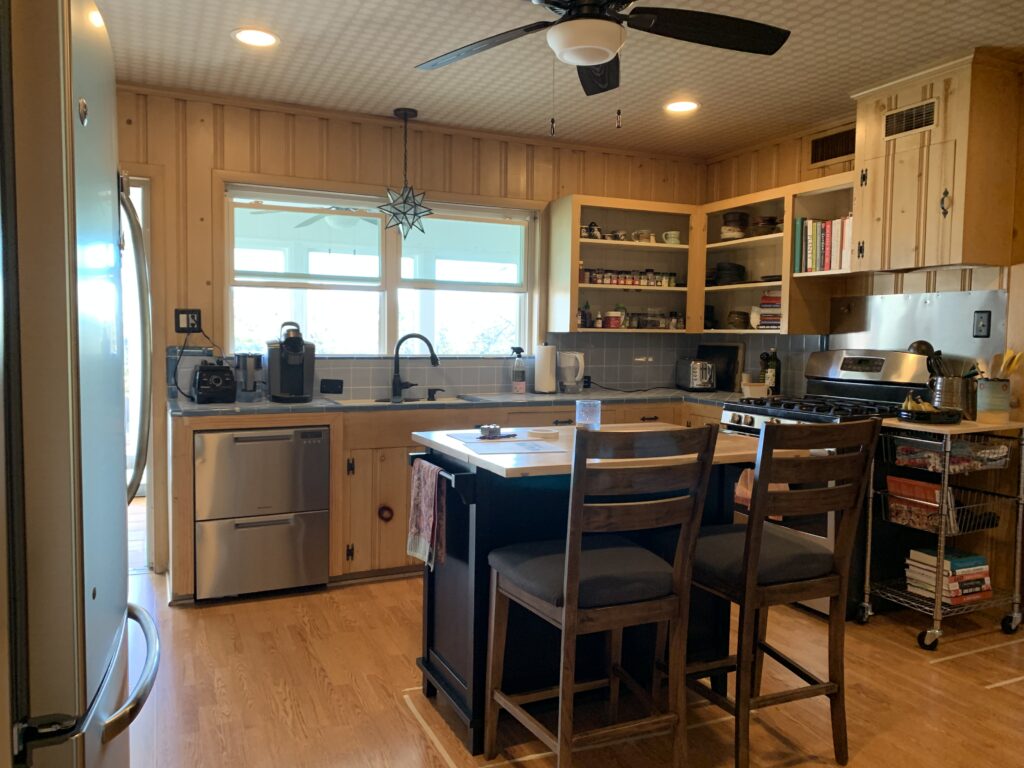 Can you believe it's the same space? All the busyness, the lines, the patterns, the clutter… I'm so thankful that it's gone! We now have space to move and I have so much more countertop space to work, and cabinets to store things in. I love it!!
I hope this post helps anyone in a similar boat. Please reach out if you're local and would like to learn more.
Peace and love,
Jen