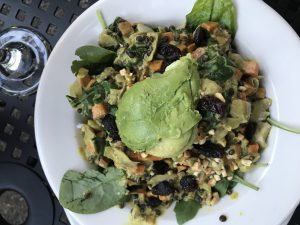 My mom and I visited Portland last month, for the first time in nearly 15 years. The last time I was there, the first President Bush announced that we were invading Iraq, and my family and I marched in peace protests. I was in my early twenties. I was saddened and pissed and afraid, and was surrounded by a lot of people who felt the same way. So it was interesting to be there again, now that we're back in a similar boat – pissed, afraid, saddened, aware of a war lurking in our future, under the leadership of a crazy President and a harrowing administration.
But I won't get into any more politics, because this was a fun and important trip: our 12th annual trip together to visit an art festival. We started these trips the year I got married, when my husband and I moved to Nashville. I think it was our way of staying close, of having uninterrupted time together, and of course, supporting art. We've gone to art festivals since I was a little girl, and it always has been and continues to be one of our favorite things to do together. And, it's way more fun now that we've turned these into annual vacations, visiting incredible cities and college towns all over the U.S.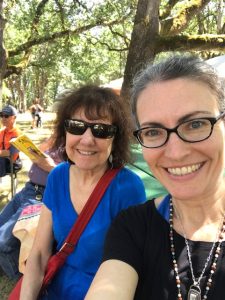 So here we go: The Salem Art Festival, held in July, at Bush Gardens (beautiful land in and of itself), was fabulous. Normally when we go to art festivals, whether we're in Michigan or Massachusetts or Seattle or Denver, we see artists we know. That was not the case this time; I can't think of a single artist I had ever seen before, which truly made it that much more fun. I've already said on my social accounts, Silver Struck was hands down our favorite artist. Her work is creative and visually stunning, each piece completely unique with tons of earth elements added. The only other artist I bought from was potter Shelly Fredenberg – look at how cute those little animals are! Every piece is fully handmade, no casting or replication, and her little animals are all made by hand. Of course, I bought an elephant, and a spoon, why not.
On to Portland:
Let me start by saying, wow, the city is so neat: gorgeous housing, scenery, trees, water, parks, people. I love, love, love the energy in cities – and even more, I love the energy in neighborhoods. I miss that so, so much about living in Nashville: individual neighborhoods with walkable and bike-able communities and bars and coffee shops and art galleries and yoga studios and city parks, each unique to their own community. Portland is FILLED with that, on truly a grand scale – each neighborhood is fully unique and the people show up to support their local businesses. I have so much love for those types of cities, where neighbors gather and run into each other and friendships are naturally made.
And the VEGAN FOOD.
I reached out on Instagram before I left asking for advice, and my friend Shane called on his friends in Portland who gave a ton of suggestions; I wish I could have tried them all. Here are the best of the ones that we tried (in order of my favorites first):
Tin Shed Garden Cafe – so good we came here twice, and I wanted to come more than twice, but I also wanted to try other options. I wish we would have come here more. For breakfast, I ordered the Tim Curry, a delicious mix of sweet potatoes, mushrooms, onions, and tofu in a coconut curry sauce. It was incredible, and I am totally going to try and remake it at home. For dinner, the Baby Beluga, similar as above but with rice and black lentils. Their menu is not fully vegan but they are more than willing to edit, and provide suggestions, as needed. It's also a cute restaurant, with a ton of outdoor seating (both covered and covered by trees) and a tiny little inside portion with bar.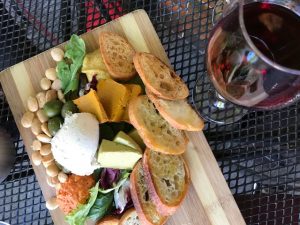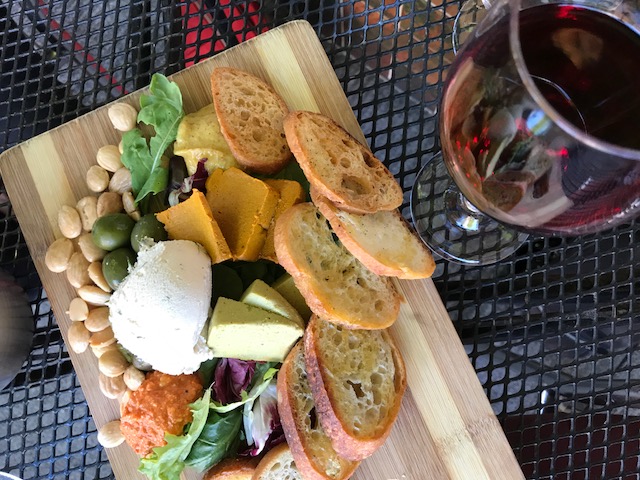 Blossoming Lotus – we only came here once, and as above, I wish we could have come back. If I lived in Portland, it would be hard to keep me away from both of these restaurants. And can I just say: holy shit, the vegan cheese. This is one of my new cooking goals: how the heck do I recreate their cheese? I don't even know where to begin. There was a soft cheese, and a basil cheese, and a cheese I didn't care for. I don't remember the names of any of the cheeses. But oh my god, order the cheese plate. We ordered the cheeseburger, and the tacos as well. The cheeseburger was just OK, I didn't love the patty. But the tacos were good, and the cheese platter, I mean, come on. This restaurant is fully vegan, and they have a few tiny tables so you can sit outside in the incredible Portland weather.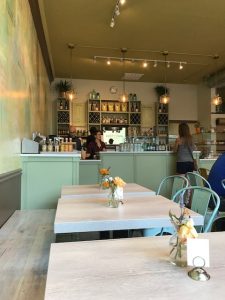 Back to Eden Bakery – we went to the cafe for breakfast, and then over to the bakery for dessert. The cafe is super cute, cheerful, filled with bright colors and a gorgeous wall mural by Portland artist Flora Bowley, and the food is good. The service was good too. I'd go back here just for the atmosphere!
Case Study – oh my gosh, their coffee, and their vegan desserts from Petunia's, and the design of each shop. I loved these cafes!
Canteen – we went to this tiny cafe for lunch, it has a few tables inside and a few under a covered, closed-in porch. I ordered the quinoa salad and steamed broccoli with nutritional yeast dip. It was good, and the restaurant is cute, small, and filled with people.
Prasad and Harlow – these sister restaurants have a very similar menu, and a casual dining area. Both were good, I wouldn't say excellent, but maybe we ordered the wrong items. Prasad is in the lobby of a yoga studio, which makes it fun, and also crowded, and also a tiny bit awkward. We went to Prasad for lunch; it was packed, and Harlow for dinner; it was not packed.
In downtown Salem, we went to Venti's Cafe, and both loved it. It's a great restaurant with full bar and live music, and it was spotless. The food was excellent, quick and healthy – I had the tempeh wrap and a sesame salad. I would definitely go back here.
Other vegan restaurants in Portland that were recommended to us, that we didn't get around to going to, include Bye and Bye, Native Bowl, Vtopia, and AND Cafe. I wish we would have had more time in these areas to check them out.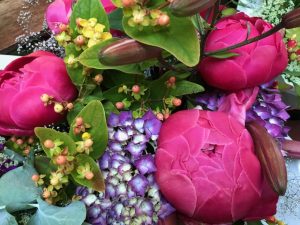 The Portland Farmers Market was OUTSTANDING. Held on campus at the university, it was packed, I mean packed, with vendors and some of the best looking veggies I've ever seen, along with these gorgeous flowers. If only we had these kinds of options in North Texas!
Smith Teas – I love teas, and have loved Smith's ever since I discovered their teas in Seattle. We went to their tasting room, which was really neat to see, and had a sampler of greens, most of which we loved.
Shopping and Neighborhoods: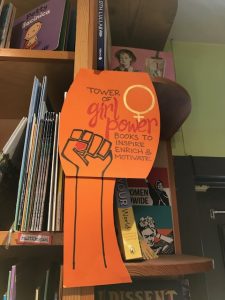 The Alberta Arts neighborhoods and the areas directly east of downtown, such as the Richmond/Buckman neighborhoods were my favorites. We also loved the neighborhood where Annie Blooms Books is located – and that bookstore was my favorite in the city, even above Powell's. But, I'll be honest, I don't like shopping in big stores; I get way too overwhelmed, so the downtown Powell's was too much for me. I thought it would be more divided, with more sitting areas and drinking areas, but it wasn't, and we didn't stay nearly as long as I thought we would. I did like their eastside location though, but even then, Annie's was my fave.
And if you have kids or know people with kids, Green Bean Books was fabulous, with I think the absolute best customer service I have ever received in my life.
I had to go into Herbivore vegan clothing company too, and it was cute. I bought an elephant tank, of course.
We both also enjoyed the service and selection (bags and a few non-leather shoes but don't call them vegan or you'll get yelled at by the sales person) at Imelda's.
There's a Pendelton warehouse where you can go see all their fabrics, which was neat to see (and their outlet store is on the way to Multnomah Falls, if you're into their patterns).
If you like to shop, there are tons and tons of stores, in each neighborhood you visit. The cutest seemed to be in Alberta, in my opinion. The good thing about Alberta is it's filled with coffee shops and other vegan restaurants we didn't get to try out that you can hop in and out of when you need a break. And nearby there's a vegan shoe shop we didn't get to called Pie Footwear, that looked interesting.
Scenery:
We went to about every single park in the city, including Mt. Tabor Park, Sellwood Park, and Cathedral Park, to people watch and dog watch and sunset watch. They were all gorgeous, and many are located directly on the river. And they were all packed, which was lovely to see – there's nothing better than seeing families enjoying themselves outside.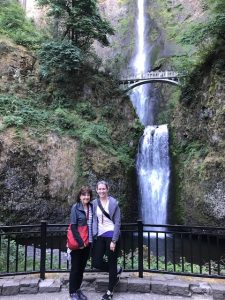 Multnomah Falls was definitely, definitely worth the drive, and it was an easy drive at that. We got there early, and ate breakfast in the Lodge (they have vegan granola, almond milk and vegan sausage) and then sat by the falls. It was busy but not crowded, but we were there early, so I'd advise to also head out early morning.
Cannon Beach – the beach itself was cold and windy, exactly what you'd expect from a Pacific Coast beach. It was lovely, and filled with families, friends, and dogs, and of course, Haystack Rock was magnificent. The city was cute, filled with flowers and quaint shops. We ate lunch here at the highest rated place in town, which was forgettable for vegans, and then had non-forgettable delicious coffee (and vegan desserts) at the Sleepy Monk.
The Japanese Gardens were outstanding. The architecture of the buildings was beautiful. If you love Japanese gardens, I highly suggest checking this place out. We tried to go in the middle of the day and couldn't find parking, so went back an hour before they closed, and it was nearly empty; we had many of the gardens to ourselves. So, I suggest doing the same. The restaurant was gorgeous but we didn't eat there, so I can't speak of the food.
A bunch of my friends told me to watch Portlandia before we left, but I did not. I'm good on the hipster movement, I didn't need to see any others, and I didn't want to discourage my trip. And Portland, I loved it – I wasn't expecting to love it as much as I did. I honestly thought it would be more like Austin, where I love it for an hour and then want to get the hell away. It was nothing like Austin. It was way, way better, in my little opinion. The traffic is not so awesome (but even then, not as bad as Austin, since we're comparing the two), and the speed limit is crazy slow for this Texan. But everything else (including the hipsters) was fabulous. And it is so, so ahead of the times culturally, and so, so on point politically – which was more than refreshing to see. I will definitely go back, and hopefully not wait another 15 years to do so.
Huge thanks to @cnbynum and @dbynomial for the plethora of vegan suggestions, and coffee suggestions – I am very appreciative of you both! And to @themetatronix for connecting us.   🙂
Love, Jen.