A vegan, hiking, and BREATHTAKING where-to-stay guide for those traveling to Palo Duro Canyon State Park and Canyon, Texas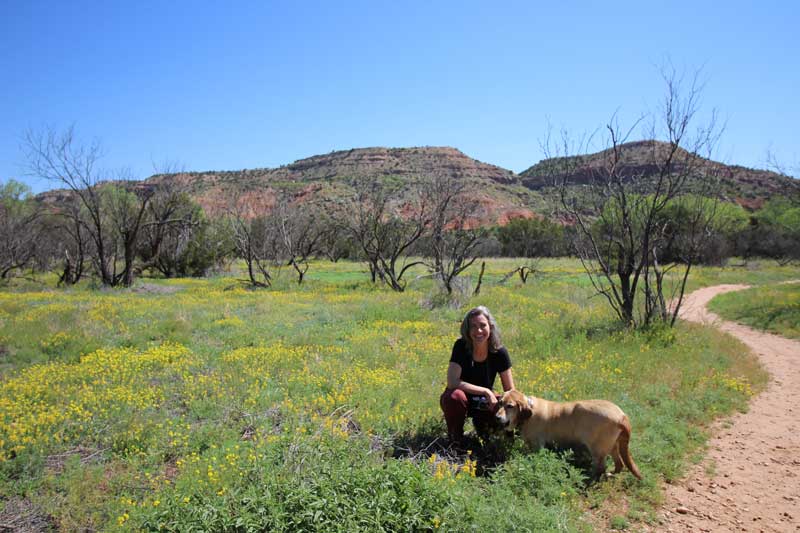 Our second trip to Palo Duro State Park was last week. Our first trip was 7 years ago. Back then, we drove our Honda Element from Fort Worth to Palo Duro, camped in the Element with Iko, our basset hound, and walked the trails. This was in February 2012. It was a cold yet essential weekend: we came here to mourn the passing of my 10-year old great dane mix, Jackson.
7 years later we came back with our basset mutt Tugboat to mourn the passing of Iko, our 15.5 year old love of a pup. I hate that we come here only in loss, yet it's an excellent place to visit when you need an escape from life. I'm sure it's an excellent place to visit in times of celebration, too.
Palo Duro is the 2nd largest canyon in the United States, second of course to the Grand Canyon. I've visited the Grand Canyon enough to know that I am good with not going back. Not that it isn't breath-taking and blow-your-mind incredible. But the bus-in-the-park situation these days and the crowds these days are simply too much for me. My memories of the GC from when I was a kid is how I'd like to remember it: drive up, park at the trailhead, hike, be in silence and in awe, with just a few strangers and a little traffic. Now, it's ride the crammed bus and watch nearly every tourist jump off, take 1 minute of photos, and jump back on. There's not a lot of places of peace anymore in the park, at least not near the rim, that I've found. It's too much for me.
That's where our state parks shine: little crowds, lots of peace, incredible beauty. And Palo Duro, it's not only a hiker's little paradise, it's a place of near solitude, of absolute beauty. It's almost as great as the solitude of Big Bend National Park, yet the stunning red rocks will always win me over.
---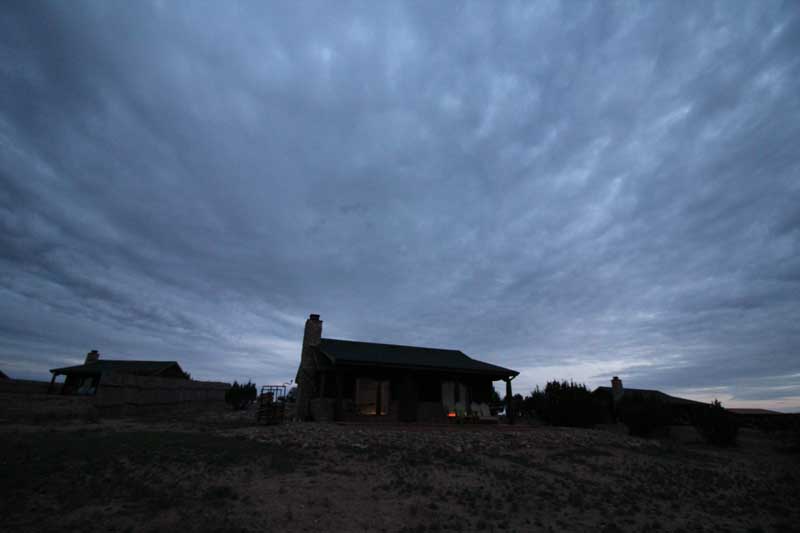 Where to stay: We stayed for 3 nights in the Dove's Rest Cabins. Ours was the Durango Cabin, and I chose it because of the saltillo tile floors (my fave ever) and the bright blue cabinets (so dang cute). The views from the cabin are incredible, and you're almost in isolation. The nearby cabins are far enough away that people keep to themselves, and you don't see anyone else when looking out your windows or patio. It's a gorgeous, luxurious place to stay complete with all the kitchen tools and appliances you need. It is most definitely the nicest place I've ever stayed, with the best views, hands down. There's nothing better than watching the sunrise and sunset over Palo Duro's glorious canyon walls.
A side note, which I didn't expect but probably should have, is the wind is a bit outrageous here. We tried eating most meals outside but couldn't pull it off too much. The good part is the cabin has gorgeous views from the living room and bedroom too, so if the wind is too much, simply head indoors.
"I lived on the plains of North Texas for four years. It is the only place I have ever felt that I really belonged – that I really felt at home…But I belonged. That was my country – terrible winds and a wonderful emptiness."

~ Georgia O'Keeffe
We brought a lot of food with us and planned to get a few frozen goods from the local grocery store in Canyon. Heads up: the only store in Canyon with veggie burgers is the Walmart (they had the freshest-looking veggies too comparatively), so save yourself some time and go there first.
---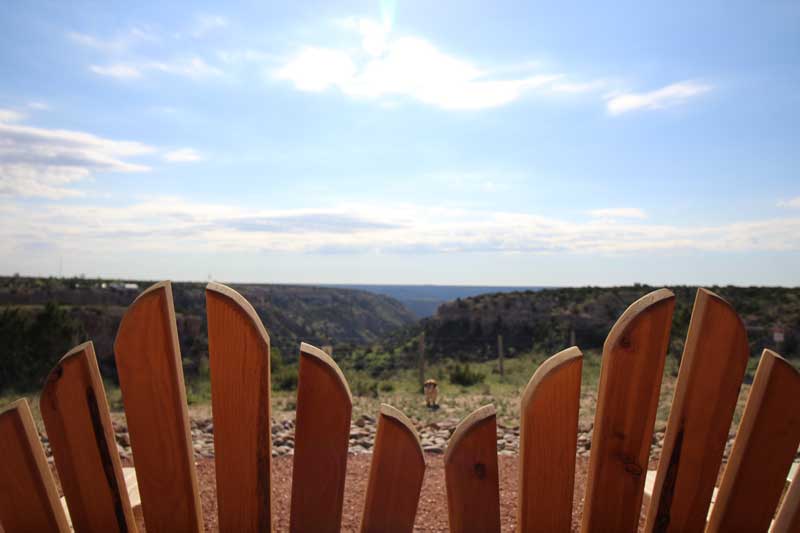 Eating out in Canyon: our only meal out was at Imperial Taproom – it was fairly good. Their only vegan option is the Impossible Burger (they don't have any options for vegan salads – I've never had that happen before). I still don't understand why people rave about that burger. It's nowhere near as good as a spiced black bean patty, but I guess it's what those who eat meat prefer. As a vegan, I'm not impressed, and I'm bummed that it seems to be the new go-to veggie option at many restaurants.
Coffee out in Canyon: we went by Palace Coffee on our last day before the drive back to Fort Worth. It's a few doors down from Imperial, in what would be considered the downtown. The coffee is OK; and I'm hoping that the downtown area continues to be redeveloped over the years – it has a lot of potential.
We planned to go to other restaurants, both in Canyon and in Amarillo, but a 30-minute drive around Amarillo and a stop into a restaurant that allowed smoking (what the hell how is that still a thing) was completely discouraging and downright depressing, so we called it quits and came back to the cabin and the land of beauty. Anyone know of what's up and if we missed some great part of Amarillo? The whole city can't be that depressed, can it??
---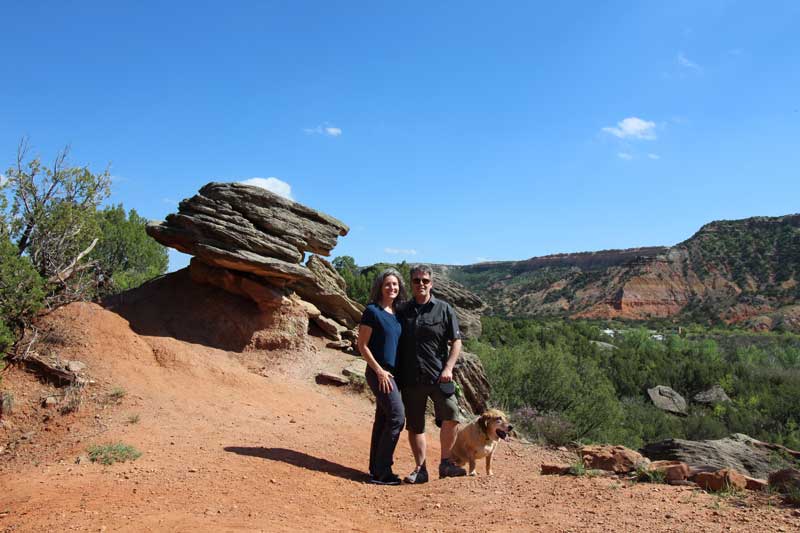 Hiking Palo Duro: we did these easy & moderate hikes: Pioneer Nature, Juniper/Riverside, Rojo Grande, and the more difficult hikes of Rock Garden and Givens, Spicer & Lowry. Rock Garden was gorgeous! All of them were very pretty with almost no one else on the trails, although the GSL trail did have a few mountain bikers so be careful as they can come out of nowhere. We had our dog on most of the trails: he's old and handled all but the Rock Garden trail well. Most of the trails are not shaded at all; so come here in the late fall/early spring for your best bets with a bunch of water and wear a big hat. Some of the trails have SPF 30 stations at the start! Oh and the trails are not well labeled, nor is the parking for the trails. So be patient and drive slow.
---
We're now back in Fort Worth and already planning our trip back to Palo Duro; making sure that we're not waiting another 7 years in order to return. It's nice knowing that we have a completely luxurious place to stay: the cabins and the views were simply out of this world. I'd have a hard time finding a prettier place to look out; especially if mountains and red canyons are your thing. It is most definitely mine.
In honor of my sweet Iko dog, taken 7 years ago: