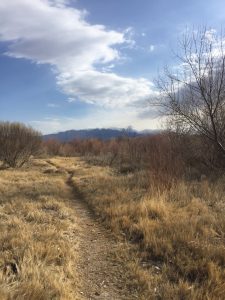 One of my girlfriends often jokes that I need to be a travel guide for introverts, because I love planning trips, and am great at finding things to do while traveling solo. So I thought I'd go with that idea this morning and write my travel advice for all of us introverts, based in the incredible city of Albuquerque.
A few weeks ago I flew out to Albuquerque for a Senior Yoga Teacher Training held at High Desert Yoga. Albuquerque is probably my most often-visited city in North America. I'm madly in love with New Mexico, and to get to New Mexico, you fly into Albuquerque. If you go to Santa Fe or Taos, they'll say, Albuquerque is the city you fly into, and then you get the hell out. I've never felt that way, although with multiple trips to this city throughout my life, I've never spent more than a day or two in Albuquerque before moving on to the rest of the state.
Don't get me wrong: Santa Fe and Taos have a place in the New Mexico equation, and I can see why they're so popular. But for me and my money, I much prefer Albuquerque. I love the underdog cities: the dirty, dusty, hard working cities that no one writes about or talks about. Albuquerque is that city. And like all of these cities, it's getting hipper and hipper each year. Pretty soon I'll be visiting and think, damn, I should have bought a place here when it was still affordable. And I so, so, wish that was the case. I would love to spend most of my time in this city, in the Land of Enchantment.
As far as what to do when you get there, I have a ton of blog posts about the museums and cultural centers both in and around the University of New Mexico, as well as places to eat vegan food. You can read more by typing in "Albuquerque" in the search bar on this site. This trip was strictly dedicated to yoga and mountains and sunrises and meditation, along with delicious vegan food, so here goes: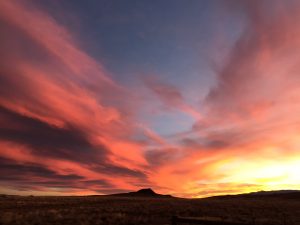 Petroglyph National Monument – drive out here early in the morning while it's still dark, to watch one of the prettiest sunrises you'll ever see. It's about a 20-25 minute drive from the city center to the Day Use/Volcano area of Petroglyphs, and there's a very small parking lot outside the gate where you can park. It's so incredible here that I drove out two mornings in a row. For the first, I got out of my car and sat on the roof, in the dark, watching the rays appear before me. And then about 30 minutes later, after the sky was light, I drove off. I was planning on doing the same the second morning, but another car pulled up to the locked gate right when I did. Two hikers emerged, and I watched them walk off through a gate I hadn't seen before. We said our hellos, and I climbed back on top of the car, and then I thought, what the hell, this is stupid, I love to hike, go follow them! And so I did, and climbed on top of one of the volcanoes I photographed the day before, sat in the dark, meditating and watching the morning light slowly hit the sky. It was brilliant.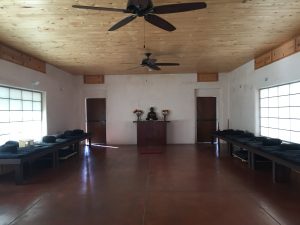 Albuquerque Zen Center – this is one of those places that you don't want to write about because you know the magic will leave you the second you start trying to put words to it. Words don't come close. No emotion comes close. I spent an hour here in meditation, among strangers. I will be going back with every visit to this city. It's donation based, and you can show up for the beginners sitting series and they'll show you the ropes. And you get a traditional Japanese tea. And that's all I want to say. Other than, please go here.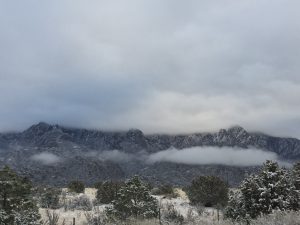 Elena Gallegos Picnic Area and Open Space – I didn't get to spend as much time here as I wanted, but it looks like an incredible place to watch the Albuquerque sunset. That was my goal, however I didn't leave training early enough each day. That'll be my plan for my next visit. I also didn't have time to hike, and the morning that I did have time, it snowed, which made for incredible pics, but I was too chicken to drive my car through the snow in the hilly parking area (sometimes it sucks living in Texas, you forget how to do things such as drive in inclement weather). So, the hiking trails will be explored next time.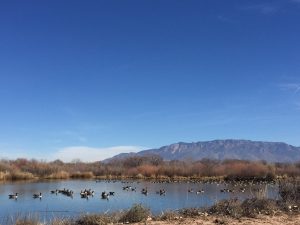 Rio Grande State Nature Center, and accompanying trails (Paseo del Bosque) – I went to the Nature Center for a quick minute, and enjoyed some beautiful views of ducks and other birds that I'm not familiar with. But the real treat was driving north of the city center, to the trailhead parking lot at Coors and Montano Streets, and then walking along the Rio Grande on both the paved and grassy trails. It's gorgeous here, and incredibly peaceful, right in the heart of the hustle and bustle of busy roads in a busy suburban area.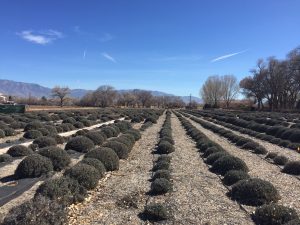 Los Poblanos Inn & Farm Shop – I am in love with anything lavender, and I have some of Los Poblanos' products, yet hadn't visited their shop until this trip. The Inn is really cute as well, and although it was out of my price range, I would definitely stay here for a special occasion. If you love lavender goods, foodie goods, teas and coffees, check out their farm shop. And you can eat here too (breakfast and dinner only) although I have never seen anything vegan on their menu. The food looks delicious though. I stocked up on a few of their teas and am in love.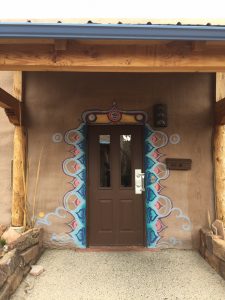 High Desert Yoga – this was my whole reason for coming to Albuquerque, because it turns out that Senior Yoga is a hard concentration to find certifications in. I've been wanting to focus more on senior yoga for awhile now, since my working life past involved so many seniors, and I miss being around this population, and I want to help them live better, healthier years. I searched and searched, and High Desert was one of only two studios I found in the U.S. that offer this training. And oh my word, this studio is special. First off, they offer trainings throughout the year that look beyond incredible, with both traveling and local teachers. And secondly, this is a true yoga studio. Do you know what I mean when I say this? If you've visited several studios, you get what I mean. There's Eastern Yoga, and there's Eastern-Western Yoga, and there's Western Yoga. Most studios that I have found in the U.S. are Western Yoga. And there's nothing wrong with that. I go to a few of them. But there's these special studios here in the U.S. that truly combine Eastern and Western philospohies to provide these incredibly profound, gorgeous, still offerings. High Desert is one of them. It's worth the visit, whether you're local or coming from afar.
Page 1 Books – So when I travel to cities, I normally come home with a piece of jewelry, a ridiculous number of books, coffee, and tea. I love buying local and trying new brands of coffees (more on this below) and teas (above and below). Page 1 might be my new favorite bookstore. It's close to Annapurna's New World Ayurvedic Kitchen, so I tied the two together. I didn't love Annapurna so I'm not including it today (note: tell them over and over and over again that you are vegan, and then verify once your food comes, and then even after you've verified, eat carefully), although their lavender peppermint tea was soooo good. I will give this place another try on a future visit, I think. Back to the books! Page 1 is both a used and new bookstore, and they have a great selection, and good service, and great prices. I had to stop looking as I wasn't sure how to get all the books I was buying home with me. I love this place!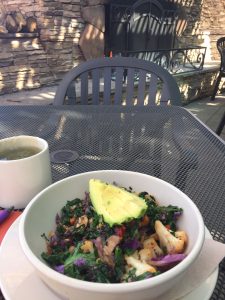 Bookworks – this bookstore is right next to Flying Star, which is one of the places I often hit while in Albuquerque because they offer vegan foods and it's a nice, no-fuss place to go. Their food is good, and worth the trip – especially if you're tying in the bookstore. Also, they have vegan cake, which I didn't order this time but my memory tells me it's delicious. I sat outside right by the pinion wood fireplace, which made the experience so much lovelier. So the bookstore, it's pretty good, some new, some used, it's worth the visit. And it is next to a jewelry/art store and a paper good store too, so you can get a little retail therapy in while you're enjoying the fresh air. This is also very close to Los Poblanos, so you can tie this all in together.
Treasure House Books – this is a tiny bookstore but has a good Southwest collection of authors at good prices, like one of my faves Craig Childs. It's in Old Town which is not a section of town I love, but it's easy to get to, and across the street is a tea shop with a great selection, Old Barrel Tea Company.
FOOD! The best part (almost):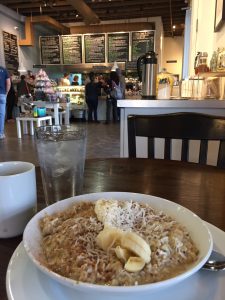 The Grove – such a cute cafe, with a tiny little area to buy cookbooks and kitchen items. I came for breakfast and ordered the oatmeal and loved it.
Michael Thomas Coffee – of course I went here. If you read this, you know I am completely obsessed with their coffee. It's the best I've ever, ever tasted. Try it. You'll be hooked! I bought a 5-lb bag to take home with me to save on shipping costs (hence the need to stop buying books).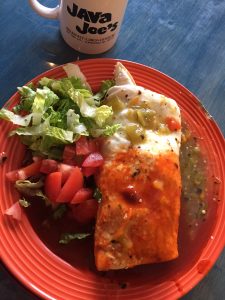 Java Joe's – I almost didn't go here, because the name is soooo overused. Every city has something that is called a Java Joe's, right? Just like every city has an Indian Palace or a Sitar? Yep. This is no normal Java Joe's. They have a vegan tofu breakfast burrito that I could eat every single day. That spicy chili sauce is just to die for. And their coffee was house roasted and really good too; I bought a few bags to take back home with me. I came here twice, and will be going back, and am craving their chili sauce right now. Why are you so far away from me? I'm in love.
Thai Vegan – again, I come here every time I visit ABQ. It's delicious, and cheap, and they have good service. All of their curry offerings are lovely, not spicy, and filled with flavor.
Humble Coffee – I didn't love their coffee as much as Michael Thomas or Java Joe's, but it's a cute place and a nice change from the other shops in town.
Smoothies – I went to both Squeez'd in Nob Hill (I think I ordered the wrong smoothie, although they have wheatgrass shots too so that was worth it) and Beets. The avocado banana and almond milk at Beets is super thick but delicious. I'll be making that one over and over again.
Limonata – they offer a vegan tomato soup (so good, tons of olive oil in this soup!) and a fruit smoothie. It's right around the corner from Michael Thomas.
I hope you give these places a try! I get to come back to ABQ this summer and cannot wait, and with longer daytime hours, I'll be sure to catch a sunset. Plus the summertime offers their farmers and artists markets, hooray!
If you have other favorite places or restaurants to recommend in Albuquerque, please reach out to me, I would love to hear. Thanks!