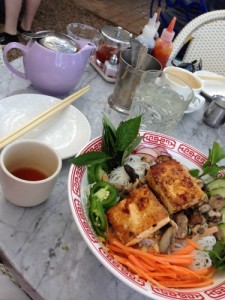 Austin might be the vegan capital of the U.S. It's certainly the vegan capital of Texas. No way can I begin to list all the options here, but I'll update this with every trip I make to this fun city. When you visit, check out the many studios and galleries throughout Austin, the shops and food trucks along Congress, Barton Springs and 1st, the bookstores, shops and restaurants on West 6th, and the many hiking, biking and walking trails both in the city and in the vicinity. Austin is popular for good reason: it's in the heart of the hill country with fantastic lakes, artist colonies, small towns and camping locations nearby. And no matter what night you're here, you'll find good live music by some of the best singer songwriters around. I can't think of a single restaurant I've been to here that does not have a vegan option, so just ask if you don't see one on the menu and I'm sure you'll be pleasantly surprised. I'm fairly certain some of the best chefs around call this city home. Oh, and come patient: this city is crowded, and not walkable, and one can never find parking. I can't tell you the number of times I have been so excited to get to Austin and then the second I arrive I want to be back home. The food is good though, really good – so be patient and breathe past all the hipster crowded BS.  🙂
Casa de Luz – an all vegan oasis in central Austin, Casa de Luz is good, with organic, fresh, gluten-free vegan food and yoga classes. They have a pretty, lush patio, a set buffet that changes daily, and a good assortment of teas. This is one of the healthiest places I've been and they have a strong commitment to quality ingredients. It is Ayurveda-based and I have never been blown away by the food personally, but if you're into an Ayurveda diet you might want to give it a try.
Counter Culture – this is a great place to go to relax and eat delicious all vegan foods. Their menu is extensive and everything is tasty. They won't rush you, so come with friends or with a book and enjoy fresh vegetables, grains and tofu.
Bouldin Creek Cafe – my favorite breakfast spot in Austin, almost everything on their menu can be made vegan. Their Vigas are great and filling for breakfast and veggie and portobello burgers are mouthwatering. On a recent visit I ordered the tofu Benedict with red and black beans and holy smokes it was fabulous. They have good service and the wait goes by quickly, especially if you order one of their delicious coffee drinks while you're killing time.
Cenote – their GoBeet and Veggie sandwiches and a few salads can be made vegan, they have a delicious hummus, a wonderful coffee assortment, and a great patio. They buy seasonal, organic produce and you can taste the freshness.
JuiceLand – there are a ton of these juice bars across Austin, and they are all great. Juices are made fresh and there are several options to choose from, including a full smoothie menu. Their Morning Sunshine and Cold Shower were enjoyed on my last visits and both were perfect.
Sway – all I can say is, wow. We went to this Thai restaurant on accident after our third try to get into Elizabeth Street Cafe. I have a feeling we'll never get in there. However, what a nice surprise to see Sway was open and fit us in immediately. And an even better surprise with their expansive tea menu, great service and plethora of vegan options. We ordered the tofu vegetable spring rolls, the tofu green curry, the tofu squash curry and mandarin sage sorbet for dessert. I wanted to start all over again once our meal was finished. The food is incredible, the atmosphere is perfectly hip Austin, and the flavors blew us away, especially the tofu squash curry. We'll certainly be back! And NOTE: I've been here a ton since my first post, this restaurant never disappoints and I'll say it is my favorite place to eat at in Austin.
Elizabeth Street Cafe – finally! Every trip to Austin over the last few years has led to an unsuccessful attempt to get into this place.  We decided to try an off hour this time around, and I'm so pleased we did.  Elizabeth Street was certainly worth all of the effort. It's a quaint and colorful small restaurant with a great patio and good service. I ordered the tofu spring rolls, ginger rooibos tea and the vegan tofu/mushroom bun.  Everything was fresh and delicious and although the portions were big, I certainly cleaned my plates.  I highly recommend this restaurant, and if you can't get in you can always try Sway next door; you won't be disappointed either way!
La Condesa – this modern Mexican restaurant is located in the heart of the warehouse district and is steps away from Austin City Limits' Moody Theater, making it a perfect option for your pre-show dinner, which is exactly what we did. For warning, we've tried coming here in the past and the wait is truly long, so make reservations in advance or plan to spend an hour plus at their bar. There are several options on the menu for vegans, including many sides, and their waiters are well-equipped in describing all of the ingredients. To start, we shared the guacamole sampler with four guac options and a few salsas. My favorites were the pomegranate and the apple versions, wow! The habanero salsa and verde salsas were delicious as well. I next ordered the mushroom masa, which was perfectly cooked and filled with a great assortment of mushrooms. The winning dish was the cauliflower steak with raisin purée. Oh my, that was a taste explosion. Definitely order that dish! Our waitress was excited to tell us they have a vegan ice cream brownie sundae on their menu which is pretty cool for a restaurant like that to offer, but we did not give it a try. Although a little pricey, La Condesa's ingredients were perfectly matched and we were very pleased with our meal. I hope you consider this place for a great date night!
Malaga Tapas Bar –  writing about La Condesa made me remember a previous failed attempt to get into that restaurant, which made us stumble into Malaga just a few doors down. This is a nicely decorated tapas restaurant and although it took them a bit to come up with vegan options, they did not disappoint.  We ordered their sautéed mushrooms, asparagus, beet salad (excellent), toasted bread topped with tomato, garlic and olive oil, and their eggplant pineapple tapas.  All were great and fresh, and with no wait and pretty good service, it was worth the trip.
Koriente – Koriente is a great find downtown, and is typically busy for good reason. They offer Asian-inspired and healthy food, with a lot of vegan and gluten-free options. You can start your meal with a free garden salad and free miso soup (it's vegan!!). I ordered the Obake Bowl A with tofu and an assortment of fresh veggies, along with tea. This place is surely a find, if you're in downtown I hope you check it out!
Uchiko – Uchiko is the perfect location for a special dinner or holiday event. Their service is excellent (actually almost anywhere in Austin has great service – this is just a happy town with mostly happy people) and their servers are incredibly knowledgeable and eager to help find the best vegan options. Which our server certainly did. You can order a little at a time here like you're at a tapas restaurant, which is nice because you won't feel rushed. It's expensive so make a date of it! We ordered an assortment of appetizers, sushi and greens, and everything was wonderful. Ask your server what he/she suggests and know that you'll enjoy it all.
Eastside Kings – We walked to their Liberty Bar location after a night at The Scoot Inn, which ended up being the perfect way to end a night of dancing to live music. This food truck is permanently parked in the Liberty's beer garden and is a great place to socialize with new and old friends. A lot of their food can be made vegan, including the beet fries, brussel sprout salad, and veggie meshi (order this). Grab a drink and enjoy a beautiful night on one of Austin's most fun patios.
24 Diner – We came here for Sunday brunch and had excellent service at the bar. The portions could easily be shared, and a lot can be made vegan. We ordered the veggie hash with homemade veggie sausage and it was awesome. Go hungry!
Lick – I know it's a lot easier to find vegan ice cream these days, but Lick is still worth the trip and the standing in line for half an hour…promise. We tried the coconut and avocado ice cream and the coconut, chocolate and peanut butter…which is as good as it sounds.
SaveSave
SaveSave