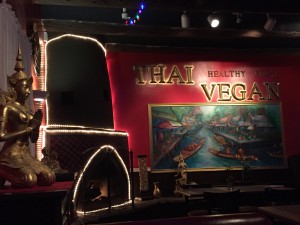 I love New Mexico, the color of the mountains, the culture and diversity of its people, the food and celebrations. It's one of my favorite states to visit and hike in. Santa Fe, although touristy, has a lot to offer and is located in such a beautiful part of the state. The Georgia O'Keeffe museum is always nice to visit and nearby Abiquiu and Ghost Ranch are essential if you want to learn more about the artist.
Cafe Pasqual's – I've only been here for breakfast and they don't offer a vegan menu, but they will make many accommodations to their menu, including a delicious vegan tofu scramble with green chiles. Both their chilis are vegan but the green is spicier and it is delicious. They also press fresh juices and their green juice is excellent!
El Meson – we went to this tapas restaurant for the live music, and it was right around the corner from where we stayed at Luxx, a swanky, quirky, hostel type hotel, if you can even combine all those words in one description. It was a great place to stay and in the perfect location to walk to everything. El Meson has a few tapas they can make vegan, the mushrooms (which were great) and the potatoes, and they made their beet salad vegan which was excellent.
Thai Vegan – we've been to Thai Vegan in Albuquerque and the Santa Fe location is just as good! We're always blown away by what this restaurant offers. And since we're on vacation and that makes us feel we can justify by ordering the whole menu, we go a bit overboard. The food is just ridiculous here. We started with the Freshy Rolls filled with noodles, basil, soy chicken, and a hoisin dipping sauce. They are huge and delicious. Next up was the miso soup, absolutely perfect, and that could have easily been the way to finish the meal. I then ordered the tofu green curry, it is perfectly spiced, which was a great surprise as I felt the Albuquerque location's green chili was a little mild. My husband ordered the soy shrimp green curry, and he loved it as well. I'm actually glad I live 9 hours from these restaurants as I know I'd be stuffing my face here weekly if not. Go here!
Kakawa Chocolate House – vegan hot chocolate is all I need to say, with as many free samples as you'd like. Only one of their hot chocolate elixirs is not vegan. We sampled the typical American version, which was great, and then immediately went into the spicier ones, the Aztec Warrior and the Rose Almond. We both decided to go with the Rose Almond which has the perfect bite of chili after each taste. We bought a few of their vegan chocolates to go, but the elixir was by far my favorite.
Collected Works Bookstore – not only is this a great bookstore but they have a cute coffee bar and vegan treats. In crazy pricey Santa Fe, it's nice to find a store you can actually afford to shop in, and with a great book selection, and vegan muffins to boot.
Ohori's Coffee – located in the Railyard District, Ohori's has some of the best coffee around, with a nice little cafe to relax in. They didn't have any vegan treats when I was there but their coffee is delicious so I had to include them!