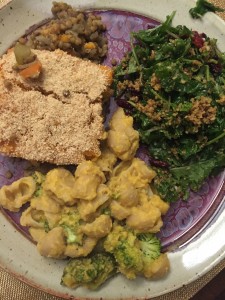 As the year comes to an end, I thought I'd send out a list of the "Best Of" vegan restaurants, dishes and recipes I've tried this year. These are the places I wish I could visit over and over, and the dishes I've made more often than any other. Please support the beauty and fresh ingredients available to you if you're lucky enough to live near or be traveling to these restaurants. And please, let me know if there's other can't miss options in the cities listed below (or a new city I haven't yet ventured to!)
I'll start with my home state of Texas:
Fort Worth
Spiral Diner is no joke the best option in Fort Worth, and even if you don't like processed "meats" (I try not to eat too much of these), there's a ton to choose from at this Southside gem. My personal favorites are their Bunny Bowl, the El Paso Burger with Quinoa patty, and their Crispy Spring Wrap. Their special changes monthly and it is aways delicious as well. And they have a wonderful selection of desserts, which are incredibly hard to say no to. I'm trying to limit the sugar I eat these days, and I always fail when I go here. But you can't regret that, indulgences are necessary in life! For me, their best desserts are their chocolate peanut butter cup (holy smokes it's so good) and their peach ginger pie. Another great thing about Spiral is that it's directly across the street from Fort Worth's best coffee shop with a killer selection of teas and who now offers vegan cake from Stir Crazy Baked Goods. The cake selection changes weekly and it's always incredible. Hanabi Ramen is a fairly new addition to our culinary scene, and it could not come at a better time as my husband and I cannot get enough of the incredible ramen restaurants making up the Austin scene. Hooray for cowtown on getting such a great restaurant! They only have one vegan option, and you have to request that it be made vegan – their Kara Miso Aemen is a brothless ramen with corn, tofu, cabbage, and the perfect bit of spice.
Dallas
Cafe Izmir and Greek Cafe and Bakery – both are great, Cafe is better for a date night and Greek is better for pick up or a casual meal. But both are just delicious with an assortment of vegan options, if only Cafe would add a vegan hummus (this is still shocking to me, but they have a ton of other vegan options to choose from). And Greek now has vegan baklava, which you need to try, I promise it's worth the indulgence. You can linger at Cafe, which I just love, as they'll space out the tapas you order so you have time to truly relish them and relax. And Greek is in a lovely, walkable part of Dallas, my favorite part of Dallas, with art galleries, clothing stores, art classes, pie shops, coffee shops, book stores…everything that's good and endearing in the world of consumerism.
Austin
It's seriously a joke to list the best options in Austin. You can't go wrong in this town. Half the time I wonder why I don't live here, and the other half I'm so glad my city is not as busy/crowded. But this place is the Mecca of vegan food, with a vegan grocery store, several vegan food trucks, several vegan restaurants, and almost every non-vegan restaurant with a vegan offering. My personal favorites are Sway, Ramen Tatsu-ya (they have a vegan option daily and it is insane good), and Koriente. It's incredibly hard to just name three, and I realize it's a disservice to not list all the full-vegan restaurants this city offers, but these are my three faves and they're the ones we always go to when we're in town. Sway is best for a date night and the other 2 are more casual, great for lunch or a quick dinner. All are definitely worth the wait! And if you love tea as much as me, you're in for a treat as many restaurants in Austin serve Zhi, which is how I found out about this wonderful brand, and they have a tiny tearoom in Austin too. You can order your teas online (free shipping over $75) and I just discovered them in Central Market locations. Win-win. My personal faves are their Matcha and Ginger and Lime Green Rooibos.
San Antonio
SA shines in the vegan food movement! Green is by far the winner, with a few different locations to choose from. Beware, they are closed on Saturdays, which always bites me in the ass. This casual spot is great for fairly healthy vegan options, with quick service to boot. My next favorite is Vegeria, a tiny little all-vegan cafe that dishes out delicious food in a quaint setting. The Southside of San Antonio has a ton to offer with great dining, tea shops, a brewery, live music venue, coffee shops, and clothing – as well as a huge art center and the best place to get on the riverwalk.
And moving on to my favorite state in our beautiful country, New Mexico:
Albuquerque
Thai Vegan is so good and so worth the trip (and there's one in Santa Fe as well). I completely gorge myself here on miso soup, spring rolls and tofu curry dishes. They have great service and a huge menu of all vegan options. El Patio is next up as my favorite, it's hard to find Mexican restaurants with vegan beans/tortillas, and this restaurant not only offers it but their food is so good. I gorge myself here too, to be completely honest. And, hence the name, they have a beautiful patio. And they're in a great section of town, in Nob Hill, close to the University, my favorite coffee shop on earth and no I'm not even kidding, shopping, macrobiotic food, and so much more.
Santa Fe
So Thai Vegan wins here again, but my favorite place in SF is Cafe Pasqual's for breakfast. I can't not come here when I'm in town! And I'm not the only one as there's always a line mixed with locals and tourists alike. Their tofu rancheros breakfast with green chile is worth the wait. Santa Fe is touristy, yes, and expensive, yes, but there's a beautiful culture layered here as well, and the mountains surround you with peace. There's so much beauty to behold in Central New Mexico.
Finally, I have to give a shout out to Minneapolis, the new city I visited this year and completely fell in love with. They have a vegan butcher for goodness sake. And I swear there's an independent coffee shop on every corner which is all I've ever wanted in life. From Ecopolitan, Common Roots and Birchwood Cafe, I'd have to vote Common Roots as my favorite (for their breakfast Farmer's Tofu option) and I loved the community vibe of Birchwood. Ecopolitan is all raw so that was fun in and of itself, as I haven't completely grasped the raw movement yet, although I've been wanting to try harder after reading Steve Ross' Happy Yoga, as well as Gena Hamshaw's Choosing Raw.
Which brings me to: my favorite recipes of 2015.
Recipes
Below are an assortment of the best recipes I've tried this year, all created by a few incredible chefs that I can't get enough of. Thank the universe for food blogs!
Oh She Glows: everything in her cookbook is incredible (if you have not bought it yet, do it, you won't regret it). My favorites in the book are the Lentil Walnut Apple Loaf (perfect for holidays), her African Peanut Soup, Sweet Potato Tacos, and her hummus – I make this every single week. It does not get old. Not included in her cookbook, her Shredded Kale Salad is incredible. And you can't go wrong with any of her desserts, but these are my favorites. Really is there anything better than almond butter with chocolate?
My next favorite and most often used cookbook is Simple Recipes for Joy by Sharon Gannon with an incredible recipe for Dal, Bean and Kale Soup, Spicy Tempeh, and Tabouli. I never liked tempeh until I tried her recipe.
Cookie and Kate: She puts out a lot of good bowls and tacos, and this and this are my favorites.
Food 52: I just recently made her Sweet Potato Lentil Shepherd's Pie and fell in love. Will definitely try more of her recipes and her new cookbook is on my wish list!
Half Baked Harvest: This is my all-time favorite taco, perfect for fall with roasted cranberry sauce!
I bought Kathy Patalsky's Healthy Happy Vegan Kitchen Cookbook which is also filled with some incredible recipes, my favorite being the Chipotle Tofu Sandwich (for any of you who've had a similar version of this at Seven Mile in Denton, you are in for a treat).
That's the highlight of my year in vegan dining and cooking. Which recipes and restaurants were your favorite?
I'm incredibly thankful to live in a time where we have options for healthy dining and are aware of the many downfalls of processed foods. I know personally that my whole foods, vegan, no-alcohol life has impacted me more than I ever imagined. Our health is the most important thing we have, so appreciate and cherish it while you have it.
I hope you all have a beautiful holiday season filled with peace and fresh, whole foods.
Love, Jen.