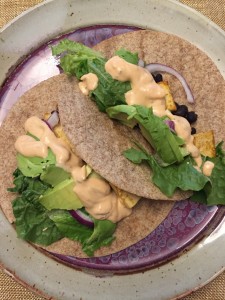 Happy New Year! Today I am sharing with you a quick and easy recipe, not necessarily the healthiest out there but incredibly tasty and nourishing. Nourishing is my key word for 2016. Nourish my body through yoga, my soul through reading, my belly through whole, vegan foods, my life with my incredible husband, dogs, friends and family. Nourishment.
My previous life has been me drooling over vegan food blogs, saying, why don't I do that? How did they get started? I want to be a vegan chef! I love nutrition and if you know me personally, you know that I am incredibly passionate about my vegan lifestyle. But, I have always lived by fear…fear to voice my opinion, to speak up, to put my recipes out to the world. Fear of success and fear of failure. I have spent all of 2015 reading about self-help, embracing fears, valuing creativity, strengthening my body, enlightening my mind. I became certified to teach yoga, have read every vegan and Ayurvedic nutrition book available, have prayed to my healers and driven myself madly happy and madly insane. Today, it's time to put everything I've learned into action.
So, today, I say – fuck you, fear. I'm too old and too young to let you rule my life.
It's OK if no one but my parents and my husband read this blog. It's OK if people do read this and think my recipes suck. It's OK if I fail. You have to start somewhere and if I don't try, I'll be disappointed my whole life. So, here goes…my first recipe of 2016. I've told myself I will post one a week, on the weeks that I am not traveling. On the weeks that I am traveling, I'll be posting the incredible dishes of vegan chefs like I've been doing for the past several years.
Hello, world. Here I am…I hope someone is out there listening.
On to recipe #1:
Chipotle Tofu Tacos AKA Hot n Spicy Tacos AKA Red Hot Mama Tacos (with a little shout out to my Panic peeps out there)
Serves 2, total time about 30 minutes
Ingredients
1/2 c. Cooked Black Beans
1 package Extra Firm Tofu
2 tbsp. Olive Oil, divided
1 tsp. Garlic Powder
4 Tortillas
1 tbsp. Adobo Sauce
Red Hot Mama Sauce:
1/2 c. Veganaise
1 Chipotle Pepper in Adobo Sauce, chopped
2 tbsp. Adobo Sauce
Toppings:
1/2 c. Lettuce, shredded
1/6 Red Onion, sliced thin
1 Avocado, sliced
Directions
Drain the tofu, wrap with 2 dishcloths and place under 2 of your heaviest books for 20 minutes. Or, use a tofu press, if you're fancy.
Heat the black beans on medium low.
For the sauce, scoop the Veganaise into a bowl and add the chopped chipotle pepper along with 2 tbsp. of the adobo sauce. (more or less if, preferred…I've been known to add more b/c I firmly believe the hotter, the better). Mix well, and set aside.
Remove the tofu from the books and dishtowels and cut into 1″ pieces. Place the tofu in a big bowl, top with 1 tbsp. olive oil, 1 tbsp. adobo sauce, and the garlic powder. Mix well.
Heat 1 tbsp. olive oil in a large frying pan on medium heat. Add the tofu, and cook for about 3 minutes, then flip and cook for another 3 minutes.
Heat up the tortillas for about 30 seconds per side on high, flipping once they start to bubble.
Scoop a spoonful of black beans on each taco, followed by the tofu, any toppings you desire, and the sauce.
I hope you enjoy!
Peace and love and whole foods,
Jen.
SaveSave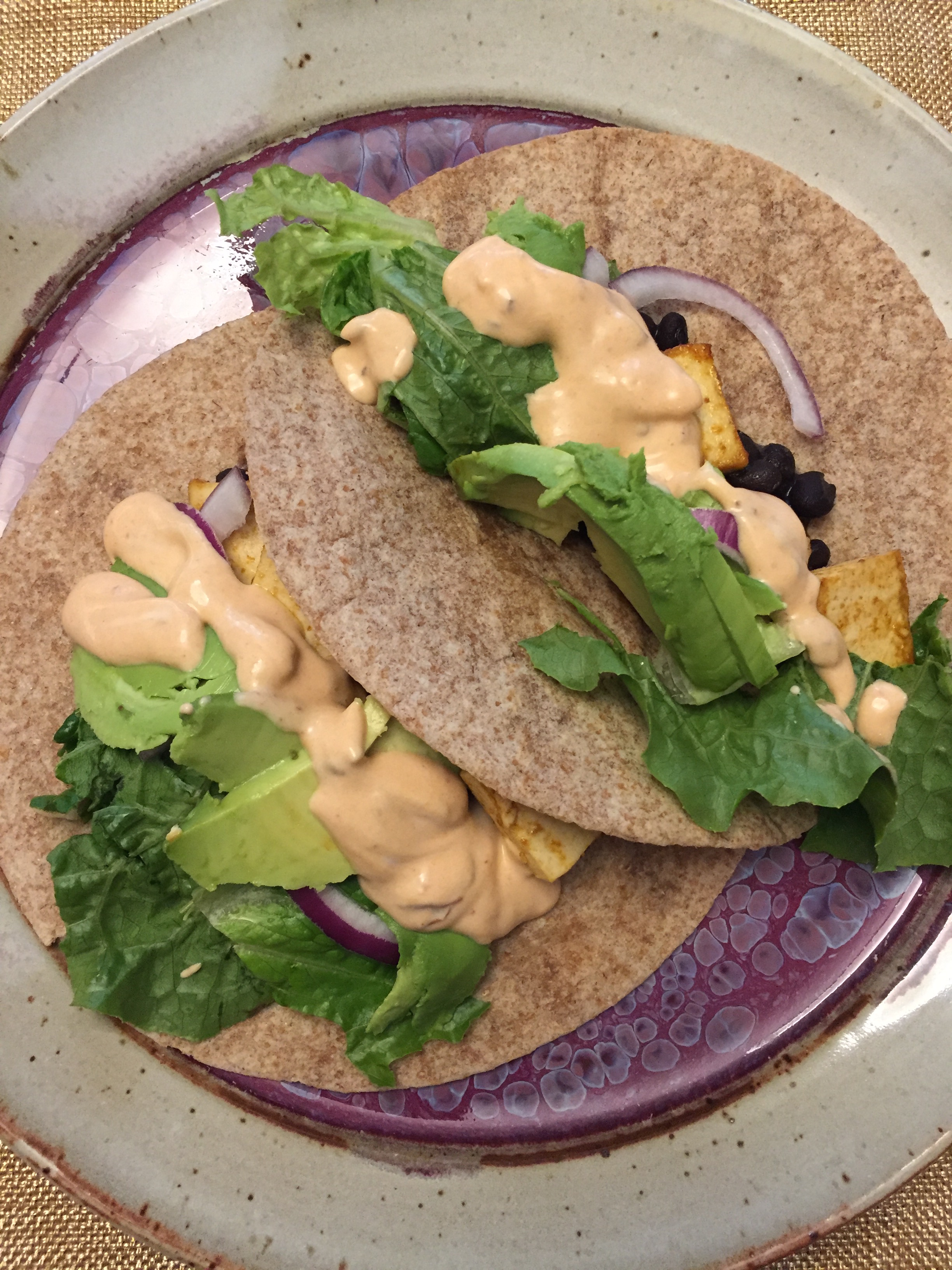 Chipotle Tofu Tacos for the New Year