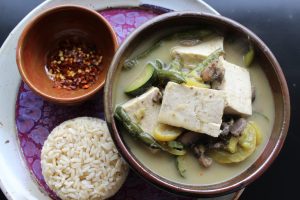 "It was one of those days when it's a minute away from snowing and there's this electricity in the air, you can almost hear it. And this bag was, like, dancing with me. Like a little kid begging me to play with it. For fifteen minutes. And that's the day I knew there was this entire life behind things, and… this incredibly benevolent force, that wanted me to know there was no reason to be afraid, ever. Video's a poor excuse, I know. But it helps me remember… and I need to remember… Sometimes there's so much beauty in the world I feel like I can't take it, like my heart's going to cave in."   ~ Ricky Fitts, American Beauty
There's no movie I love more than American Beauty. Movies and books and music and art shape our lives. I much prefer listening to music or reading books to watching movies, but the movies that I love, I watch over and over and over, and never get sick of them. American Beauty is at the top of my list.
In April of this year, on the day of the New Moon, I quit my job. That was no coincidence. I'm so moved by our moon, our universe, the stars and the vast space that came billions of years before us. It was a huge life event for me, quitting my job, as I've always worked. I get that many of us have always worked in corporate offices. I'm not better or different. Since I was 15, I have not had more than a 2-week time off period, ever, from working. I took 2 weeks for my honeymoon (we had a teeny tiny wedding and spent all the money that could have gone to diamonds and champagne and huge guest lists on a kick ass honeymoon. I strongly suggest you doing the same). And last year, we went on a 2-week Yellowstone trip in honor of our 10-year anniversary that changed my life.
When all you do is work, especially if your work is in an office, indoors, without lunch breaks, it's hard to remember the beauty in our world. It was for me, at least. You get caught up in deadlines and PR and office politics, until one day you find yourself sitting in Bend Bend National Park crying because you've been under so much stress that you suddenly realize you haven't been breathing. And then about a year later, you find yourself in Yellowstone National Park arguing about not having enough time to see our world, about not knowing who you are and what your purpose is, and that's when you finally break. Your heart breaks open and you realize that life is so damn short. That you are wasting it. That you can live a safe life and stay in the same routine, or you can try for something different. You can make less money and have more time. That sounds like a wonderful way to live your life. And then it hit me. Today is the first day of the rest of your life.
That's the line I always remembered most from American Beauty – when Lester is talking about the posters that read today is the first day of the rest of your life, and how that statement is true, until day you die.
That's the line I channeled over and over again this past year, as cheesy as this sounds. I couldn't quit just yet, we had to have some money saved up, the time just wasn't right. But I thought about it every single day. I dreamed and planned and adjusted little things in my life to make sure we could get by for a few months if absolutely no money came in. I stopped buying things, other than books and a very few cooking supplies, those are the only items I have allowed myself to purchase, for 6 months now. Turns out I don't miss things, I don't even miss buying new art for once, and I don't care that I'm not dressed as hip as the next person. I'd rather have less to get more.
The adjustments came easily, because I really wanted this. I really wanted time, mostly to be out west, to be in the mountains, away from the cities. I often looked back to 5 years ago, when all I wanted was to be healthy, and so I lost all that weight, I stopped drinking, I paid attention to fresh foods and what I put in my body. Because that's all I wanted. And these past 12+ months, all I have wanted is peace. So that's where my attention went – how to get peace. Through yoga, through meditation, through journaling, through time in the mountains, through saving money so that I could take some time to breathe. When something is truly important to you, everything else goes away.
The images of Lester quitting his job, of going on that first run in order to make his body look good naked, the energy in those scenes captivate me. I've been running a lot recently and I cannot get those scenes out of my mind. But the scenes with Ricky are my favorites. From the quote above, to "never underestimate the power of denial"  to all of the saddening scenes with his Colonel father, played by the incredible Chris Cooper, probably the most underrated and best actor of my time. There's truly so much beauty in this world.
American Beauty came out when I was 19, a sophomore in college. I was an English major at the time, and my professor told the class if we went to see American Beauty and wrote a paper on it, he'd give us extra credit. I had already seen it opening weekend, and of course went back to see it again the next weekend, as this movie blew me away, and writing was always my favorite thing to do. Write a paper about my new favorite movie, not a problem. I wish I had that paper now, to see how my 19-year old self interpreted it.
I watched the movie again this week, now that quitting my job is so fresh, the awakening of my eyes is so fresh, the beauty of this world is so fresh.  And I loved every minute of it, just like the first day I saw it. And I pick up on new things now, moments I never noticed before, which I just love about art. There's so many Easter eggs hidden throughout that you often miss upon the first reading of a great novel, the first time you view an intricate painting, the first time you watch a magnificent film.
Life is beautiful, we just have to keep our eyes open to see it. I've woken up, and I'm ready to let it all in.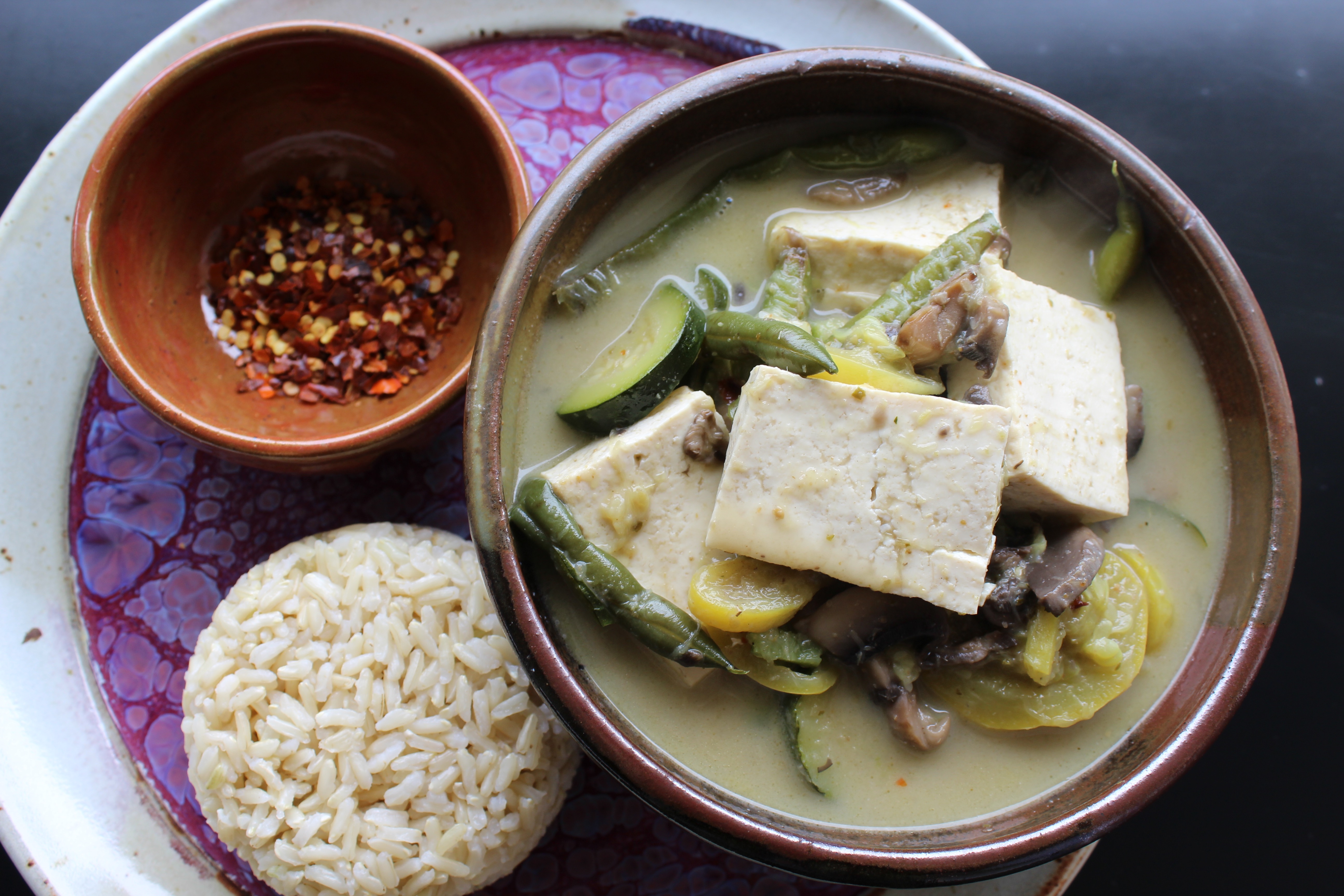 Beautiful Green Curry
Ingredients
12

oz.

extra firm tofu

1

c.

brown rice

1

c.

green beans, fresh

2

zucchini

2

yellow squash

16

oz.

mushrooms, baby bella

1.5

c.

vegetable broth

1.5

cans

coconut milk, full fat

(total of 19.75 fl ounces)

4

tbsp.

green curry paste

1/2

tsp.

cracked chilis

(or red pepper flakes, plus more as needed)
Instructions
Prep the tofu: remove from water, wrap in 2 thick towels and place under several large books for 20-30 minutes.

Cook the rice: add 2 c. water to 1 c. brown rice. Bring to a slow boil and then lower heat to medium/low for about 20 minutes. Watch this to make sure your rice doesn't burn or dry out.

Make the curry: chop the zucchini, squash and mushrooms. Add these and the green beans to a large pot with the vegetable broth, coconut milk, curry and 1/2 tsp of cracked chili, and bring to a slow boil. Lower the heat, and cook for 25 minutes.

Chop the tofu into 1/4" thick squares, and add to the curry. Cook an additional 5 minutes.

Serve the curry over rice along with cracked chili flakes for additional heat, if desired.