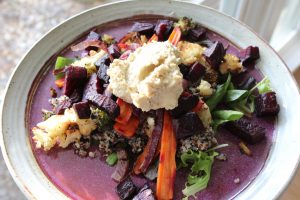 After my trip to Albuquerque 6 weeks ago, I've been teaching about 9 yoga classes a week, from yin to restorative to vinyasa to senior to children, in addition to somewhat holding up my end of our company's job duties, in addition to the private senior clients I'm taking on, in addition to the hours and hours of planning I go through, and practicing I go through, before each class and each private session.
I've been exhausted, and I have chosen to accept that – to lean in to the exhaustion. To lean into this new life. And not to fret that I won't always have time to write this blog or make a new recipe, or go to my regular yoga classes. To accept. Teaching and creating is what I wanted. This is the life I wanted. This is the life I have dreamed about. And for the first time in my life, I'm accepting that I can't be everything. I can't be everyone and everywhere. For the first time, ever, in my life, I wrote on my calendar this coming Saturday and Sunday "DO NOTHING." So I can force myself to give in. For the first time, I'm allowing (forcing) myself to enjoy taking a break.
This week, with the onset of spring, all of my classes have been focused on the theme of renewal: starting over. We're diving into the basics of this, and focusing first and foremost on breath. We notice our breathing, bring awareness to the movement it creates in our bodies, and slowly, start to adjust. Maybe we inhale a little longer, exhale a little fuller. Or lift our shoulders a little higher. Root down into the floor a little deeper. Relax our jaws a bit more, relax our faces and our cheekbones.
I've encouraged my students to bring awareness to their routine this week, and to see if there are times when they're holding their breath, or taking shorter breaths, or clenching their jaws.
For me, I begin with instructing in the areas where I have the most problems: softening. Jaw, shoulders, forehead, hands, feet. I loosen my grip. I then look around the room and begin to focus on them – areas where they could bring a little more breath, a little more space, a little more softness, a little more play. I have to remind myself this, to loosen – over, and over, and over. It's certainly not natural for me to relax. And the second I start to focus on something else, a few minutes will pass, and I'll realize, crap, I'm clenching. Stop clenching. And so the cycle continues. As I tell my students to just notice, to not judge, I try to do the same – just to watch, and see if I can adjust it, and see if I can keep that adjustment.
Breathwork. It's the part of yoga that I'm drawn to the most – those quiet moments. The stillness in the movement. The re-centering and the allowing. The acceptance of what is to come, what will happen, without your control. Our breath will always come, for as long as we're alive. We don't have to do anything. It'll come to us, nurturing us, giving us life, giving us warmth. How beautiful is that?
During my self-inquiry this week, I am remembering the first few years that I lived in Fort Worth, and being "diagnosed" with asthma, by my doctor, the first time in my life, in my early 30s. I carried an inhaler around for about a year, and then suddenly realized, I didn't need it anymore. I was able to find my breath again. Looking back, I realize the shortness in breath I was having was due to stress, and what fixed all of that? I'm fairly sure it was my daily yoga and meditation practice. Although I still hold my breath, and I am naturally a tense person, my asthma related breathing problems have diminished.
Deepening my breath, calming my inhales and exhales, bringing attention to my belly during breathing, softening my jaw, lifting my shoulders, and practicing yoga to the movement of my breath – this is what healed me. I see it heal students of yoga every day, instantly. They walk in, sometimes stressed, looking down at their phones, mapping out their to-dos. But guess what? Class starts, and their phones are on the other side of the door, away from them. And they start to become calmer. They sit down, or lay down, waiting for class to start. More calmness enters. Then, we focus on breath. We bring attention to our place, right here, right now. And it melts. The stress melts, instantly. The breath calms, instantly. They let out the full, long, open mouth exhales, and begin to center.
That moment – I wish we could bottle it. I wish, when I opened the doors back up, that we didn't all immediately go to our phones. That the world took a little longer to re-enter. But this is where we're at, so we gotta work with it.
This breath. These moments. How can you loosen? How can you relax? Can you lift your chest a little higher, open your heart a little more? Slow down your inhales, and your next exhale, let it go. Let it all go.
Spring is here; it's time to refocus, to begin again, to renew.
SaveSave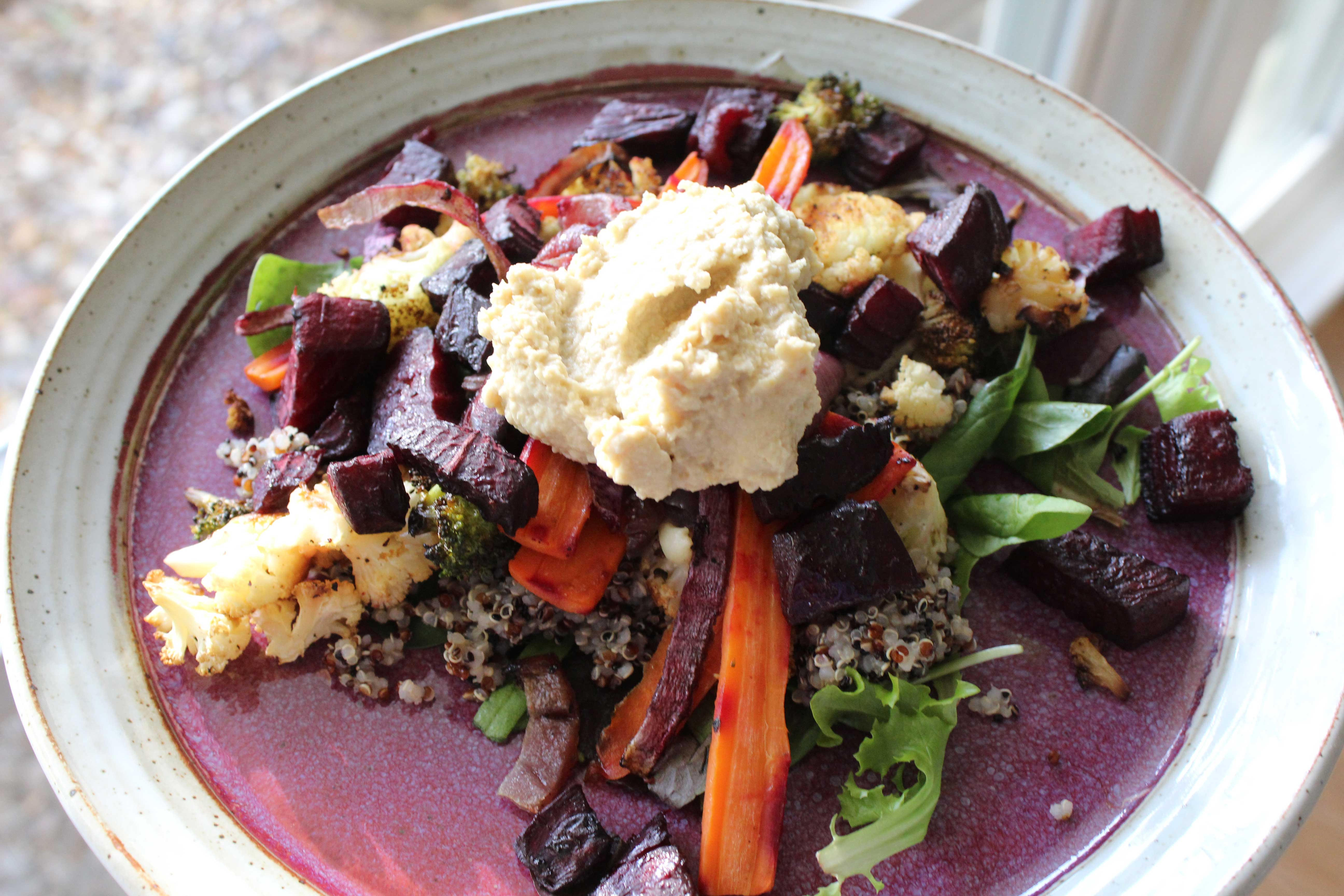 Breathing into Spring Salad
Ingredients
1/2

c.

quinoa, rinsed

4

medium

carrots, sliced

3

small

beets, peeled and chopped

1

medium head

broccoli, chopped

1

medium head

cauliflower, chopped

1

tbsp.

olive oil

1

tsp.

chili powder

1

tsp.

paprika

1/4

tsp.

salt

1/4

tsp.

back pepper

2

c.

mixed lettuce greens

2-3

c.

hummus
Instructions
Cook the quinoa according to package directions, and set aside.

Meanwhile, heat the oven to 425 degrees. Prepare the veggies, and mix with the olive oil and spices. Place the carrots and beets on one roasting pan, and the broccoli and cauliflower on the other.

Roast the carrots and beets for 30 minutes, turning once halfway through. Roast the cauliflower and broccoli for 20 minutes, also turning once halfway through.

Plate the salad, top with veggies, quinoa, and your favorite hummus of choice.