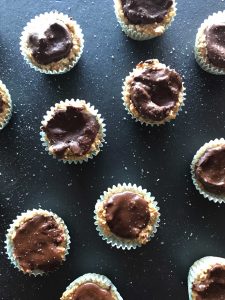 I've been wanting to talk about periods and menstrual cramps for a long time on here, and never have, because this is a cooking blog. And, gross.
And also, not gross.
So, here you go.
In my early 30's I decided to get off the pill because lord only knows what kind of shit businessmen are pumping into birth control pills. I had been on the pill nonstop for 15 years at this point, and holy shit what was that doing to my body. So I stopped taking them.
And all was great.
Until it wasn't.
My period cramps came back like a freaking kick in the gut, and butt, and vagina.
Big time.
Each month, they were worse, and worse, and worse. So I popped pills to relieve the pain (I fully realize these pills simply replaced another pill, but I'm doing the best I can over here), and stayed in bed, and bought several size too large pajamas to lay around in. And heating pads. And drank lots of water.
And also, did a lot of restorative yoga. No active yoga (and I'm pretty serious here, pay attention to your bodies – chill out with the super active/power yoga while on your cycle, gals. Yin and restorative and slow yoga is where it's at).
For the past 5+ years this has been my routine: combat pain with drugs, sleep, restore, tears, etc.
And it has not gotten better, until the last few months, after reading a shit ton of books (more on this below) and taking an incredible weekend workshop about the female pelvis (also, more on this below).
Here's what I learned:
We are all too tight.
Yep, too tight. So, stop it with the kegels, seriously ladies. Stop it. Even after birthing a baby, you're most likely still too tight. (Also, tidbit – Kegels is named after a man. Who does not have a female pelvic floor. And therefore knows nothing firsthand about our bodies and does not know how to strengthen our muscles). 
I know I am too tight, because I have massive, massive pain in my jaw (I always have) and there's an abundant amount of studies of jaw tightness & TMJ issues relating to pelvic floor tightness.
I found out about yoga teacher and female pelvic floor guru Leslie Howard from my High Desert Yoga peeps last year, and immediately wanted to learn more from her. So I contacted her, and convinced her to come to cowtown and educate us all on our pelvic floors. Thankfully, she said yes.
And holy shit, she's incredible, for all lady issues. Find her, and go to her workshops (and she'll tell you how to properly perform "kegels" in addition to a whoooole lot of other incredible tidbits).
For me, in my late 30s, with no children and no plans to reproduce, what I got out of it is most likely different from the rest of the childbearing and post-childbearing women in the workshop, however this was my takeaway: my pelvic floor is too tight (yours probably is, too). And because of that, in addition to of all the stress on our uteruses during our cycles, and swelling of our uteruses during our cycles, (and lord only knows what other environmental factors are at play here) our cramps are getting worse, and worse, and worse.
So, chill the hell out.
Really.
So far, it has worked (albeit a small amount but I'll take anything at this point).
Each month now, on my cycle, I meditate longer. I force myself to relax. I say force, because it's not easy for me. I think I am relaxed, and then I realize the state of my furrowed brow, my tight jaw, my tense hands. It takes a lot for me to chill. That tightness, it's everywhere in my body, and it's making my periods worse.
The cramps have not gone away. But they also have not forced me into flu-like chills or extreme nausea/vomiting or tears like they have over the past several years.
So ladies, if you're with me (and I know so, so, so many of you are based on the students who come to my classes and the conversations I have with my close girlfriends and the conversations I have had with my doctor): chill out.
Force yourself to relax. Use sandbags on your body to weigh your muscles down (in areas like upper thighs, chest, arms, and even forehead). The force from the sandbags is the #1 thing that gets my muscles to relax and me to calm down. Sandbags are a girl's best friend.
Drink lots of water.
Probably don't make these chocolate cups even though you're craving them (I know, I make them, too, but I swear it makes it worse).
Instead, make this matcha cacao smoothie from a previous post. It's healthier and less filling and therefore less stress on the organs than sugary solid food (and cacao is soooo good for us on our cycles).
And relax. All the way to your pelvic floor. Don't stop relaxing until you can feel your pelvic floor muscles chill. Concentrate on your pelvic floor. Then, breathe, and try to stay here as long as possible.
What else?
I love Thinx. I have at least 6 of them. They are the best back up I've ever had, and let's be honest, we've all ruined our favorite panties, and skirts, and pants, and now, there's no need to. Yay, Thinx! Where have you been all my life???
I love heating pads.
I love sandbags even more. Buy at least 4, and go do child's pose on a bolster (or on 2 bolsters) and place the 4 sandbags on your low back, or better yet, get your lover to place them on your low back. And then have him/her go and make you that smoothie.
Surya Little recommends Doterra's Clary Calm monthly blend for women. I bought it from Prajna and have been using each month ever since. It's a nice smell, and somehow, I don't know how as I don't totally understand oils, it is calming, and relaxing, and that helps.
And, be grateful that your body is working (and how freaking cool are our bodies anyway, right?). We can produce children. Like, live beings can grow inside us, all alien style like. That's incredibly crazy and incredibly beautiful. Hooray for our bodies. Let's celebrate them, and try to get past these most uncomfortable and unbearable 4 days each month.
I hope this provides you with some relief.
And once your cycle is over, celebrate with these chocolate PB cups.
Love, Jen.
---
NOTE: Here are my fave women's bodies/women's health books, in case you're interested, in no particular order (these have helped me so much over the years and they have also contributed a lot to this blog post):
Pelvic Liberation by Leslie Howard
Yoga for a Healthy Menstrual Cycle by Linda Sparrowe and Patricia Walden
The Path of Practice by Bri Maya Tiwari
Woman by Natalie Angier
Yoga: A Gem for Women by Geeta Iyengar
Taking Charge of Your Fertility by Toni Weschler
Herbal Remedies for Women by Amanda McQuade Crawford
SaveSave
SaveSave
SaveSave
SaveSave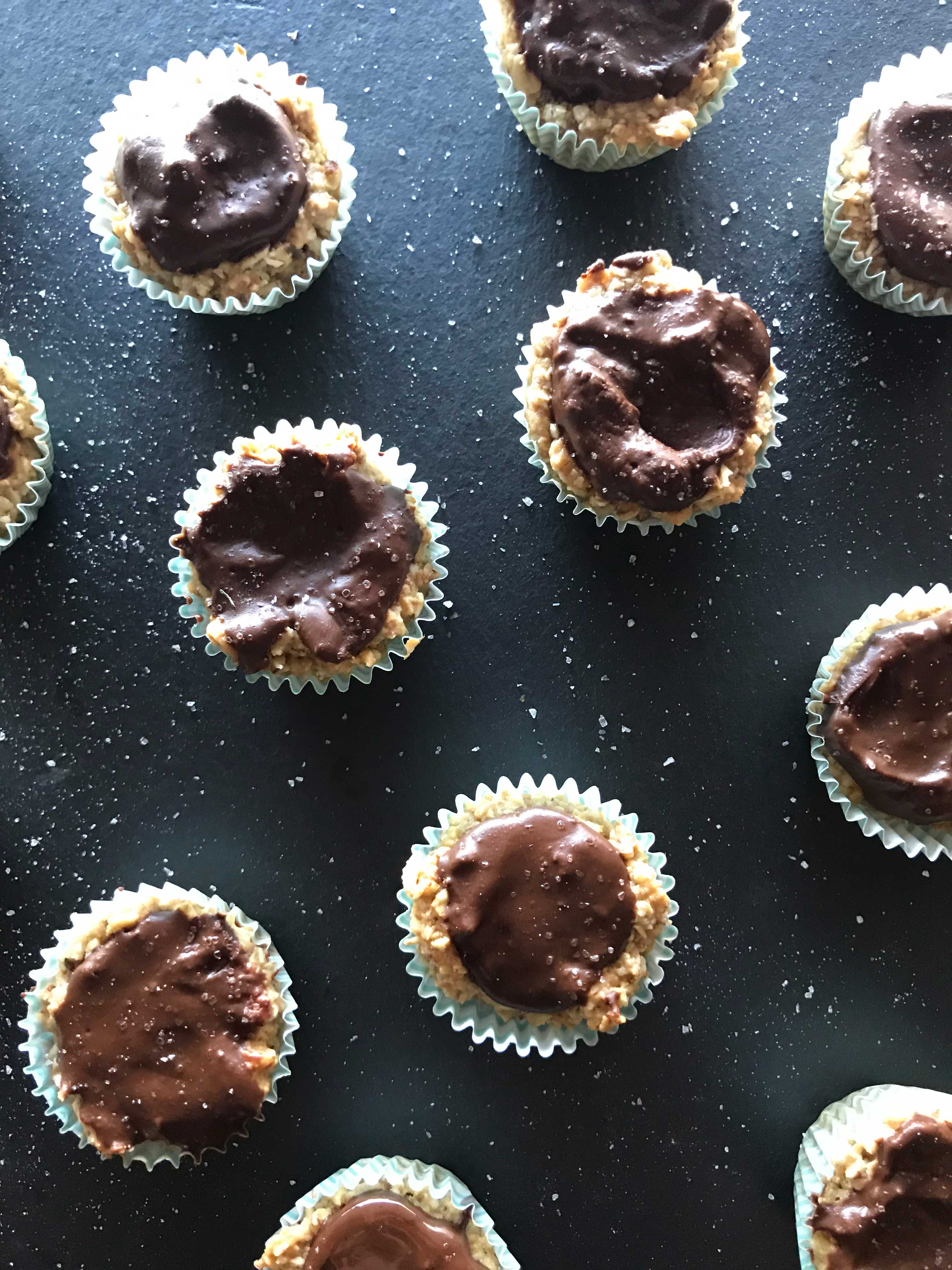 Chocolate Peanut Butter Cups, Period.
Ingredients
1

c.

almonds

1

c.

rolled oats

1/2

c.

maple syrup

1/2

c.

peanut butter

1/2

c.

dark chocolate chips

2

tbsp.

coconut oil

1/2

tsp.

vanilla extract

1/4

tsp.

salt

plus more for sprinkling
Instructions
Heat the oven to 350 degrees.

In a food processor, process the almond until they turn into a fine meal. Add the oats, and process together, until the oats are similar to a thick flour texture.

Add the syrup and peanut butter, and process until all ingredients are combined.

Line your mini cup pan with small muffin liners or oil spray. Wet your fingers, and spoon the mixture into each cup, pressing the mixture down so the cups are about 3/4 full.

Bake for about 13 minutes, until the cups are slightly golden. Remove the oven to cool slightly.

While the cups are cooling, make the chocolate sauce: in a small sauce pan, over low heat, combine the chocolate chips, coconut oil, vanilla and salt. Stir until melted, and then pour over the top of each cup.

Leave the cups out to bring to room temperature. After about 20 minutes, you can sprinkle with sea salt if you'd like, and then allow to continue cooling.

Cups will last for a few days at room temperature (unless you live in my house, in which case they will all be eaten by the next day). Store in the fridge or freeze if you need them to last longer.