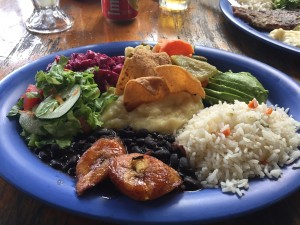 I truly don't know how to begin this post, and I don't fully know why we decided to vacation in Costa Rica. We don't travel out of the US too often so normally decisions like where to go are decisions that I spend way too much time on. This trip was semi-last minute, planned as a winter escape because I truly hate the winter. And I live in Texas which means I have nothing to complain about. But I seriously hate the winter.
I remember reading many years ago that Costa Rica's night sky was something to cherish, and read last year how the country is almost fully sustainable. We spent a week in the Alaskan rainforest back in 2013 and couldn't believe how green and peaceful it was, and we've wanted to check out another rainforest ever since. Experiencing the mountain air, fresh breezes, kind people, and incredible, fresh produce was worth every penny. Turns out, Costa Rica is a vegan's paradise, with a plethora of healthy veggies and fruits to choose from. The combination of the mountain air, rainfall and volcanic soil makes for excellent growing conditions for many veggies and their wonderful coffee. I'm not a beach person so everything recommended below is in the north central mountain areas, within a 3-hour drive from the SJO airport. If you're looking for beach recommendations, check elsewhere!
Alajuela
If you fly in and out of San Jose Airport, you'll most likely be spending your first and last nights in Alajuela, where the airport is. We stayed at Asclepios Spa and were lucky enough to be the only guests at the hotel. They have a full on vegetarian menu and are able to accommodate vegan diets easily. You can choose from several huge, fresh salads, pasta dishes, bean burgers and soups. I sampled their beet soup, yucca/black bean patty with mango salsa, and their fig/greens salad. All were made fresh, were light and perfectly sized portions. This hotel has several spa rooms, a sauna, a vegetable garden, and a huge yoga studio. With the pool, the views, and the gorgeous rooms, you can't ask for a better place to begin your journey in Costa Rica!
La Fortuna
We spent our next two nights in La Fortuna and stayed at Tabacon. I would do this part differently after knowing the city layout and knowing what the hotel is like. It's super nice, don't get me wrong, if you're into spas and resorts, stay here…it just felt too extreme for me. And, you're far enough away from the city that it's harder to take advantage of all there is to do. You are closest to the volcano though, which was our whole reason for going to La Fortuna, so that part was excellent. We hiked the 1968 trails and I absolutely loved it…being surrounded by nothing but green at the base and as you get higher, slowly seeing the black volcanic rock…just beautiful. The views are magnificent and the hiking is not strenuous. I highly recommend these trails. We spent one evening in the hot springs and if you stay at the hotel you can go to a private section of the springs which was nice as there were no crowds. The Tabacon springs are fully natural, they don't recycle the water and it flows fresh from the volcano, which we were told is rare and is what makes the resort so special.
My favorite meal during the trip was here in La Fortuna, at Soda Viquez. I ordered the veggie casados, an assortment of rice, beans, fresh veggies, a garden salad, and plantains. The rice and beans were full of flavor, and they make fresh fruit juices as well – the mango was incredible. Our hotel tried to steer us away from here and I'm so glad we did not listen. Fresh, cheap, flavorful food in a relaxed outdoor atmosphere…just perfect.
Monteverde
Monteverde was the highlight of our trip; it's less crowded, walkable, there are tons and tons of vegan options, you're surrounded by the cloud forest, there's great live music and much to do at night as well as the day. We stayed at Los Pinos and anyone visiting this area needs to check this place out. We booked a superior cabin, up on stilts, surrounded by trees, with a fireplace, full kitchen, deck, hammock and spacious rooms. They designed hiking trails on the property that take you to an overlook to see the Pacific and that also lead to their hydroponic vegetable garden. This was the coolest vegetable garden I have ever seen, and they'll be offering tours of it soon. In the meantime, you can go and pick your fresh lettuces, herbs and veggies and take them back to your cabin to make a meal. How perfect is that?
For food, there's truly an unbelievable amount of vegan choices so this is just a small assortment of what we loved. Monteverde Beer House offers Mediterranean dishes all prepared fresh. We sampled the hummus, falafel, carrot soup, Greek salad, the fresh mint lemonade and the flax pineapple juice. The fruit juices all throughout Costa Rica are the best I've ever had, and this lemonade and pineapple juice was some of our favorites. We went to Orchid Cafe twice to enjoy their assortment of coffees and juices (the pineapple and the carrot juices are outstanding) and they have a ton of salads and vegetable sandwiches to choose from. Their plates are colorful with huge helpings and their patio is a wonderful place to relax after hiking through the cloud forest! Our favorite dining experience of all was at Don Luiz which we almost did not go to, it just looked a little cheesy! It had great reviews though and advertised live music so we decided to give it a try. And it was awesome – great service, wonderful food (veggie casados were great) and the music was so, so good. Bernardo Angulo performed the night we visited and he was seriously talented. Go check this guy out. We also enjoyed live music at the Treehouse one evening, but I would not suggest eating here.
While in Monteverde, we hiked the Santa Elena Reserve which was one of the prettiest places I've ever been. The cloud forest was truly enchanting, something you need to experience in person as pictures could never do it justice. And we passed 5 other hikers the entire time we were there. There's nothing like being in the middle of only nature, nothing but shades of green…places like this make me fully appreciate every second I get to experience this short existence. We also went on one combo coffee/jungle tour which was a little long for my liking but we did get to see a sloth so I consider that alone to be a success. And the night sky – it was beautiful every night but out in the coffee fields away from all city light, the stars are so much brighter. I spent most of the tour looking up, just in awe at the beauty of our universe.
Alajeula
Our final night was back in Alajuela as we had an early morning flight the next day. There are a few vegan restaurants in the city but they close early, and our taxi driver had never heard of them, so we ended up at Jalapenos as it had really good reviews online, our driver said it was great, and the traffic was so bad that we just wanted out of the cab. I did not want this to be our last meal…it's Tex-Mex, which I get enough of, and sounded cheesy, and I wanted traditional Costa Rican food on our last night. But we didn't know where else to go and first glance at the city, it can come off a little sleezy, so just went with the recommendation. All I can say is, GO HERE. The owner greeted us as we were getting out of the cab, double-checked our fare to make sure we weren't ripped off, talked to us outside as we were waiting for a table, and promptly ensured we had great service and our needs (like my vegan diet) met. He knew the whole room, literally knew everyone by name, spoke with all the tables, had the best customer service I've ever experienced. If you're wanting to open a restaurant of any kind, go here and see how Norman manages the house. Incredible. And the food, it will blow you away. Try the veggie tacos and the burrito and tell me if they're not the best you've ever had. You'll love this place!
I hope you get to experience this beautiful, relaxed country and sample some of their fresh produce! I know I cannot wait to get back and see more of Costa Rica. Pura Vida!