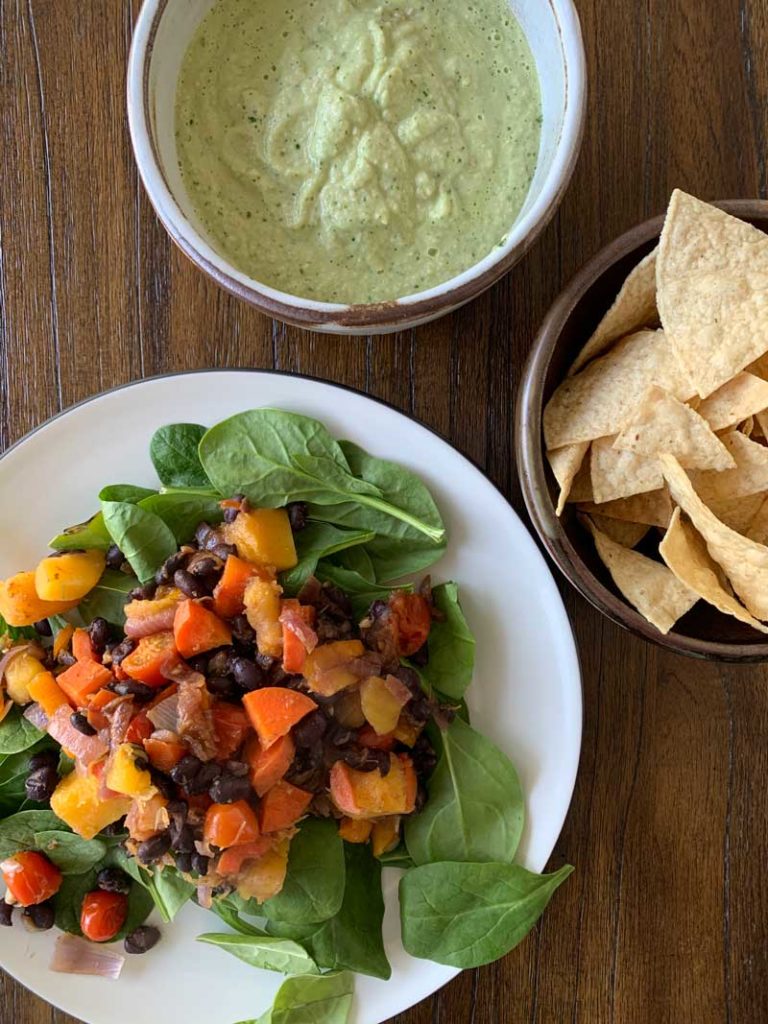 I made a breakfast casserole last weekend, and in the time it was cooking, I looked up above the stove at my row of cookbooks, and pulled down the mustard-colored cookbook I have referenced so much over the years: The Art of Simple Food by Alice Waters. A few pages in, and I had tears streaming down my face.
I first learned about Ms. Waters when we lived in Nashville. I was committed to shopping locally back then, visiting the farmers markets and the neighborhood co-op most weeks. Everything we bought was fresh, and almost everything we ate was made 100% from scratch.
The restaurants we were surrounded by in our little pocket of utopia called East Nashville – they all sourced their veggies, cheeses, milks and animals through butchers, farmers and producers within a few short miles. Everything was local.
That's the epitome of Alice Waters, too, of course.
The tears came because I lost focus for awhile. Lost what I wanted, what I loved, the things that bring me peace.
Cooking, that is.
And possibly more importantly, the community that develops around cooking.
We had that back then; our friends were our family. Every single week there was someone at our home, eating and drinking with us, celebrating over accomplishments and bitching about our work days.
We had a prosperous vegetable garden, and on Saturday mornings, we'd often be found scouring local garage sales and dropping fresh tomatoes, zucchinis, and eggplants on our friends' doorsteps. Most of our friends lived a few short blocks from our home. It was truly a neighborhood; truly a place that I felt connected, for quite possibly the first time ever.
It was incredibly hard to leave that behind. And I am realizing now, as I type these words, I haven't found that again, and I might not.
Maybe it's a time in our life: we were in our late twenties/mid-thirties in those days. Most of our friends had similar lives: at least one member of the couple was a musician, typically the other was partly supporting said musician's lifestyle. None of us seemed too worried about that, it was Nashville, after all. There weren't any kids in our lives yet, there weren't sick parents, we didn't have money and didn't know what money could buy: so our wants were smaller, and quite possibly, kinder.
It's not hard to see why I miss those days so much.
This is what I most often think about these days, during this pandemic, as I look out my window watching the squirrels and birds hovering around our feeders: I miss Nashville. I wonder how many people I know long for the years that came before. Most, I bet. This is simply a part of life.
With Nashville, I know it's now completely different. The Nashville I miss is long gone, now filled with condos and paid parking lots and young yuppies. The neighborhood we lived in: I doubt we could afford it now. The homes once owned by broke musicians have now been turned over by New York and California transfers. The sense of community would now be replaced with a sense of wealth.
And I'm sure that I'm sugarcoating my life there, just as I did my many days in New Orleans. We all do this. It all blends together, making up a little gumbo of memories in this thing we call life.
As my father-in-law often said: Things are never as good as they seem, and never as bad as they seem.
Those words are resonating especially today, as I also reflect on the man I miss.
Cheers to the simpler days.
All of these thoughts came up as I'm realizing: I miss cooking. I love cooking. I love the art of turning a few simple ingredients into something magical. I miss having friends over, I miss the lively times of my past. I am hopeful that my future is able to bring more of those days.
With love,
Jen
---
The breakfast casserole recipe needs a few tweaks, I'm not quite happy with it yet. For now, I present my newest black bean salad. It's simple, quick to throw together, and perfect for a salad that actually makes you feel like you've eaten a meal. This is probably the dinner I make the most, and it's a variation of several different black bean salad recipes on this blog, all of which were developed based on the yummiest salad ever, at Calypso Cafe, in Nashville.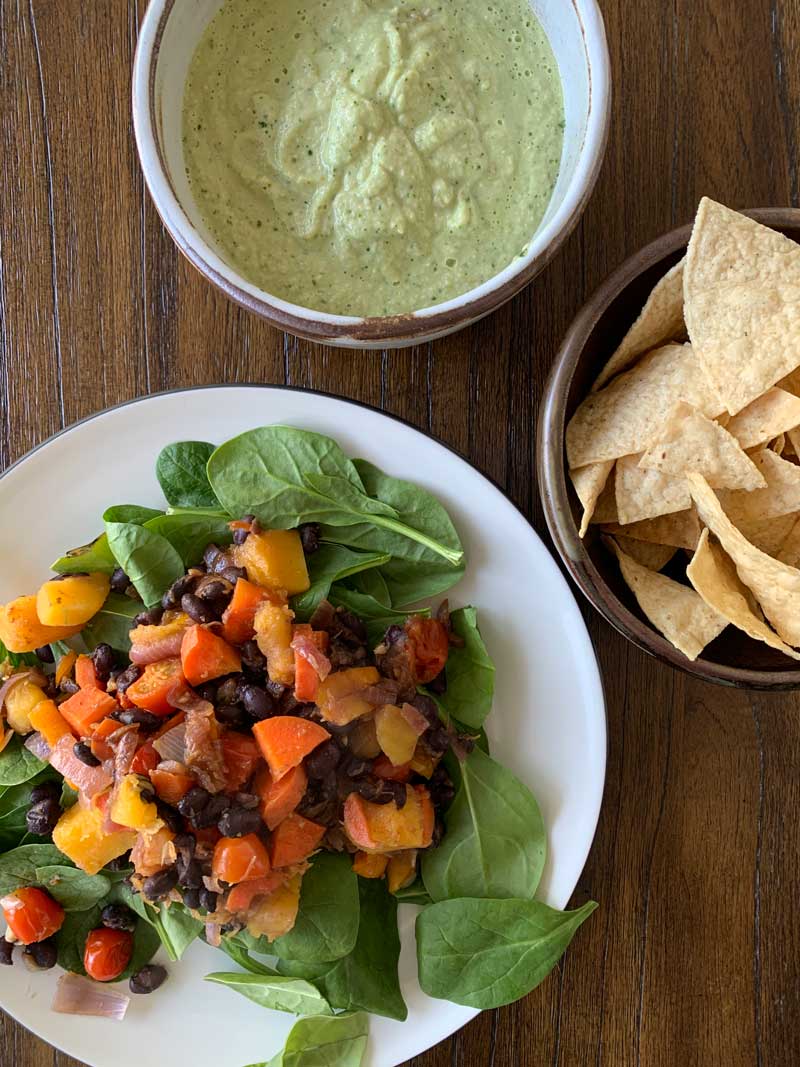 Finding Local in Black Bean Salad
Ingredients
Black Bean Salad
1

medium

red onion, chopped

2

cloves

garlic, minced

2

medium

carrots, chopped

1

medium

red bell pepper, chopped

16

ounces

frozen butternut squash

1

cup

cherry tomatoes, halved

1

15 ounce

can of black beans, rinsed and drained

4

handfuls

spinach salad mix
Avocado Crema
1

cup

cashews

1

cup

boiling water

1

teaspoon

salt

1/2

avocado

1

lemon, juiced

1

teaspoon

apple cider vinegar

1

jalapeno, deseeded, if desired

1/4

cup

packed cilantro
Instructions
Heat a frying pan over medium low heat. Add olive oil, if desired, and then the onion and garlic, cooking for 5 minutes.

Add the veggies and cook for 20 minutes, stirring often. Add the black beans to the final 5 minutes of cooking.

Meanwhile, make the avocado crema: in a high-powered blender, combine: cashews, boiling water, salt, avocado, lemon, apple cider vinegar, jalapeno, garlic, and cilantro. Blend on high for about a minute.

Plate the spinach, then the veggie mixture, and top with the avocado crema.