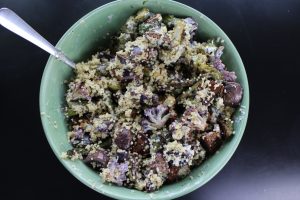 "Think back to your own school days and the things you enjoyed doing… Whatever it was, the chances are that it is related in some way to something that you are doing now, as a natural part of your life, even if you are not doing it in the same way. At their core, the things we really like do not change over time. Putting your house in order is a great way to discover what they are."
~ Marie Kondo, The Life-Changing Magic of Tidying Up: The Japanese Art of Decluttering and Organizing
During college I worked for the clothing store Ann Taylor at Lakeside Mall in New Orleans. The guy who processed all the new stock was a good friend. His name was Jay, and he was a hippie. Didn't wear deodorant…he had that delicious smell that your body gets when it's grown accustomed to not wearing deodorant. He smelled like the earth, where we come from, where we go. He rented a really cool historic shotgun right off the street car line, in uptown. Cooked incredible meals. Drank good wine. His friends were his family and he lived each day to the fullest. He had the best parties, making everyone feel comfortable and included. I thought his essence was so hot, so cool, so truthful. He was a bit older than me, wise and funny, and I looked up to him so much.
One day we were having lunch at the mall, sharing an Auntie Anne's sesame seed pretzel, sitting on the faded brown wooden bench in front of the store where we worked, looking at the business suits and cashmere sweaters on display in the front window. We chatted about Billie Holiday, marijuana, the failure of education, Albert Camus, Jazz Fest. About who we wanted to be and where wanted to go in life. We had a lot of these talks. I love these kind of talks.
That day, he asked me what my ultimate goal was in life, and I responded that I didn't ever want to turn into the kind of person who shopped in the store we worked at. I never wanted to own a business suit. That was it, my only goal in life: I hoped I never had to own a suit. I didn't like what they were associated with and I didn't have any desire to become that person. It was a great response for a 20 year old. It was the essence of me. I wanted to travel, to see the world. To live each day to the fullest. I wanted to write. I did not want to work a 9-5 job in corporate America, ever.
Fast forward 15+ years and for most of my career, I've been in a position where I had to own a suit, working in corporate America. I haven't thought about that conversation with my friend, or many of my college aged dreams, too much over the years. After I graduated, I immediately applied to get my masters degree, I got accepted into a few programs, but felt I was moving too fast. That I needed to chill first. No need to rush. So I applied for random jobs through friends of friends, got whatever jobs were offered to me, which has led mostly to a career in event planning, marketing and advertising. And it has led to many business suits. To many promotions. To a great salary. To good benefits. But when I put on those suits and look in the mirror, I feel like a fraud. I've been in too much of a rush to really think about this, to think about who I really am, until recently. Go, go, go. Suit up.
Last year, my friend Michelle told me to buy a book about decluttering. I love these kinds of books and I'm pretty obsessed with being organized, so I immediately bought it, and read it in one sitting. And it changed my life. You see, this book is all about joy. It's all about focusing on what you have in life that brings you joy – those are the things that you want to keep. And getting rid of what you don't want, the things that don't bring you joy. This is so important that I'm gonna say it again:
Focus on the things in life that bring you joy. Keep them. Get rid of the things that don't. 
That's it. That's all you need to know.
When it comes to stuff, I really don't want any of it. Well, most any of it. I want photos, my books and journals, some pottery and jewelry from artists I've enjoyed getting to know. And other than that, I want my basic needs. Pots to cook in. Plates to eat on. Chairs to read in. A bed to sleep in. The basics. That's about it. This book freed me from wanting things. And most importantly, it allowed me to look at everything in my life and judge it with this question: what do I want to keep?  Look at everything. Friends, family, experiences, hobbies, free time, and my job. My job. Right. That job. The job that is good, really, so good. Good people, great perks, it satisfied my ego. For the most part, fulfilling. But, if I was 20, would I take this job? Nope. I'd be a writer. If I was 20, I would write. I'd keep writing. I'd travel. I'd make up stories. I'd read literature. I'd create art. I'd practice yoga. I'd teach, I'd share. I'd cook. I'd get rid of the job.
Around this same time, my husband and I went on a 2-week 10-year anniversary trek throughout the Southwest, then on up into Yellowstone and the Grand Tetons, in our little teardrop camper. It was mostly incredible. I did lose myself a few times, sick of dirty public bathrooms and feeling totally overwhelmed with that damn what the hell am I doing with my life question. But what we saw, what we shared, what we experienced…nothing but joy. What we needed, how we got by on so little, how we met some incredible people. How we fell in love with fresh mountain air. How we could fully live in the moment. We had no agenda. We could just be. I wanted to keep that, all of that. I did not want to come home. No one does, after a vacation. I get that. But it opened my eyes. What do we really need in life? What do we want to keep? What brings us joy? 
The things we keep. The pieces of life we treasure. See, my entire marketing career has been in senior living. That's the fulfilling part: the seniors, their stories and their wisdom. They've taught me to enjoy my life while I can. Because when it's time to "retire", you're too sore to hike, to travel off the beaten path, to live off the land. Do it now. I can't tell you the number of times I've heard this from them. Live your life now. At one point, if you live long enough, you'll most likely have to downsize and get rid of most of your possessions. So, now, maybe, don't buy all that shit. Why do we do this? Why are there stores and buildings and warehouses filled with lamps and rugs and TV's and decorative crap? Because we think it'll get us happiness. It won't. Fully experiencing your life will get you happiness. Go do it. If you love your corporate job, if that's what you want to keep, by all means, keep it. But if you're doing it to save for retirement, to save for that fancy car, to be that image and to have that brand, what the hell are you doing? Wake up. You get this life once. Only once. Go live it.
So, this little essay is for all the people who have come into my life and asked the harder questions, especially for my friend Michelle, who passed on the joy book. We actually met while I was living in New Orleans; she was visiting during Mardi Gras, a friend of a friend, around the same time that I had these enlightening conversations about never wanting to own a suit, and I love that. I love that she knows me, fully gets me. She knew I needed that book, knew I needed an awakening in the way only best friends fully know. And I, in turn, told my friend Laura to get it. What did she do? Within a few months, she got rid of her house, got rid of many of her possessions, downsized, and moved across country to a tiny mountain town in Colorado with her husband and child. Got away from the materialism of the big city. Got away from the image, from the brand. How kick ass is that? I just got back in town from visiting her, and I can tell you, her world is magic. Focusing on joy is the best possible way to live your life.
So, that's what changed my life. It all came down to those suits, really: they didn't bring me joy. I gave notice to my job four weeks ago, through tears and fear of disappointment, fear of what this next phase will be. Fear of how long we can make it on a limited income. Fear of what the next path of my life will be. But with so much joy in realizing that these moments are the ones I want to keep.
And those suits? Turns out my friend Karen is having a garage sale, and I gave them to her to sell. I hope they find a great new home. I hope they bring someone so much joy.
Here's to new adventures, and to embracing fear, and to choosing to live with joy…
Love, Jen.
Joyful Purple Veggies
Ingredients
1

bunch

asparagus

10

red potatoes

1

head

cauliflower

3

c.

brussels sprouts

2

c.

quinoa, cooked
For the Sauce
2

cloves

garlic

1/2

c.

veganaise

1

tbsp.

parsley, dried

1/2

lemon, juiced
Instructions
Heat your oven to 425 degrees.

Chop the asparagus into 1" pieces, discarding the last 1/2" of the stems. Chop the cauliflower into bite sized pieces. Cut the potatoes into 1/2" chunks, and cut the brussels sprouts in half.

Place all veggies on 2 baking dishes to ensure there's no overlap in the veggies, and roast for 40 minutes, stirring half way through.

Make the sauce: dice the garlic, and mix in a small bowl with the veganaise, parsley, and lemon juice. Stir well, and set aside.

Remove the veggies from the pan, let cool for a few minutes, and stir in the quinoa. Then add the veganaise sauce, stirring well.

Serve immediately. The veggies will last for a few days in the fridge, and are great as cold leftovers too!
Notes
There were a ton of purple veggies at the store and I had to grab them all: potatoes, cauliflower, asparagus, brussels sprouts. The color inspired this recipe. I hope you can find them.
Also, I have quinoa or rice along with beans on hand every week, ready to add to any recipe. I make huge batches of them every Sunday. If you don't have cooked quinoa on hand, cook it first, but note that it'll add about 30 minutes to the time on this recipe.