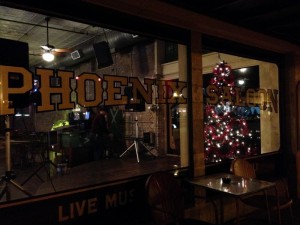 The German-influenced cities of New Braunfels and Gruene make a great weekend trip if you like tubing down the river or catching live music at Gruene Hall. The town of Gruene also offers an excellent ceramics show, Texas Clay Festival,  with demonstrations and lots of pottery to choose from, on the third weekend of October.
There's not a lot to choose from for vegan options, so you'll need to be prepared and call ahead, however here are a few places to check out:
Phoenix Saloon – they make a vegan chili that's spicy, filling and tasty. The history and beauty of the bar is worth a visit in and of itself.
Naturally – this is the best place to go in New Braunfels for vegans or healthy food eaters! They have a ton of freshly made juice and smoothie options in addition to huge healthy veggie sandwiches. This is always one of my stops when I'm in town. The only bummer is that they close early so it's best to come here for lunch.
Thai Racha – Thai and New Braunfels don't really go hand in hand, but this place is pretty good and will make vegan spring rolls and a vegan vegetable, tofu and rice dish for you.
SaveSave