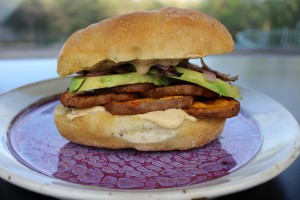 It's important to know where you came from. Don't deny that. I came from an incredibly loving family and for that, I am truly grateful. I came from questioning organized religion and politics and what the government deems as healthy. I came from artists and writers and teachers and dreamers.
And a little over 5 years ago, I came from a borderline alcoholic, non-borderline overweight woman who didn't know where to turn to. I didn't know I had a problem. Today, over 5 years later, I can stare that problem in the face. I can see my faults and failed dreams and all my fears, all wrapped up, in an overweight woman. Wanting to change but having no damn idea of where to begin. In 2010, I reached my highest weight I ever recorded for myself – 189 pounds. Let's just say 190 pounds, as I'm sure, knowing me, I took off my shoes or peed or did not eat lunch before this weighing.
Let me also say I'm 5'4″; 5'5″ when I'm really trying hard to stand up straight. My mom's highest weight is about 105 pounds. She's tiny, barely 5′ tall, and healthy, and always has been. My dad probably weighs 140 pounds. He's been an avid runner and yogi for decades, and has lived a healthy life for most of his adult life. I'm saying this, again, as you should know where you come from.
190 for me, is way, way off-base. I went from 140 to 190, in what seemed like a year. It seemed that it came from nowhere. I honestly don't know when it happened, but it happened, and there I was, not able to buy clothes in any of my favorite stores. Not able to jog to the end of my street. Addicted to unhealthy food and addicted to alcohol. Working way too hard and climbing up the corporate ladder and hiding stress through food and alcohol. Spinning out of control. And that truly sucks.
For over 20 years, I've been a vegetarian. And for the past 5 years, I've been vegan. Here's the deal: these identities don't necessarily mean health. Many vegan food options are filled with processed items. Vegetarians are some of the most unhealthy people I've met. Choosing to not eat meat or dairy does not necessarily mean health. It doesn't mean you're better than anyone else, either. It's OK if you choose to eat meat or dairy. I'm not ever going to tell you otherwise. Let's just all understand that you can be these identities and not be healthy.
My lowest weight, since the 190 mark, was 118 pounds. I worked so damn hard to get there. I switched to a vegan lifestyle, which was not hard (I thought this would be so hard), and I gave up alcohol, which was kinda hard (but again, not nearly as hard as I had thought), and paid attention to what I ate. It's amazing what you can accomplish when you put your mind to it. And when you treat yourself with compassion, when you don't beat yourself up, everything gets easier. And I loved the way I looked, the way I felt. I thought I looked sexy. For the first time in my adult life, I was so proud of my body. I could rock it. Hell, yes. I practiced hard core yoga at home, daily. And jogged, nearly daily. And I juiced, a ton. Not for every meal, but for most snacks and my weekday lunches. I was dedicated, on fire, and I felt incredible.
And then, I realized I wanted a little more fun. I wanted more than evening after evening of nothing but salads. I wanted to be able to have a drink, from time to time, or a piece of cake, without judgement.
Oh, how we judge ourselves. How we beat ourselves up. It's so easy. Do you do it? My God how I do it. I eat chocolate. You're so fat. And bread. This is going straight to your thighs.
Seriously, I'm too old for this. Really, we're all too old for this. Can't we stop eating and judging? Can't we stop beating ourselves up? There are so many more important things in this world to focus on. We don't need to think only about nutrition, calories, fat, protein, contents. Really. I'm serious. This is not important. What is important, is getting off this computer, this phone, this email, and going outside. Standing in the grass. Being one with whatever form of God, of the source, of the universe, that you want to associate yourself with. Of going head strong into that passion, that calling you have, and taking the first step in its direction. Of spending more time laughing and loving with your family and friends.
So, I got down to 118. It took me nearly 3 years to get there. And I kept it up for about 6 months. And then I realized there's more to life than being "thin". It took me 36 years to realize that. And that's OK. This morning, I weighed myself and it said 136. Honestly, I want to write 130, 0r 125, and lie. But that's bullshit. You have to own your life. And here I go, truthful, sincere, golden. If you're wondering, I did pee beforehand, because I'm a vain woman, and that's what we do. Those damn numbers.
And you know what? Fuck* all those numbers. Seriously. They are just numbers. Your age, it's just a number. Your credit score, also just number. Why, as women, are we so obsessed with a number? Does it matter if we are 80 or 30, if we are 190 or 118, really? Does it? No. No. What matters is – are we changing history? Are we improving the world? Are we serving others? Did we do something good today? Did we smile today? Did we ease someone else's irritation, someone's sadness, someone's pain, today? Did we meet any irritation with openness, with love? Are we loving ourselves for who we are, and in turn loving the world around us? Then we're all good. Those numbers do not matter. Please. Don't think about it. Please, don't try to be 136 or 180 or any other number. Please, be happy where you are. You are all that you need to be. Love yourself. That's where it all begins. Love yourself first. Compassion is the greatest, most helpful quality we can offer ourselves. Losing weight, loving yourself, changing any habits you don't like about yourself – they all start with compassion, not anger, not willpower, not disgust. Compassion is the first step.
This isn't some hippie shit, we're all beautiful, children of God, feminist talk. This is real. Be kind to yourself. If you're overweight, and unhappy, change one thing. Eat a little less bread today. Eat some more greens. Walk. Run to the stop sign, and then walk. And then run to the next stop sign. And then walk some more. And love your legs for carrying you to the stop sign. Rub them and love on them. Seriously. It works. It worked for me, at least. If you're underweight, nourish yourself. Forgive yourself. Carbs are good. Fat is good. Love the avocado. Embrace it. This is your one life. Try not to think so much about a number, about a goal, about where you should be. Focus on today. What can you do today to live a healthy life? Do that. And don't beat yourself up.
These days, I drink again, because I enjoy it. Not daily, like before, and not for a stress reliever. But mostly on the weekends, for fun, with my family and friends. It's good to relax with your friends. To let your guard down. And I eat dark chocolate. And veggie burgers, and pastas and tacos and vegan pizzas, thrown in with a lot of huge salads, because they make me feel great. These foods nourish me. And life is here to be appreciated. To be cherished, and loved. It's OK to not be model weight. You don't need to look like your neighbor, or that girl in the catalog. Just be yourself. It's so fucking hard to be yourself. But it's magic too. It's beauty. And relief. Own it.
I wish I could say that this battle ends, but I don't think it ever does. I've worked in senior living for close to a decade and the women often say they wish they could lose 10 pounds, or turn down that piece of chocolate cake. I've asked hundreds upon hundreds of seniors what their new years resolutions are for many years – some of them have been funny, like to finally have sex on the beach, or to learn to drive the cart at Wal-mart, or to stop flirting with all the new women who move in. But for the most part, over and over again, they say: lose weight. So from the time we start to understand our identity – I'd say that's around 8-11 years old, til we turn 90, or 100, we, as women, battle weight.
Can we stop that? This might not seem like a crisis, but it kind of is. Don't we have bigger things to worry about? The schools that you send your kids to, for example. That homeless person you pass every morning on your way to work. Contraception. The environment. Recycling. Our oceans. Dementia. And if we're going to worry about food, maybe worry about how it's grown. Worry about pesticides and big business, not calories. Not weight. This is what I hope. I hope more of us can look at food and love it for what it is. And when we eat it, think about how it is benefitting our bodies. And when we eat dessert or chips or drink alcohol, not to beat ourselves up. Treat those moments as fun. Add compassion to your life. Bring happiness to the table. And don't regret it the next day. Life is worth living. Own it.
*funny side note: my husband just told me I should stop saying "fuck" on my blog. And I told him that "fuck" is me. It's the verbiage I use. It's my essence. And this post is all about owning it. So, I'll continue to say things like fuck. I hope it doesn't offend you. If it does, I have a feeling you're the kind of person who wouldn't read this blog anyway. Be true to who you are.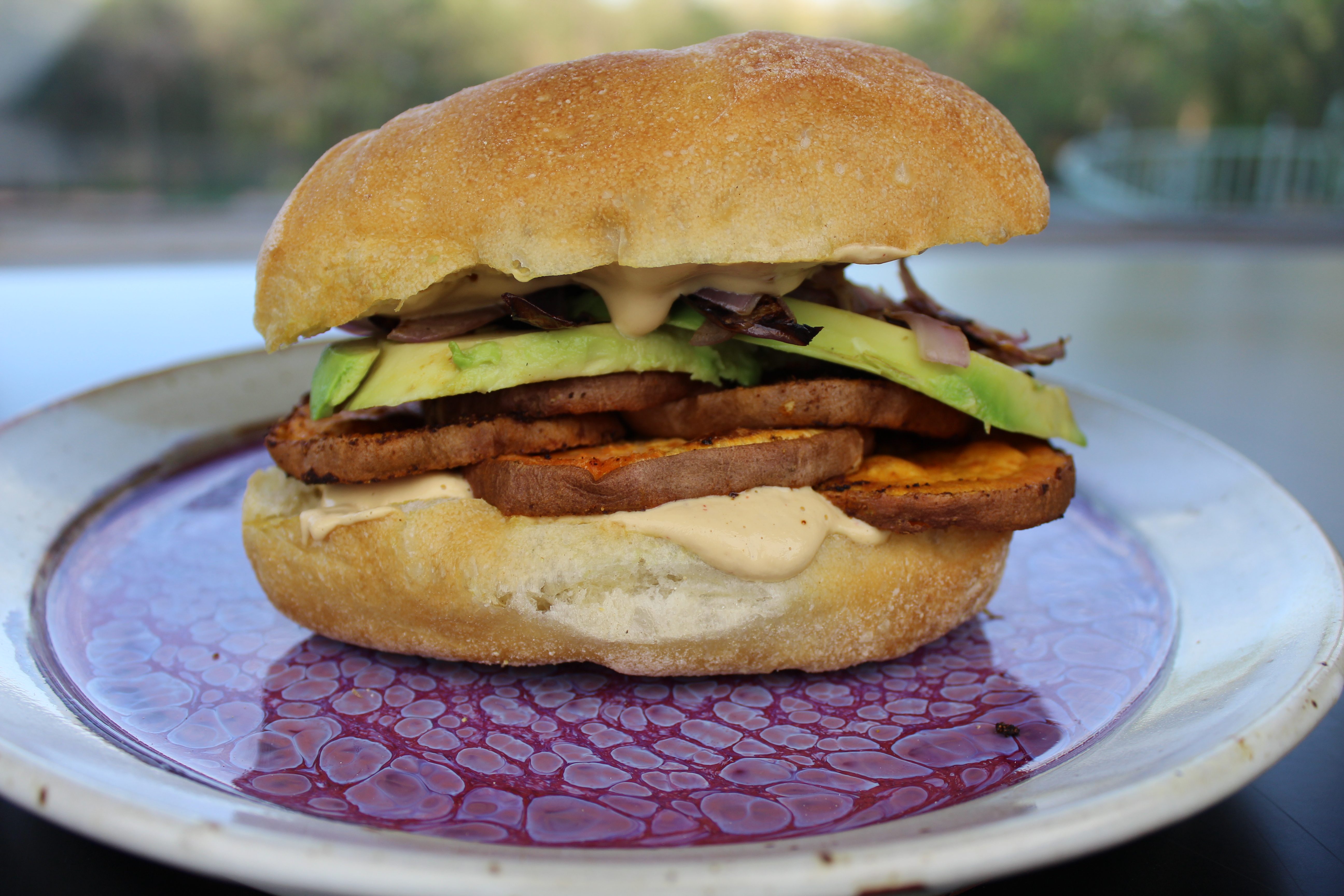 Owning It Cheesy Sweet Potato Burgers
Ingredients
1

c.

cashews, soaked

2

tbsp.

nutritional yeast

1/2

adobo chili pepper

2

cloves

garlic

1/2

tsp.

salt

1

lemon

1

sweet potato

1

tbsp.

olive oil

1

tbsp.

paprika

1

tbsp.

cumin

4

ciabatta rolls

1/2

onion

1/2

avocado
Instructions
Make the cashew cheese: soak the cashews for 1-2 hours covered in an inch of water. Drain, and put in a high-powered blender. Add the garlic, nutritional yeast, adobo chili, salt, lemon (juiced) and add 1 c. water. Blend on high for a few minutes, until smooth.

Heat the oven to 425 degrees. Slice the sweet potato into thin rounds and place on a baking sheet. Cover with olive oil, paprika and cumin, and mix well, turning over to ensure both sides are covered in spice. Bake for 20 minutes, then turn and bake for a final 10 minutes.

Slice the onion, and heat on medium high for about 10 minutes, stirring often, as the onion caramelizes.

Slice the avocado.

Slice the rolls, top with the sweet potato slices, spicy cashew cheese, avocado and onions. Serve immediately!