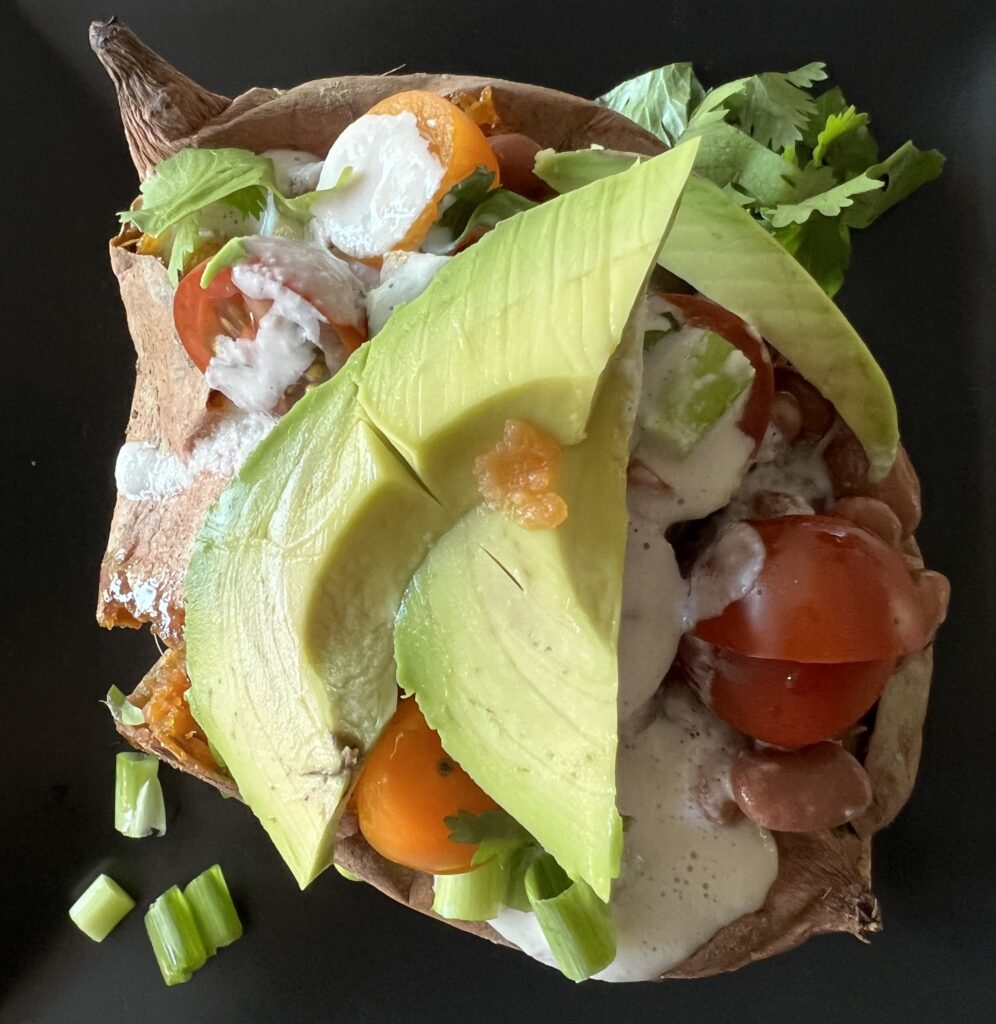 I get reallllly into hobbies every now and then and they tend to take over my life. Jewelry design, pottery, painting, and healthy eating have been my passions and hobbies and have taken up so much of my focus over decades of my life. It's so much fun to have hobbies and passions outside of work. It's imperative to living a healthy, well-balanced life, I think. And, it's just FUN and interesting and why not dive into things that make us more well-rounded and creative, while instilling healthier lives? It's an empowering way to live a life. And yes, this all relates to this week's recipe of Stuffed Sweet Potatoes for Gut Health…
Over the past few months, the newest health passion of mine has been gut health, after reading the book Gut several years ago, and listening to a few podcasts with Dr. B (this is one of them). There's the gut instinct and the gut-brain connection that we all know about, and having a ton of healthy microbiomes in our guts is essential to living a healthy life – for both mental health and physical health. I LOVE learning stuff like this. And do you know what some of the best foods for gut health are? Veggies, of course! Because….fiber comes from veggies and veggies only, and we need fiber for health. So there ya have it.
The thing for me about focusing on gut health or my current passion of painting is that it helps me keep away all the demons around me, like the fact that every other home in my neighborhood has an Abbott sign out front, or the fact that Texas legislators are trying to allow spammers and beheading videos and insane horrific posts to take over the internet. If you've been on this site for more than a minute, you know how passionate I am about peace and compassion, and how much it destroys me that the politics in this state I currently call home is tearing away the essence of humanity every minute of every day. I tend to drive myself deeper and deeper into a hole of despair about the world we now live in, and that is nothing but destructive for me and those around me.
So, passions help. Any kind of distraction, really, helps. Otherwise I am a horrific, angry, upset, crying, ruminating soul over here. And no one, especially my husband, wants to be around that.
Gut health it is. Stuffed sweet potatoes for gut health it is. Here you go.
Love,
Jen
P.S. – this is the cashew sour cream recipe I have used for almost a decade now. There are TONS of these recipes all over the internet. Oh She Glows was one of the leaders in this space, and her recipes are freaking outstanding. This is the one I go to time and time again. You will not regret trying it, or any of her recipes for that matter. I've made literally hundreds of them and have NEVER ever regretted making one. That's pretty unbelievable! She's just that good. 🙂
Stuffed Sweet Potatoes for Gut Health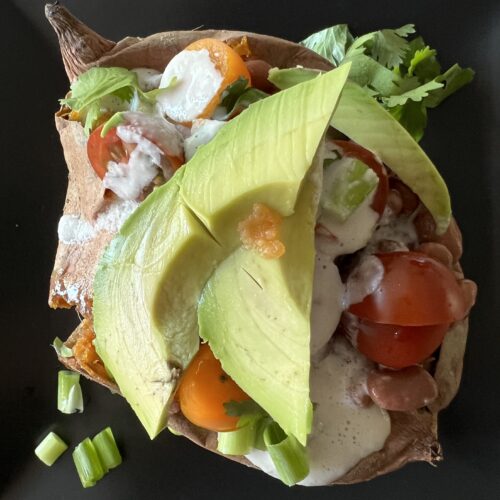 Stuffed Sweet Potatoes for Gut Health
Ingredients
2

sweet potatoes

1

14 oz.

can of your favorite beans

black or pinto are my faves with this

1

red bell pepper

diced

1

onion

diced

1

tbsp.

olive oil

1/2

c.

cherry tomatoes

sliced

4

green onions

diced

2

tbsp.

cilantro

chopped

1/4

avocado

sliced

4

tbsp.

cashew cream sauce

see recipes linked below

2

tbsp.

salsa
Instructions
Heat your oven to 400 degrees.

Wash and then stab your sweet potatoes with a fork. Place on a baking sheet lined with parchment paper, and bake for 40 minutes.

Heat a saute pan and add a bit of oil. Add the chopped red bell pepper and onion, and stir and cook for about 20 minutes, until slightly browned.

Turn the sweet potatoes over and bake an additional 20 minutes, until they are soft and easy to slice through.

Cut open and let cool for at least 10 minutes. Add all chopped veggies. Top with your favorite sauces, and enjoy!