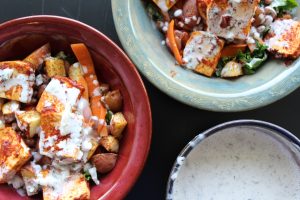 The before and after photo collection is everywhere these days: here I am, fit and fabulous; here I was, overweight and unhappy. I have them too. I have a lot of them. For my late 20s and early 30s, I was overweight – anywhere from 40 to 70 pounds overweight, depending on when you knew me. Five years ago, when I switched from a vegetarian to a vegan lifestyle and (temporarily) gave up drinking, I lost a ton of weight. And since I started practicing yoga more consistently, I've gotten stronger every day. I have a ton of pics of me now, and a ton of them back then, and, honestly, I don't really think about it. I don't post them on the internet, and they just aren't on my mind. I don't feel that there is a point in focusing on before and after pictures.
Because what's best are the changes that have happened to me on the inside. I know that sounds cheesy, but I'm serious… The best part of all of this is who I have become. Yoga allowed that transformation in me, more than anything else in my life. It was getting back on my mat after way too long of a break, connecting with my breath, getting still, and then sweating it out. Trying new poses, going upside down, gaining strength and balancing, and pushing myself to do group activities. That's what did it. The person I am today is lighter and stronger, yes. But most importantly, I'm lighter and stronger on the inside. I'm more aware, more thoughtful, more grounded. I live by less ego, less materialism, less brand awareness. I no longer strive for the big corporate America salary, for the perks, for the accomplishments. I take a step back every single day and think about what's most important in my life.
The transformation of yoga, and in whole foods eating, it makes you stronger on the inside. It makes you more aware of every situation you're in. The connection of your breath in yoga helps you listen to your gut instinct. It helps you realize why you were placed in this world, what you were here to do. That is true transformation. The fitness aspect is incredible as well, I'm not going to begin to state that that's not a perk. But the mental aspect is profound. You can look at before and after photos every day, but you can't see a before and after photo of someone on the inside. And that's the real photo that matters.
If you've started a healthy eating or a yoga practice to lose weight, to get back on track, to take control of your health, to live a long life, to be strong for your children, good for you. Keep it up. But know that the real change you will begin to see is the transformation that occurs within.
Today is the first day of fall, a new season of change. It's still warm here in Texas during the afternoons, and so I'm posting the last of my summery-type dishes: BBQ tofu and kale salad with ranch dressing. I love this meal, it has a nice balance and the ranch dressing will last a few days in the fridge for other salad concoctions you come up with. Happy Fall, y'all!   😉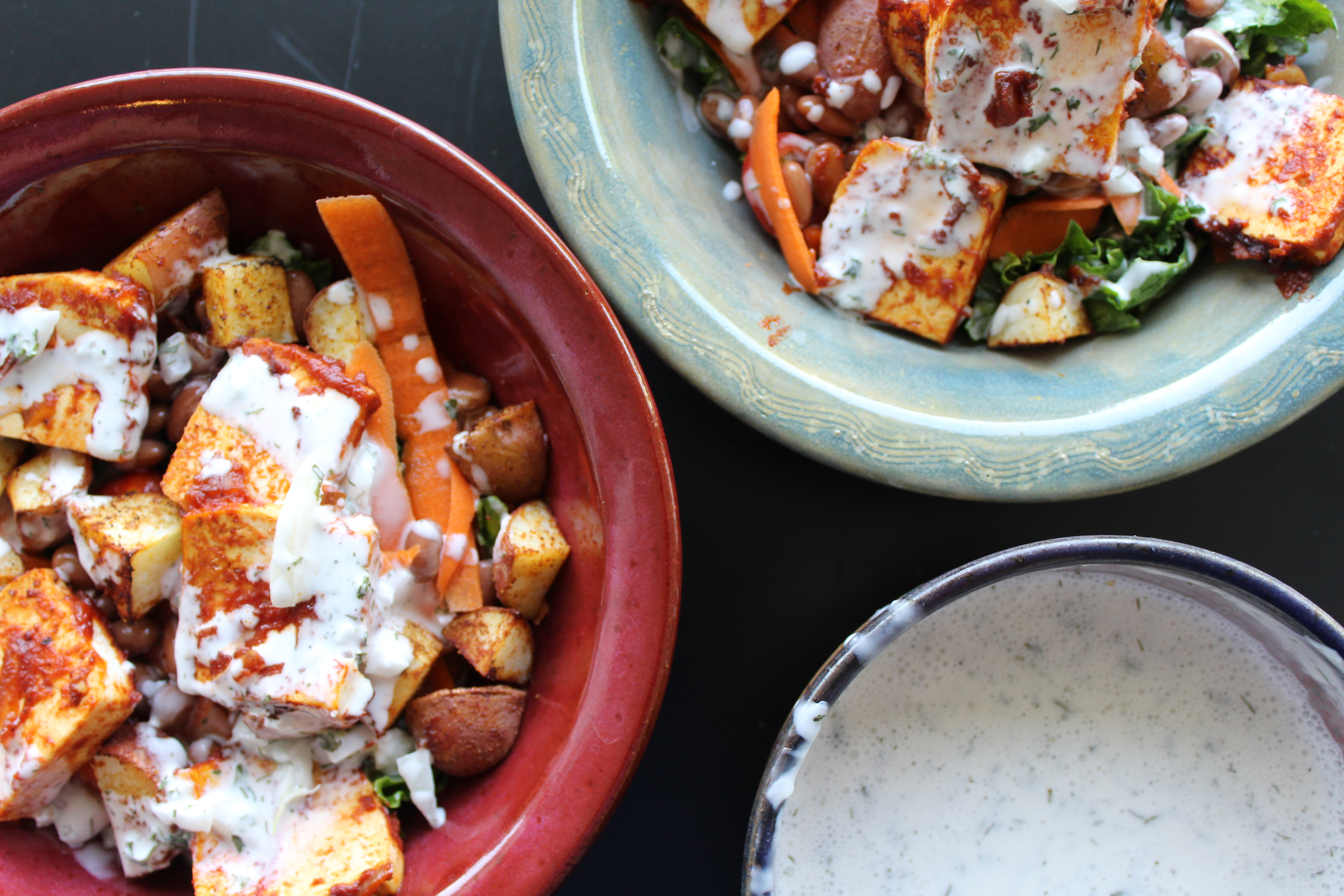 Before and After Vegan BBQ Ranch Bowl
Ingredients
For the ranch dressing
1

c.

vegan mayo

2

cloves

garlic, minced

1/4

c.

white onion, chopped

1

tsp.

parsley, dried

1/2

tsp.

dill, dried

1

tbsp.

lemon juice

1/3

c.

almond milk
For the BBQ sauce
1

tbsp.

grapeseed oil

1/2

c.

white onion, diced

2

cloves

garlic, minced

1

tsp.

paprika

1

tsp.

cumin

1

tsp.

chili powder

6

oz.

tomato paste

1

c.

water

2

tbsp.

apple cider vinegar

2

tbsp.

maple syrup

1

tbsp.

molasses

1

tbsp.

vegan Worcestershire sauce

1

tbsp.

mustard

1/2

tsp.

salt

1/4

tsp.

black pepper

1/8

tsp.

cayenne, or to taste
For the salad
1

14 oz. package

extra firm tofu

8

small

red potatoes, cubed

1

tbsp.

extra virgin olive oil

1

tsp.

paprika

1

tsp.

cumin

1

tsp.

chili powder

1

head

kale

1

lime

1/2

tsp.

salt

1

clove

garlic

3

medium

carrots, shredded

1

15 oz. can

pinto beans

1

c.

cherry tomatoes
Instructions
Make the Ranch Dressing
Stir all ingredients together in a medium bowl and then put in the fridge for 30 minutes.
Make the BBQ Sauce
Over medium heat, in a medium sized sauce pan, cook the oil, onion, garlic and spices for 3-4 minutes. Then add all remaining ingredients, and simmer for about 10 minutes. Remove from heat.
Prep the Tofu
Remove the excess water from the tofu by slicing it into 1/4 slabs, wrapping in 2 dishtowels and placing under very heavy books for 30 minutes. Or, use a tofu press to remove the water.
Cook the Potatoes
Heat your oven to 425 degrees. Cut the potatoes into 1/4" cubes and mix with the olive oil, paprika, cumin, and chili powder. Spread the potatoes onto a baking sheet, and roast for 25 minutes, stirring once halfway through.
Prep the Kale
Break the kale into bite sized pieces and place in a large bowl. Rub the tofu with the lime juice, minced garlic and salt, and set aside for about 20-30 minutes to allow the flavors to meld.
Cook the Tofu
Remove the tofu from the press or books, and slice into bite sized pieces. Place the tofu in a large bowl, and add 1/3 to 1/2 c. of the BBQ sauce. Stir well so that all pieces are covered in the sauce.

Heat a large skillet over medium heat, and add the tofu. Cook for about 4 minutes, and then turn over and cook another 4 minutes.
Bring it All Together
Cook the pinto beans over medium low heat for 8-10 minutes, stirring often, until cooked through.

Divide the kale into 4 medium sized bowls. Top with the potatoes, tomatoes, shredded carrots, pinto beans, and tofu. Add the ranch dressing just before serving. Enjoy!