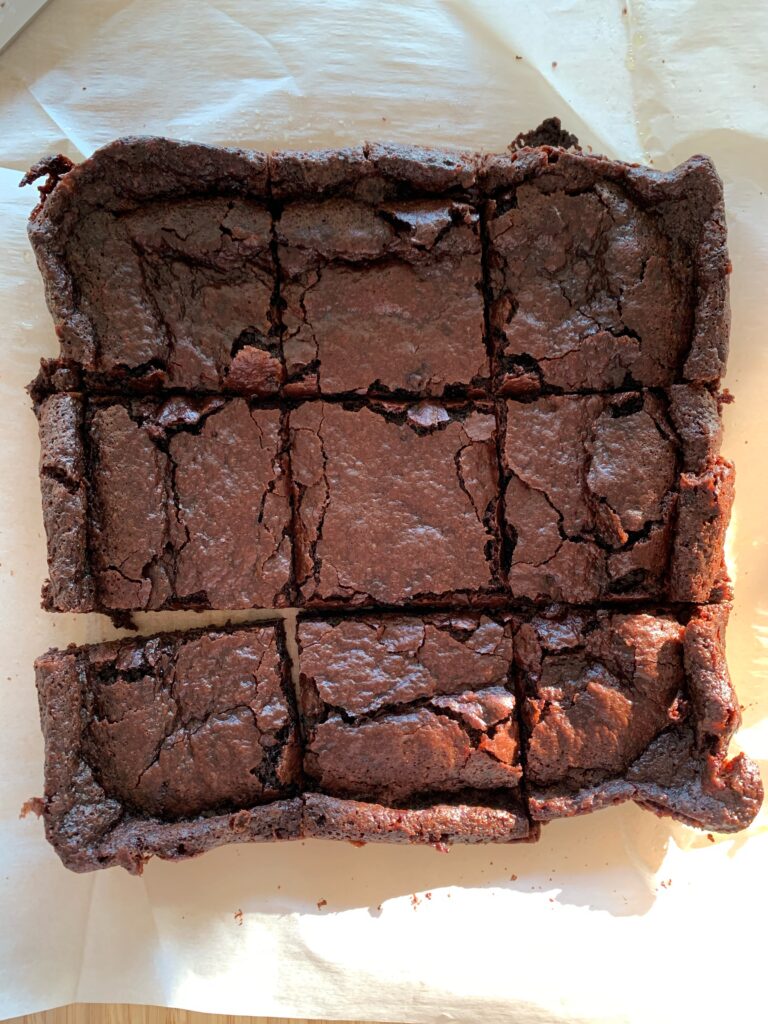 I'm absolutely elated to share this vegan brownie recipe with you all today! After several fails over 3 years, I decided last week to give my old recipes another chance and finally mastered a delicious, cripsy on the outside, fudgy on the inside, recipe for fully vegan brownies that I'm sharing with you all! Just in time for Valentine's Day, whether you celebrate with a partner, a friend, or simply yourself, these are easy to pull together with ingredients you probably already have on hand – especially if you're used to baking vegan. These will be my new go-to vegan brownies, and I hope they become yours, too!
When I say this recipe for vegan brownies took me over 3 years to perfect, I truly mean it. I cannot tell you the number of batches of brownies that ended up in the trash from turning out too oily, too sugary, not sugary enough, way too crispy, or way too gooey. I've given up many times over, so I can't tell you how proud I am of the way these brownies turned out! They are the PERFECT mix of cripsy on top, fudgy in the middle and oh so tasty. I truly hope you give them a try.
Also…. this is my first new recipe in almost 2 years! I'm excited to be back to creating and I hope many of you are continuing to reference this website for your most cherished vegan recipes, both now and in the future. 2020 and 2021 took a toll on all of us and it caused me to get into several bad ruts, including taking a break on developing and creating vegan recipes. My mental chatter is finally a bit more under control and I'm feeling inspired and hopeful again.
All those things combined are making me want to get back into the kitchen, and share new recipes with each of you. Thankfully, a few long-time readers reached out over the past few years letting me know which of my vegan dessert and main course recipes were getting them through these dark days, and hearing from you all made me want to get back at it. I really appreciate your love and support. And I'm grateful that you love these recipes as much as I do.
I would also like to ask – if you make these brownies (or any recipe from this site), will you please come back here and rate them?? I'd love for more vegans and potential vegans to have access to this site, and reviews are the name of the game – love it or hate it. Thank you from the bottom of my heart!
Now… on to the Vegan Brownies recipe!!

A couple of things to note :
Line your pan with parchment paper! Do not skip this step, even if your pan is non-stick.
Use an 8×8 pan. If you don't have one, you may need to reduce or extend the cooking time. Please watch and adjust as needed!
I use the Enjoy Life brand of vegan chocolate chips, Earth Balance Butter, and King Arthur flour. I don't have sponsorships, I just like these brands for baking and am sharing with you.
Let them cool completely before slicing!! I know – this is SO hard. I've taken a fork to a pan of brownies impatiently many times before. It's worth it to wait for them to firm up.
When I say "mix well" below, I really mean it!! If the butter isn't fully incorporated, it'll sink and make the bottom of your brownies oily. Believe me when I say I know from experience. 🙂

Now, let's get to the recipe!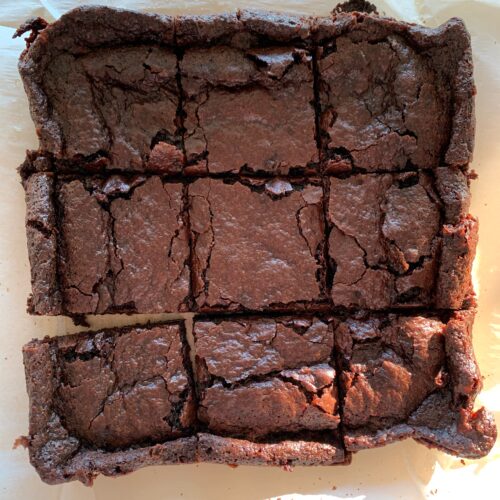 Vegan Brownies
A delicious, crispy on the outside, fudgy on the inside, fully vegan brownie to add to your quick and easy desserts!
Ingredients
2

Tbsp

flax, ground

1/2

Cup

butter

1

Cup

chocolate chips

1

Tsp

vanilla extract

1

Cup

sugar

3/4

Cup

all-purpose flour

3

Tbsp

cocoa powder

1/2

Tsp

salt

1/4

Tsp

baking soda
Instructions
Line an 8×8 pan with parchment paper – making sure it goes up the sides of the pan.

Heat your oven to 350 degrees.

Place the flax in a small bowl and add 6 tbsp of room temperature water. Whisk, set aside, and then whisk every few minutes – about 5 times total.

Place the butter and chocolate chips in a small pot over very low heat. If you have a double boiler, use that instead – I don't, so I just use a small saucepan. Watch the butter and chocolate so it doesn't burn, and as it begins to melt, stir together using a rubber spatula. It'll melt in just a few minutes, so don't go too far!

Remove from heat and set aside, allow it to slightly cool.

In a small mixing bowl, combine the flour, cocoa, and salt. Then stir in the baking soda, and set aside.

Pour the chocolate/butter mixture into a larger mixing bowl. Stir in the vanilla and flax and combine well, then stir in the sugar. Mix really well!

Slowly stir in the flour mixture, pouring about 1/2 in and mixing well, then pouring the rest, mixing until all clumps are gone.

Pour the batter into your prepared pan, and bake on the middle rack at 350 for 35-40 minutes, until the edges begin to crisp.

Let cool completely for 30 minutes, then slice and enjoy!
Looking for other dessert recipes? View my desserts page for more inspiration.