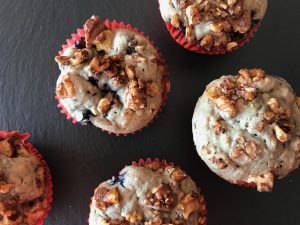 It took me a long time to realize that numbers on a scale mean nothing and that a certain size of jeans would not make me a better person. It took me many years to realize that counting calories and limiting carbs was a complete and total waste of my precious time. And it took me longer to realize that I only get this one life and I can either enjoy it or stay stuck – stuck in my thinking and stuck in my beliefs and stuck in certain jobs and stuck in my responses to situations.
It wasn't until I allowed the daily practice of yoga to enter into my life that things began to shift for me. I realized my corporate job was not worth stressing over, that limiting of food and alcohol was doing nothing but making me think about food and alcohol way too much, that my morning runs, as good as they were sometimes, only made me feel like I was running from something, not to something, and that I needed to reprioritize everything else in my life.
All of these things clicked for me at once. Maybe I happened to pick up the right books at the right time. Maybe I was stuck in corporate America for the exact amount of years I needed to be stuck. Maybe we all picked up the same books and saw the same interviews and were sold the same beliefs, but I got on that bandwagon big time: yoga is life, you are what you eat, clear out all the clutter, and live the life you were meant to live.
It doesn't help that my dad is a life coach, counselor, spiritual author and yogi, and my mom is as hippie as it gets – a 2nd grade Montessori teacher, she's been teaching her kids mindfulness and ways to be more peaceful and loving for as long as I can remember.
The apple does not fall far from the tree. I wasn't cut out for the corporate world. Some people are, and good on you. I was cut out to offer peace and love in the only way I know how. And I was cut to write about it.
This blog has often been the other thing I do because I like to do it. It didn't occur to me until last week that I'm constantly thinking – what do I like to do, more than anything? No shit, write, of course. I write for our marketing clients often, and I write for our company often, and I write this blog as often as I can. I'm not a great writer and I'm not pretending to be, and it's scary to admit this, but as I'm typing these words I'm realizing more and more, this is what I should be doing.
I was an English major in college who switched to Sociology because the University of North Texas did not accept many of my University of New Orleans creds and it was going to be easier for me to switch than to continue as planned. I was not meant for college. I was not meant for high school either, I just didn't see at the time that there were other options. I was raised by two parents who combined have three masters degrees and one PhD. With those kind of parents, you go to college. And it was fine, I guess, but the structure of everything made me cringe – and all of the people. All of the talking always got to me – the chatter about weather and clothes and what he said and how she responded, I never cared about that type of chatter, and I never understood that I could get away from it without beating myself up and thinking about how weird I am to not fit in.
I'm best in my head, and I'm best leading groups. I've always been that way; it's why I was always in management. I love encouraging others and seeing them perform, seeing them shock themselves into realizing their true potential – whether in yoga classes or working through projects. I love helping people feel like they matter and they are capable and they have everything they need. We forget those basic things so often in life. And in my head, I can create whatever little worlds work for me at the time. My husband will probably tell you this is a fault and I get that, if you create perfect little worlds then your outside world will probably fall apart. But I like these little worlds, and I forgot, once again, that I did.
Life has a way of knocking the most important things you love right out of your hands. But those things always come back, they always start knocking again, start appearing, whether in dreams or in reality. Just like Pema Chodron says: nothing ever goes away until it teaches us what we need to know.  
We have to get rid of some of the clutter in order for them to shine through. Clutter could mean physical things but I think clutter really means mental clutter. And we have to be patient. Every morning I begin in some form of meditation, in some form of quiet. A lot of the time I'll strive for the answer – please, universe, tell me what to do – how do I make this work? And the answer doesn't come. And then some days, I'll just be sitting, not thinking, not striving: just being, and whoop, there's the answer: there's what I was looking for.
The answer is never the easy way, either. I'm realizing this morning that I need to be writing more. That's not freaking easy. That takes massive discipline and structure and vulnerability, to even type these words takes vulnerability. But if you know me personally, you know that I plan out every damn part of my day, it's kind of nuts. I'm a freak for to-do lists and organization and day planners and setting goals. So I just need to apply these attributes to making something out of nothing – to putting words down where they don't always want to be.
Last week, I had two incredibly good friends tell me, two days in a row: you should write a book. These two friends know me very well, and they do not know each other. I don't know why these thoughts came to them on a Wednesday and a Thursday, but these thoughts were shared with me, and I'm grateful that they were. It stopped me in my tracks, for a moment. And then I went on with my life. Until my moments of silence this morning, and BAM: you need to write.
So writing I will do. And cooking, too.
Here's my new carb loving favorite: vegan blueberry muffins. They are so good. If you're counting carbs and are not insulin-dependent diabetic, please stop counting carbs. There's so many better things you can focus your energy on, I promise.
Love, Jen.
SaveSave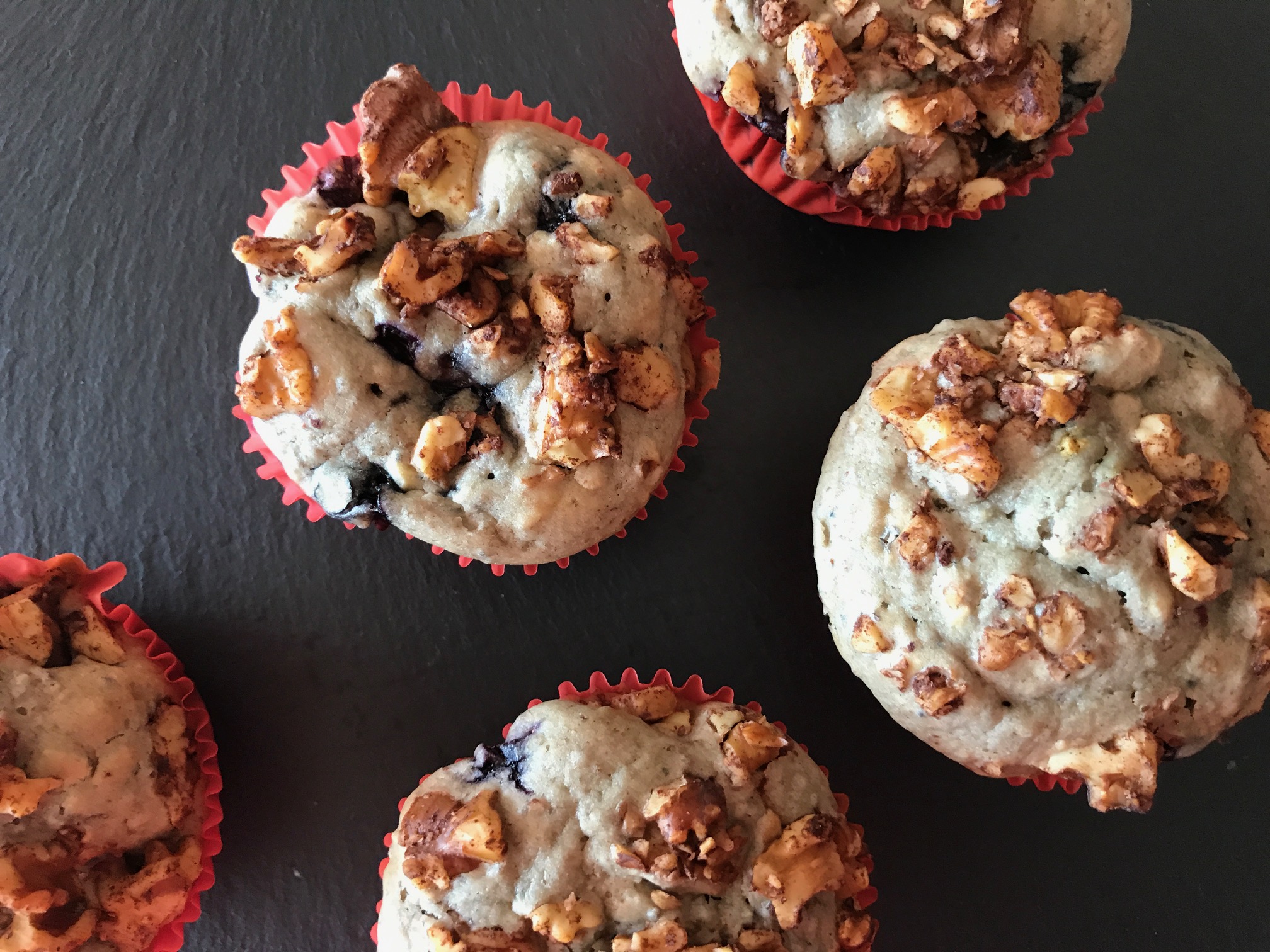 Writing about Vegan Blueberry Muffins
Ingredients
1

tbsp.

flax seeds, ground

1 and 1/2

c.

all-purpose flour

1/2

c.

rolled oats

1/2

tsp.

salt

2

tsp.

baking powder

1/3

c.

brown sugar

1/3

c.

natural cane sugar

1

tbsp.

chia seeds

1

c.

almond milk

1/3

c.

coconut oil, melted and cooled slightly

1

c.

blueberries, frozen

1

c.

walnuts, chopped

1

tsp.

cinnamon

1

tbsp.

coconut oil, melted or softened
Instructions
Make the flax eggs: combine the ground flax with 3 tbsp. warm water, stir, and set aside for about 10 minutes.

Heat the oven to 350 degrees and line muffin tins with paper liners or coconut oil spray.

Meanwhile, combine the flour, oats, salt and baking powder in a large bowl.

Combine the sugars, milk, chia seeds, coconut oil, and flax mixture.

Slowly pour the liquid mixture into the flour mixture, stirring often to prevent too many clumps. Then fold in the blueberries.

Pour the batter into the prepared muffin cups.

Combine the walnuts, cinnamon and remaining coconut oil in a medium bowl, and top each muffin with a spoonful of the walnut mixture.

Bake at 350 for 35-37 minutes, until muffins begin to brown and a toothpick comes out clean.

Cool completely. These muffins are great alone but my fave way of eating is with a spread of peanut butter on top! Enjoy!