Oh my gosh, Utah! This was our 2nd trip to Southern Utah's National Parks and we will for sure be back. I don't know of a prettier part of the U.S. than the four corners and Colorado Plateau. This land makes my heart so happy.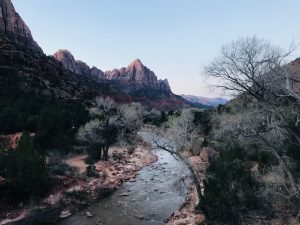 Zion National Park – 3 nights
We stayed in Springdale and loved every second of it. From our Best Western hotel (in the heart of the town), we could walk to the Visitor's Center of Zion. I'm not kidding. This is not your typical National Park town. This town rocks. There's a few great restaurants and a so-so brewery and tons of art galleries (some affordable!) and, most importantly, the park! We went in mid-March so the shuttles were in full effect, which actually made it nicer than I thought it would be. The main section of the park is very crowded, but it's definitely worth a visit with as many hiking & viewpoint stops as you can handle. My favorite section though was the Eastern part of Zion. No shuttles go here, and there's only 2 trails, but the scenery (and the Rim Trail) are fabulous. We loved every minute of Zion and could have easily stayed longer. The best part is you get the park and you also get great food and relaxation and nice lodging. I don't know of any other National Park that is set up as well as this one. It's my new fave!
Oscar's – best place for dinner or lunch (really don't even try to go anywhere else) – vegan tacos and burritos and tons of other options
Cafe Soleil – best place for coffee or breakfast or a light meal! They have a delicious and light tofu scramble and lots of great pottery to buy, too.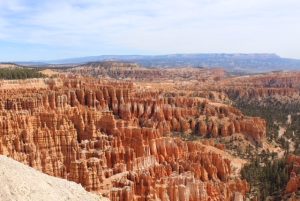 Bryce Canyon National Park – day trip
Originally we planned to spend a night in Bryce, however it's a lonely little town and after reading reviews, we decided to skip it and make Bryce Canyon a day trip. I'm so glad we did. We spent about 3 hours in Bryce and it was perfect for us. We hiked a little, saw incredible scenery, and went on our way. It's an easy, small park. Even my dad, who is an avid hiker, spent less than a day here. I don't think you need much time to get a feel for it.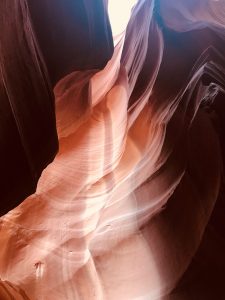 Page, AZ – 1 night
After Bryce, we headed to Page in time for a tour of Upper Antelope Canyon. And, wow. It was incredible, and worth it, even if you've seen every photo ever of this land. Go!
I will say, unfortunately, the tours are poor, and the tour guides don't know much of anything about the canyon, and they cram way way waaaaay too many people in the canyon at once. It's incredibly unfortunate as this land is beautiful. I wish that could be handled, but I'm not sure what all can be done.
We took a one-hour tour, not the photography tour, and went late in the afternoon. We were one of the last groups in. I had read online that the light wouldn't be as good as earlier in the day, but what we got was great light (in March) and less people. So I consider that a win. Just a note: you're looking up the entire time, so even if you're surrounded by people, you don't have to see them too much. And, the Upper canyon is just an easy, short walk (pretty much any level of ability can do this). The worst part, other than the crowds, is the transportation to get to the canyon as you have to park a few miles away. I have no clue how this form of transportation is legal (think a huge freaking jeep with no seat belts and a cloth covering and no back door crammed with 10-15 people going 50 mph). Another note: you will get incredibly dusty. So wear dirty clothes and if you have a scarf or bandana, bring it.
All those crappy things to say, the canyon is SO worth the trip.
Page doesn't have much going on, and I have a feeling that's about to change. It's too close to the Grand Canyon and Flagstaff for it to be so lonely of a town.
We ate and drank at State 48 Tavern and aside from the awful service (read the reviews if you don't believe me), the food was good. Drinks were better. This is pretty much your only option in town, especially if you arrive on a Sunday.
Kanab, UT – pass through
I have to include Kanab because of this coffee shop: Willow Canyon Outdoor. In my next life, I will create something as adorable as this. The coffee is great and it's surrounded by outdoor books and maps and clothes and it's well worth the stop. You'll be driving by it anyway on your way to Page from the parks, so, go!
On the way also is the Toadstools hike, a short hike to see, you guessed it, toadstools. It's worth the stop if you're looking to stretch your legs. There's no covering though, and this is the desert, so wear a hat and sunscreen (and that bandana you used in Page might be helpful here, too).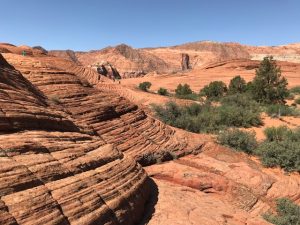 St. George, UT – 2 nights
We ended our trip by changing plans again last minute and booking the Amira Resort in St. George. They were having a huge sale so we jumped, and the resort was really freaking nice. A great way to end the trip. We loved it so much that we extended our trip an extra night to take advantage of another day to relax before coming home.
Snow Canyon State Park – we spent a few hours here and loved loved loved it. This land is incredible and is almost as phenomenal as Zion! Almost. 🙂 I definitely recommend a day trip here.
Canyon Breeze – an incredible resort restaurant with buffet and lots of delicious vegan options. I can't recommend this place enough! We went here twice to sit on their patios and enjoy the fresh air and wine and food. I would love to be here right now.
Xetava Gardens Cafe – good for coffee but better for the adjoining art studios. I had to buy a piece of pottery (of course) and could have bought so many other pieces of art. There's about 6 galleries and they're all great. Worth the side trip for any art lovers! And cool views of the gorgeous landscape too. It has pretty good reviews for the food, but we didn't eat here as Canyon Breeze is waaaaay too close to miss out on vegan buffet.
George's – we went here twice as it is hard to find a restaurant that serves alcohol in Utah (what the heck is up with that). The food is good, but you can't drink outside so don't go here if it's gorgeous out. 🙂
Cliffside – I wasn't sure about this place based on reviews, and I thought it would be too fancy, but it blew us away. The service is outstanding, they'll make you vegan options upon request, and the views!! Highly recommend for a nice night out.
All in all, I would go back to Zion and St. George in a heartbeat. I loved them both, especially Zion. It is my new favorite park. The bummer with Utah is there's not a lot of culture here, and I hate that. Most of the four corner states are like that, and it breaks my heart. Otherwise, this state (and the 3 others) rocks. The other bummer is that you have to fly in and out of Vegas (oh my god this could be a blog post in and of itself) so all the juicy nature you just got is pounded out of you in the worst possible way. It was actually so bad on the way in that we tried to rebook our return flight out of Salt Lake, I'm not kidding. Next time, we'll fly in/out of Salt Lake.
I hope this helps you plan some of your next adventure!
Love, Jen.
SaveSave
SaveSave