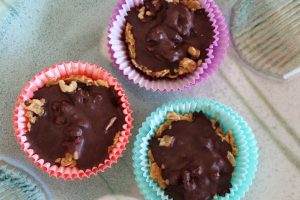 "A desk is a dangerous place from which to view the world."
~ John le Carre
Almost four months ago, I left my career in corporate America to form a design and advertising group with my husband. I wrote about that decision in a blog post, and expected to post it shortly after leaving, with advice for others who were thinking of going down this road. But two weeks after my last day at work, my father-in-law suddenly passed, and our world turned upside down, and it stayed there, for months.
This week, I intended on publishing that post, the one I wrote in April, planning to post in May, and I can't. It's not that it's not good, it's that it's absolute bullshit. I wrote it to give you advice on quitting your job. But you don't need that advice. If you want to quit your job, do it. Don't be stupid about it. Plan, and save, and figure out what you want to be doing, and then do it. There's no need to talk or worry about it. All I did was talk about it, and worry, and think about it, for nearly two years. I've read every book and blog imaginable on finding your bliss, on going out on your own, on building your own business, on getting past fears. They helped me get to where I am. But in a way, I think I would have been fine without all of them too. And, just because they helped me, doesn't mean they'll help you. So just trust your gut, and go for it.
Deep inside, you know what is best for you. You know if you're on the right track or not. You know if you're having more good days than bad. And you know what you need to do about it. You don't need anyone else to give you permission to live the life you want to live.
So today, instead of publishing that post, I'm writing a new one. And I'm announcing our new business, Craft & Communicate, a full-service web development and print design group, based in Fort Worth, Texas.
I'm so incredibly proud of taking this step. I am beyond excited to be doing this, to have this business, to have gained the knowledge we have over the years and to use that to launch our own marketing agency. We saved and planned and researched for many, many months. For as long as I have known my husband, he's designed and built websites alongside being a professional drummer. For almost as long as he's known me, I've managed creative design and marketing teams. We've run ideas past each other during our entire marriage, but we didn't put it together that we'd be a great team, until last year.
My husband's parents ran their own mom and pop business for over twenty years. And they nailed it, to put it lightly. They were a huge inspiration to us – with lots of advice on what to do and warnings on what not to do. My father-in-law helped name our company. My mother-in-law gave advice on managing clients, on setting up books, on getting organized. We took their advice, and we slowly made progress, one month at a time.
In April, I quit my career, gave up every ounce of security I knew, and in May, we ventured out with this new path. It's been hard as hell. Learning a new routine, dealing with huge loss, losing the security of a steady income, dealing with taxes, health insurance, pitching to clients, understanding how to communicate with each other – none of it has been easy. But it's been worth it.
To be able to have the mental energy to look at the world as inspiration is, for me, the single greatest feeling I could ever be given. I have that feeling again, that desire, the understanding that beauty is everywhere. That feeling…it makes all of this worth it.
Want advice on how to take the first step? A ton of people on the internet will give it to you, and there are more books than you can imagine. For me, the best advice came from Chris Guillebeau and the late and truly great Scott Dinsmore. I think it was their charisma just as much as it was their advice that affected me. It was seeing people, younger than me, giving up their secure jobs and going for it. If they can do it, so can I, and so can you. And, it was reading about Scott tragically losing his life at such a young age, but losing it while he was really living. He wasn't sitting at a desk. He wasn't clocking in and out. He was truly living. What a way to leave this earth; what a huge loss, but what an inspiration as well.
If you do want advice on some books to check out, on how to break free from a life you don't want to be living, feel free to reach out to me; I've read them all, and I'm not even remotely kidding. But know that the answer is inside you. You know what you need to be doing with your life. Go do it.
Today, we're celebrating our new journey, and what better way to do that than with our favorite dessert: peanut butter cups topped with a layer of chopped walnuts and melted chocolate. These cups are tastier than the store bought versions, and healthier, and super easy to make. I bet all the ingredients are already in your cupboard as well. Mix up a batch and celebrate with us.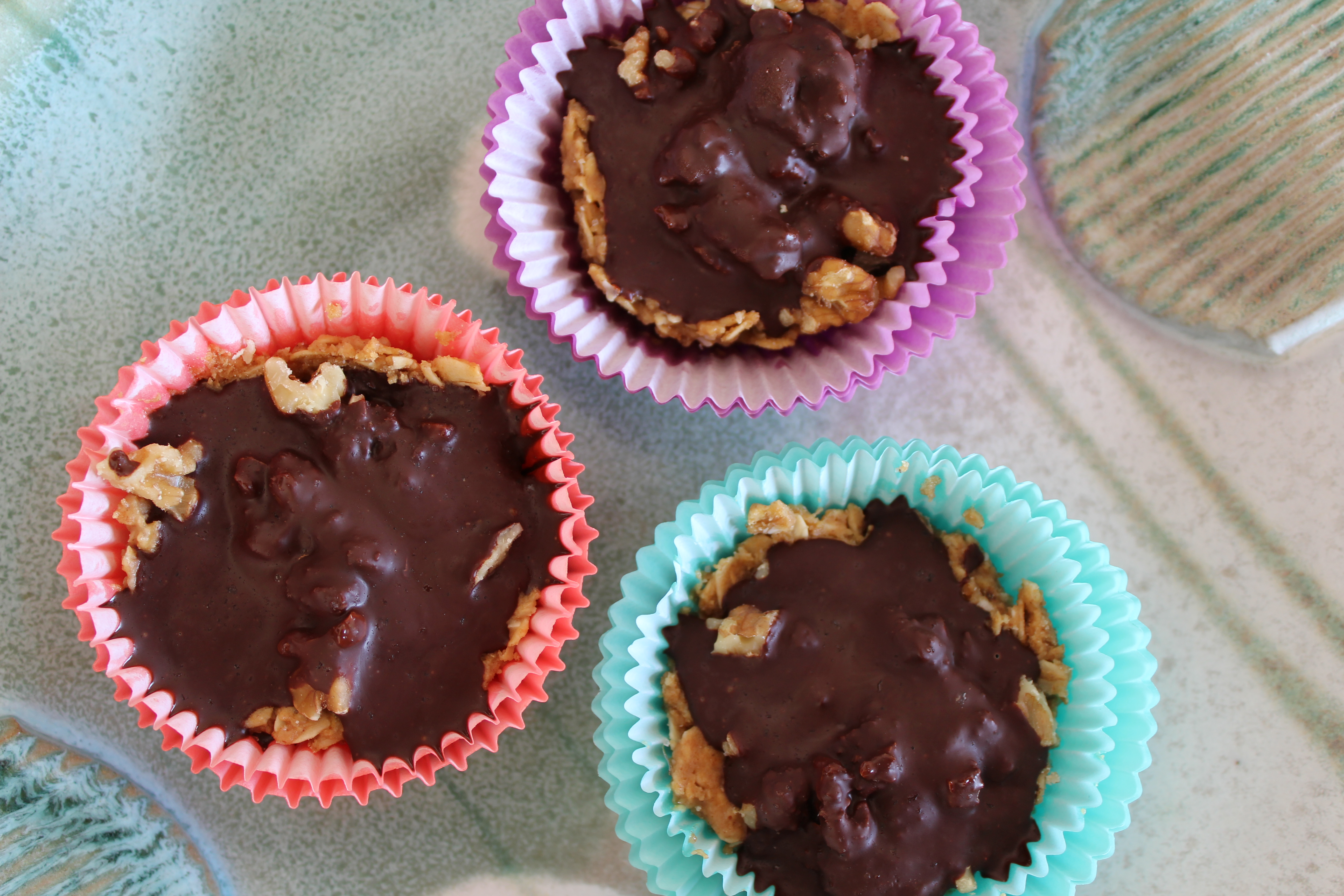 Crafting a New Journey: A Celebration, With Dessert
These peanut butter chocolate walnut cups are so incredibly good, and even better: refined sugar free!
Ingredients
For the base layers
1 and 1/2

c.

rolled oats

1/2

c.

flour

1/4

tsp.

salt

2

tbsp.

shredded coconut

1/2

c.

peanut butter

1/4

c.

agave

2

tbsp.

coconut oil

1

tsp.

vanilla

1/2

c.

chopped walnuts
For the top layer
3/4

c.

dark chocolate chips

1/4

tsp.

salt

2

tbsp.

coconut oil

sprinkle

sea salt
Instructions
Line a muffin tin with paper liners.

Mix the dry ingredients together in a medium bowl: oats, flour, salt, shredded coconut.

Add the wet ingredients and stir well: peanut butter, agave syrup, coconut oil, vanilla.

Scoop the mixture into the prepared liners, filling up a little more than halfway, and pressing down firmly with your fingers.

Add a layer of the chopped walnuts.

Heat a small pan on low and add your chocolate chips, coconut oil, and salt. Stir as the mixture is heating; it only takes a few minutes for the chocolate to melt.

Set aside for a minute to cool the chocolate off. Stir again, and pour a small spoonful on top of each cup.

Sprinkle with sea salt, and freeze for 30 minutes.

Remove from freezer, and enjoy immediately, or place in fridge. The cups will stay fresh for about 3 days.