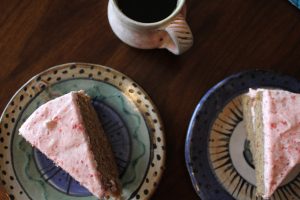 "All cooking is alchemy, is transformation."
~ Michael Pollan, Cooked 
Michael Pollan's Omnivore's Dilemma was published when my husband and I lived in Nashville. It was a time in my life when I began making everything from scratch: breads, dressings, almond milks, sauces. It was easy to do so in Nashville; you're surrounded by farmland in Tennessee. Every restaurant you go to lists the names of the farms where their vegetables, meat, eggs, and dairy are from, and when you see that over and over again, you start getting more curious. You start thinking more about ingredients, less about brands. When you know where your food comes from, you from no longer feel separated from your food; you're instantly connected. And that connection leads to awareness, which eventually leads to transformation.
During these years, we'd been spending more time with and learning a lot from my in-laws, who were raised on farms and who built their own farm in Arkansas from scratch, complete with acres of vegetables, fruit trees, herbs, a dairy cow, chickens, and a rooster. During our visits, when it was getting close to dinner, we'd walk out to their gardens, pick our produce, and go inside to chop, bake, and boil. I had been a vegetarian for over a decade by this point in my life, but never paid much attention to the health behind it…I strictly went into that lifestyle due to animal mistreatment. It wasn't until seeing fresh produce, grown on a farm and in the restaurants surrounding me, and reading Omnivore's Dilemma, that my eyes opened, and I realized food is health. It was a slow transformation for me, but over the past ten years, and specifically since becoming vegan over five years ago, I've been awakened over and over and over again.
These transformations, they can be awesome, soul-enriching, like my awareness and love of food. They can be scary and filled with fear of failure, and fear of success, like leaving my career to branch out on my own. They can be fear of vulnerability, like putting this food blog and these kinds of words out on the internet, for anyone to read, judge or reflect, during any time of their life. And they can be filled with self-love and understanding, through my realizations in my yoga teacher training. These past two years, these transformations have completely overtaken me, have enveloped my life.
The thing is, you really have to push yourself in order to experience these things, to truly transform. You have to get out of your rut. And that is scary. Being vulnerable, embracing magic, coming into your own skin, it's terrifying. You have to allow yourself to fail in order to transform. It's too easy to go with the flow, to not allow the option of failure to enter into our lives. I've done this for a lot of my life – created this controlled, peaceful existence. When I take a step back and allow myself to reflect, to truly look deep and see what my life is, I'm aware of how safe it was, how I didn't allow myself too many options to fail. I dramatically changed that two years ago, and been making changes ever since, and those changes have had this ripple effect all throughout my life. It's been awakening in every sense of the word. It's been challenging too. But so worth it. If you feel like you're in a rut, take one step. If you fail, get back up and try again. Transformation takes time, and hopefully we never stop it; hopefully our lives are filled with brief moments of fear, long enough to get us to take action, and with many moments of peace and joy.
I reflect a lot these days, mostly from losing a dear loved one, but also from overall change, change is in the air. I'm a year older today, hopefully a year wiser, and where we live, it's beginning to look and feel like fall. Transformation is surrounding me. I haven't been taking it very well, and I'm trying to work through that. Change can be really hard to deal with.
For today, I made myself a cake. My favorite is strawberry cake, and I wanted one for my birthday, and I wanted to be the one who made it. I'll say right now that I do not have a lot of patience when it comes to baking. I was super afraid of failing, but this worked, really well – this cake is delicious.
Please let me know if you take the time to make it, I'd love to hear how you enjoyed it.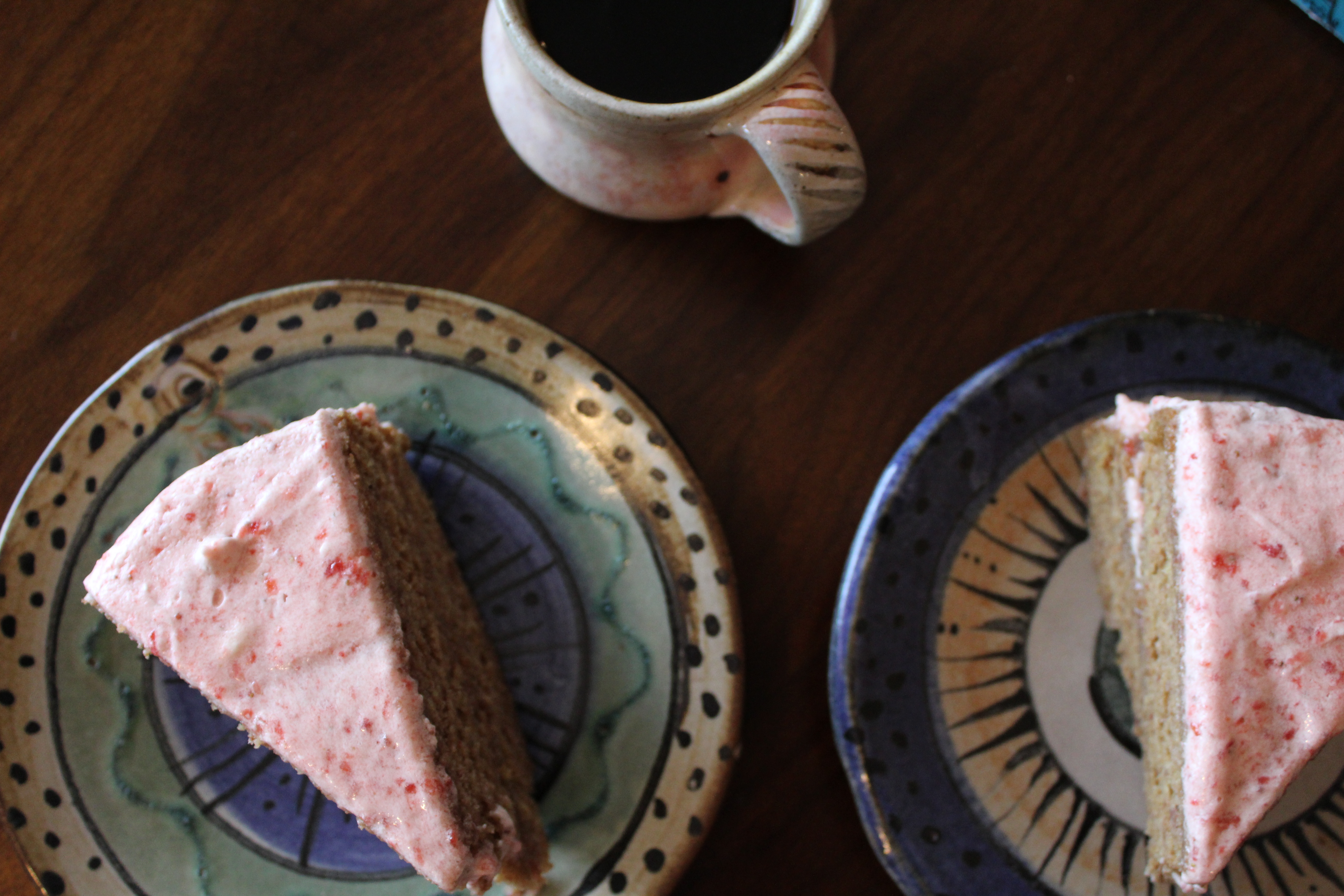 Vegan Strawberry Cake Transformation
Ingredients
For the Cake
1

c.

pastry flour

(I used whole wheat)

2

c.

all-purpose flour

(I used whole wheat)

2

tsp.

baking soda

3/4

tsp.

salt

1 and 1/3

c.

natural cane sugar

1 and 1/2

c.

almond milk

2/3

c.

grapeseed oil

2

tsp.

vanilla

1

tbsp.

apple cider vinegar

2

c.

frozen strawberries
For the Icing
3/4

c.

vegan butter

(I used Earth Balance)

3

c.

powdered sugar

1/2

tsp.

vanilla extract

1/2

c.

frozen strawberries
Instructions
For the Cake
Heat your oven to 350 degrees. Spray two 9" pans with oil. Cut out two sheets of parchment paper and line the bottom of the pans with the paper.

Mix the flours, baking soda, and salt in a large bowl.

In a separate bowl, mix the sugar, oil, milk, vanilla and vinegar.

Slowly pour the liquid mixture into the flour and mix for a few minutes using a handheld mixer.

In a food processor, process the strawberries for about 30 seconds.

Stir the strawberries into the batter, and mix well.

Pour the batter evenly into both pans. Bake for 29-31 minutes, until a toothpick in the center comes out clean.

Remove from the oven and set on a cooling rack. Allow the cake to fully cool for at least 30 minutes. Then, run a knife around the edge of the cake to loosen, and invert to remove from the pans.
For the Icing
Using a handheld mixer, combine the butter with the powdered sugar, adding the sugar slowly, no more than 1/2 a cup at a time. Next, mix in the vanilla.

In the food processor, process the strawberries until all large pieces have broken up, for about 30 seconds.

Mix the strawberries into the icing, and stir well.

Note: if you want the icing to be a bit thinner, add almond milk, no more than 1/2 a teaspoon at a time.

Now, ice your cake! This recipe will give you enough icing to have a thick layer in between the cake layers.
Notes
Note: if you are making this as a sheet cake, you can decrease the icing recipe to 1/2 c. butter, 2 c. powdered sugar, 1/2 tsp. vanilla, 1/3 c. strawberries.