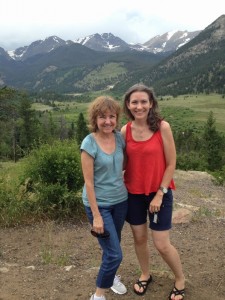 My best Denver trip was when I went with my mom in 2014 for the Cherry Creek Arts Festival. That was a great fest and a nice time of year to visit Colorado. The highlight of the trip for me was meeting Macy Dorf, a potter who founded the Arts District on Santa Fe. If you get time while visiting Denver, I highly recommend visiting with Macy, seeing his incredible pottery and viewing the studios of other artists in his building. Macy has transformed the arts scene in Denver and is a fascinating man.
Snooze – Snooze will have a wait, but they give you coffee while waiting, so you really can't complain too much. It's a neighborhood eatery with a couple of vegan options. I chose the Quinoa Porridge, made vegan, and have copied their recipe as best as I can figure it out ever since I got back in town. It's delicious. They have good coffee too and all their dishes are hand made by a potter in California, what's not to love about that? Maybe upon replenishing they'll buy from a Colorado potter, but none the less it's nice that they're supporting real art.
City O City – although it's a bit grungy, this restaurant offers a nice selection of vegan choices and everything we ordered came out really tasty. I selected the Saison tofu sandwich for breakfast with pepper jam and a side of quinoa. It was filling, fresh with a spicy kick and very good.
WaterCourse Foods – a cute vegetarian restaurant in a nice, walkable neighborhood, WaterCourse had animal inspired child storybook styled art on the walls and fast, attentive service. We both ordered the quinoa burger, vegan style, along with a side salad, and it was really good.