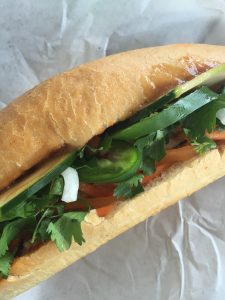 Last weekend, at the last minute, we decided to take the Amtrak Heartland Flyer train from Fort Worth to Oklahoma City. My husband takes trains often; he loves being on them…listening to music, watching the scenery, and building websites. He has always missed his days of living in mass transit cities, and tries to take advantage of what little we have in North Texas as much as possible. I'm starting to appreciate mass transit more these days, and to go with him from time to time…which is how we ended up in OKC last weekend.
Oklahoma City is not on the map for me; I'd stopped on my way while I was visiting other cities in the past to walk through the Memorial, which is absolutely heartbreaking and at the same time very beautiful, but other than that, I normally drive right through. I'd heard of the city building up their river and canal areas, but most of how it was described looked super touristy, and it is. But the heart of the city is vibrant, independent, easy to maneuver, with tons of new options to get around, filled with gorgeous old walkable neighborhoods and big trees, and thankfully, OKC also offers a couple of good vegan dining options. The air in OKC is fresh, and the downtown is incredibly clean, with big, easy to maneuver streets, and no people. I'm not sure where all the people were, but it was like we had the city to ourselves. We asked a couple of bartenders and they said it's the norm; not a lot of people go to OKC. So it's a nice little reprieve from the hustle, bustle and air pollution often found in bigger cities.
The Amtrak train drops you off right in the center of OKC where their downtown meets Bricktown. A couple of blocks walking in downtown puts you at a group of stunning old hotels, the botanical garden, and some great dining options. And a couple of blocks walking in Bricktown gets you the canal along with tons of touristy restaurants and amusement type options.
We stayed downtown in the historic Colcord Hotel, built in 1910, with fully renovated rooms and lobby, complete with a wine bar and restaurant. The hotel was gorgeous, our room overlooked the botanical gardens, and the hummus appetizer and wine at their restaurant is great. And each day, we rented bikes from B-cycle, which is the first time we'd ever rented bikes in a city together before, and it was the first time I'd been on a bike in nearly 30 years. That's right, 30 years.
It's been in the back of my mind for a long time, the fact that I haven't been on a bike in so long, but when we got to OKC and saw all of their bike share options, I finally realized, this is so stupid – get on the dang bike. And so we did, we rode for hours each day through the city and midtown and various neighborhoods, and had a blast. And I realized, while riding through the streets of OKC, that I hadn't been on a bike in so long because I had too many fears of falling. They're the same fears that hit me when I'm in any inversion in yoga, and they're the fears that awaken me night after night in my dreams. Balancing on a bike is scary to someone who has not been on a bike in decades. And the fear of falling is scary as hell. What I realized, is my yoga practice has allowed me to embrace most of my fears in life, and that is completely liberating. I had no idea showing up on my mat each and every day would allow me to grow in so many various ways, but it has. Yoga is a true testament to growth.
In OKC, you can rent a bike for a day for about $10-20. The pricing is confusing and what we were billed is not how the plans are described, and their website was down during our visit, so I can't say for certain. But with the bike, you can go from the botanical gardens to the memorial to good coffee shops in Midtown and up to the Asian District, the Paseo Arts District, and the Plaza neighborhoods. There's not a lot of traffic, the houses and neighborhoods along the way are gorgeous, and nothing is too far apart – maybe 3 miles tops. There's a lot of restaurants, bars and shops where you can stop, and many with good vegan options. Here's a sampling:
Asian District 
Pho Ca Dao – this is one of the only Vietnamese places in the area that takes credit cards. Thankfully, the food was delicious. We ordered the tofu bahn mi and tofu spring rolls, and they were delicious. They use peanut sauce instead of mayo on their bahn mi, and it's probably the best bahn mi I've ever had.
Pho Lien Hoa – this restaurant is cash only and was absolutely packed. I ordered the tofu bun and it was perfect. It's a loud restaurant and I can see why it's so popular: good, fast service and great food.
Midtown 
Elemental Coffee – they have a selection of vegan options (like tofu tacos, house-made PBJ sandwiches, and avocado toast) and they serve, obviously, coffee. The coffee was pretty good, and this place is in a good location for a stopping point between downtown and the Asian District.
Coffee Slingers – I personally liked my coffee here better than Elemental, but it's not as crowded nor does it seem to be as popular as Elemental. Both coffee shops are very close to bike share stations, and Coffee Slingers has a home goods type store next door to it.
Plaza District 
District Coffee – in my opinion this shop has the best tasting coffee in OKC. It's in a walkable area with a ramen restaurant, a craft brewery, a pizza place, a yoga studio, hair salon and shops.
Empire Pizza – we came here because it's reviewed really well. It's a very young scene, and was incredibly crowded, so we started out the evening at Oak and Ore. They had a good selection of beers but a very tiny patio to enjoy them on. The pizza at Empire was fairly good; their crusts are vegan and they can hold the cheese if you order one entire pizza, which is huge. If I had it to do over again, I'd go to the ramen place, but they don't offer food service outdoors and it was way too pretty out to spend time indoors.
Downtown 
Flint – this wine bar was in our hotel so we stopped here a few times, for wine and hummus. It's a pretty location with a good patio, a great wine list, and their hummus was tasty.
Kitchen 324 – this was my favorite restaurant, for the ambiance if nothing else. We came here for breakfast, and their oatmeal is vegan. It was good and filling, but really the restaurant is just too well designed to not check out. It's in a great location downtown so you can make for a quick stop for coffee or danishes too.
Bricktown 
West – we enjoyed a very expensive but fun rooftop dinner at West, on the edge of Bricktown. They have a good wine selection, OK hummus, and will make up a vegan pomodoro pasta upon request.
The Mantel Wine Bar – this bar is down the street from West, and has live music on the weekends. Their menu looked good, although we only stayed for the music.
Interested in Bike Sharing in OKC and other cities? Check out this awesome site that lists all the bike rental options in cities all across North America (my hometown of Fort Worth is on here, too)!