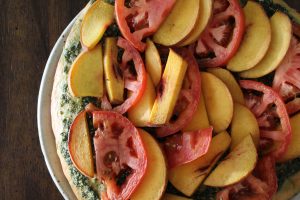 "Don't let your age dictate your life path."
~ Hoy Wong, a 90-year old bartender in New York City
Of all of the quotes that fill my walls, journals and sketchbooks, the above quote has always been my favorite. I've worked with seniors for most of my adult life, and I cherish every minute I get to spend with them. Their wit and wisdom, their sense of humor and their willingness to try new things is remarkable. I'm drawn to those who go a different path; who go the harder path, and I aspire to be like them. There are many seniors who I could tell the story of today, but I'll be sharing the story of a young senior. I have to use the word "senior" because technically he's over 65, but in reality, this man is not a senior in how we know that word: he runs almost daily and hikes mountains and practices yoga and jokes and laughs and thankfully doesn't often act his age. That man is my dad.
A few weeks ago, at the age of 68, my dad completed his Doctorate in Psychology. This program is not for the faint-hearted. This program is so intense it'll make you question your beliefs, over and over again. My dad's life path has been filled with these questions, with this yearning to know why we're here, how we can grow, how we can succumb past hatred and greed and climb past the path that has been handed to us. He's a man filled with insight into varied religions and philosophies, into our world's civilizations, into literature and poetry and music and art, and is passionate about helping people become their greatest self.
By the age of 43, he'd been a teacher and principal in elementary schools throughout Texas, mostly in Farmers Branch, a suburb outside of Dallas, for nearly 20 years. He'd loved spending his days enriching students, but he kept feeling stuck – the vast problems his students were having all seemed to come from the home. If he could understand more about the correlation of what makes a great parent, and what makes an enriched child, he felt he could help more people. So he slowly started making a career change, first in planning, in learning, and in spirit, as most changes begin.
He credits this huge life change to a workshop he went to in 1991 led by the late psychologist H. Stephen Glenn. After completing the training on Developing Capable People, my dad writes in his dissertation "…for the majority of us, our old ways of looking at the world were no longer good enough."
Those thirteen words: our old ways of looking at the world were no longer good enough.
It's those words that lit me up. It's those words that connected me even more so to this program he went through, and even more so to him as a person. It's those words that are the most important words we could ever speak. It's what we look for in life, right? To be shaken. To be stirred. To question and to seek and to come to the answer on our own terms.
For him, his answer was to become a counselor, and then years later, to complete his doctorate. So a few years after this training program, he began his masters in counseling, and later retired from being a principal to begin his new career as a Licensed Professional Counselor. He's never let his age dictate his life path. And at the same time, his life has been driven by the new way he sees the world.
That is beauty. That is truth. That is the light that shines on our lives. That is our reason for existence, I fully believe it.
My dad, at 68, currently holds a full-time private counseling practice in Dallas, in addition to being the head counselor at The University of Dallas, and he has no plans to retire. Actually, neither of my parents do. They are teachers and counselors, and they plan to keep doing, to keep working, to keep encouraging and helping and serving.
I had no idea at the time how brave it is to switch careers. How hard it is to change. How difficult it is to leave a good salary, good benefits, a group of people who love you, and to go out on your own, especially if you have a family at home. To jump. To truly go for it. I get that now. And I admire him so much more now that I understand what a true leap of faith that is.
Today, at the age of 68, my dad has his doctorate in psychology. And he's planning on continuing to help others. To continue to grow. To continue to help our world be more peaceful, more loving, more grounded. He truly represents following your bliss: doing so by walking down the path that is most resisted, by following your gut and not society, and by trusting yourself.
Never stop learning. Never stop pushing yourself. And truly, don't retire. Not until you absolutely have to, and even then, keep your mind focused, keep working. Follow your passions. Go for the thing that seems out of reach. Go for it even when all of your peers are 20 years younger than you. It doesn't matter. Go for what you believe in. Push yourself. And when you find that new way of looking at the world, follow it.
We celebrated his new degree a few weekends ago at my house, with a full-on vegan spread, complete with peach tomato pesto pizza (recipe below), fruit salad, green smoothies, hummus and veggies, and a double-layer dark chocolate vegan cake. The meal was divine, no one could get enough of this pizza, or the cake for that matter! Go ahead and bake this one up before all the good tasting peaches are hard to come by.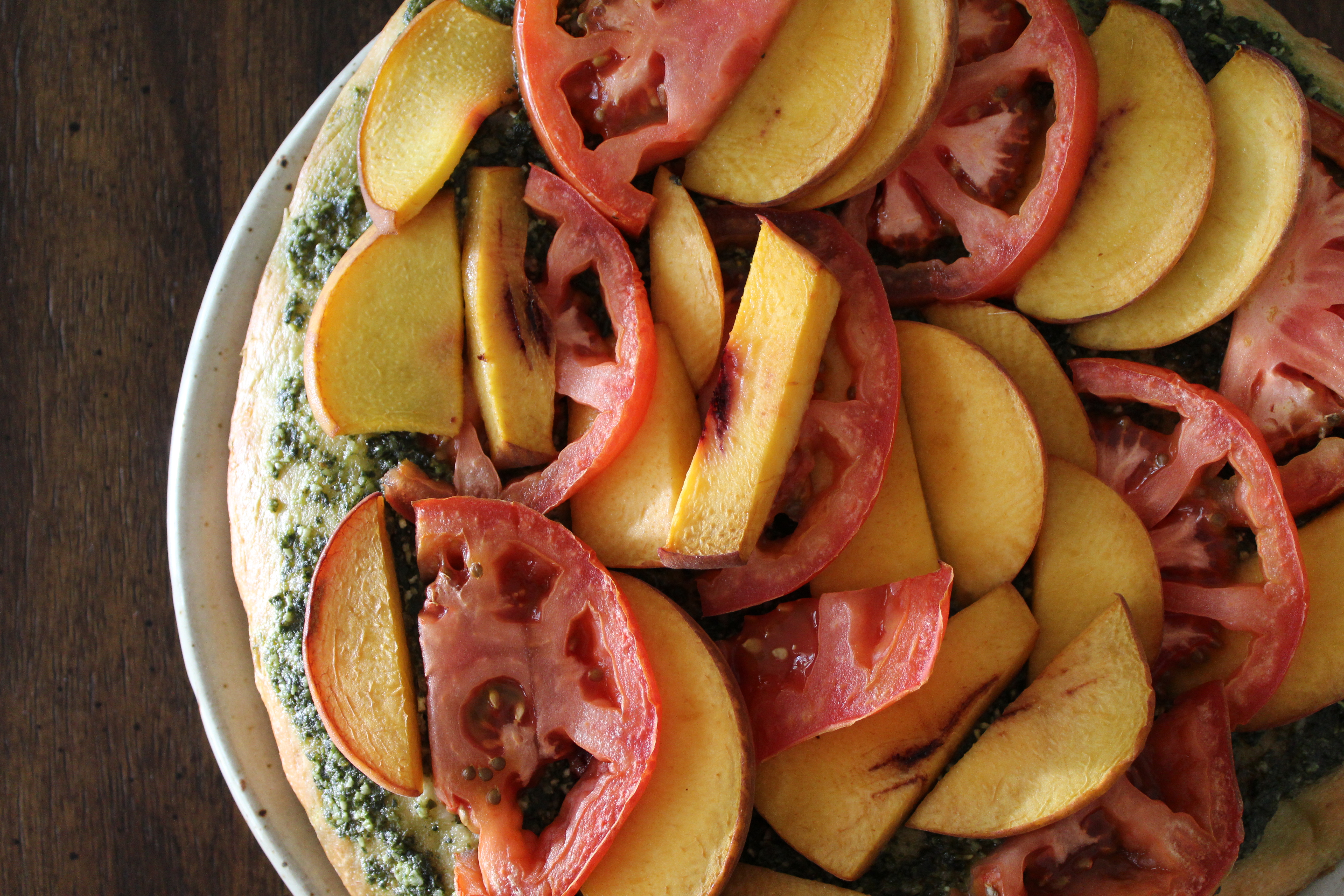 Pesto Peach and Tomato Pizza
Ingredients
For the pesto
2 and 1/2

cloves

garlic

2

c.

basil, fresh and tightly packed

1/4

c.

pine nuts

1/4

c.

olive oil

1/2

tsp.

salt

1/8

tsp.

black pepper
For the pizza
1

prepared pizza crust (see notes)

3

peaches

3

tomatoes
Instructions
Heat your oven to 350 degrees.

Prepare the pesto: in a food processor, process the garlic for a few seconds. Then add remaining ingredients, and process for about a minute, scraping down the sides as needed.

Thinly slice the peaches and tomatoes.

Spread the pesto on the prepared crust, then layer it with the sliced peaches and tomatoes.

Bake at 350 degrees for about 16 minutes. Remove from oven, slice and serve.
Notes
The pizza crust I use is from the Central Market bakery. It's vegan and they prepare them fresh daily. It's delicious. If there's a Central near you, go buy their crust! Also, I bake mine longer than they recommend as I like a crispier crust. So bake this pizza up to your liking.